Backyard Workshop is dedicated to finding you the best products available to meet your particular needs. You help support us through our carefully chosen links which earn us a commission. Read more about our standards.
2019-04-22 17:51:27
From inventions of cutting tools, to the manual saws, chainsaws, and table saws, there is something wanting about having the best miter saw to complete a wood worker's workshop. With rising demand in the quality of clean-cut miters and crosscuts for framing purposes, nothing has stood up to the occasion like the miter saw. This device, also known as a drop saw, is used mainly in activities of cutting molding and making frame pieces.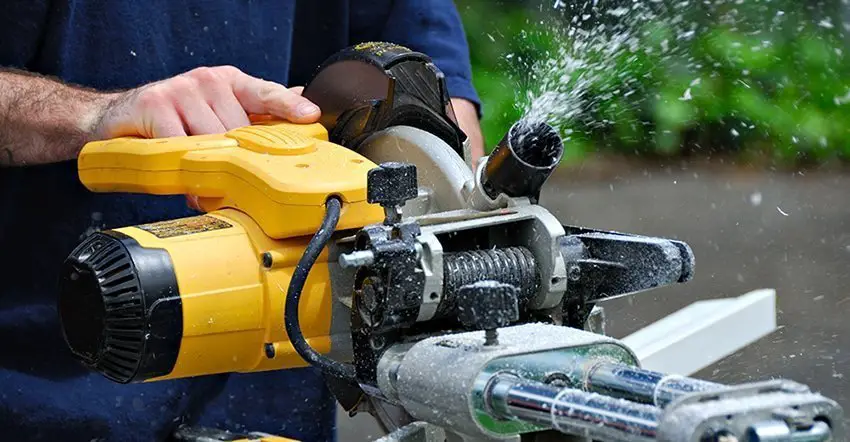 If you have been searching for the miter saw that suits your needs, whether hobbyist or a professional woodworker, you are in safe hands. We will walk you through the different types of miter saws and highlight their general features.  Eventually, we will outline a selection of our most preferred models.
Miter Saw Reviews
Best Professional Cordless Miter Saw
Sale
DEWALT DHS716AT2 FLEXVOLT 120V MAX 12" 2-Battery Fixed Miter Saw Kit
Flexible - power of corded. Freedom of cordless. The world's first battery that automatically changes voltage when you change tools
Runtime; Up to 289 Cross Cuts in baseboard along with best in Class Vertical capacity against sliding fence
CUTLINE blade positioning system; adjustment free cutline indicator
120V AC adapter; corded or cordless power delivers ultimate flexibility
It's not often a manufacturer can pull together the best of both worlds, but the DeWalt DHS716 does just that.  You get the portability and convience of lithium-batteries along with the reliable power of a 15 amp plugged-in motor in one package.
How?
The FLEXVOLT® system is built so a tool can be powered by either batteries or AC power, depending on the situation.  What's shocking is how well it works.   Sometimes hybrids can be mediocre compared to stand-alone AC or battery tools.  That's not the case here.  It competes well with other 15 amp corded-miter saws.  The 2×10″ cutting capacity is one testiment to this fact.
This saw is heavier than most purely battery-powered saws, but that's a small price to pay for being able to plug it in and continue working after your li-ion juice is gone.  It's a good everyday mitersaw if you don't need the features a sliding product provides.
Cross Cut Capacity:  Can cut a 2×10″ board with back fence installed.
Arbor: 12″ blade, 5/8″ arbor. Minimum Blade Speed Rating: 4800 rpm.
Type: Non-slide  Weight: 44lbs
No Load RPM: 3800
Power: 15Amp when run on 120V AC or 20/60V Batteries when unplugged.
Best Battery-Powered Miter Saw For Home Use
Sale
DEWALT DCS361M1 20V Max Cordless Miter Saw
Integrated XPS cross cut positioning system for better accuracy and visibility
Adjustable stainless steel miter detent plate has 10 positive stops
Oversized bevel scale
Compact, lightweight design (31.6 bs.) for easy transport and storage
The DeWalt DCS361M1 is a solid choice for the home or non-professional looking for a quality miter saw at a reasonable price. Most homeowners have an occassioanl need for a miter saw, but aren't running it weekly (or even monthly).  If you have a home-improvement project you want to complete and need a solid saw, take a look at this model. If you are going to be cutting day-in, day-out for your profession, you'll probably want to look elsewhere.
What makes it even better for a homeowner is the portability battery power provides.  You can move it closer to the job to save time and energy lugging wood back and forth from your garage or workshop.  It's really light vs other miters – you and your back will appreciate that down the road.
A professional might be willing to pay nearly double the price for a more featured portable saw like the DHS716 above, but this model can handle most situations a homeowner will face.  It'll handle cutting all but the most ridiculous sizes of trim.  It can cut through 2×4″ boards  like butter.  Battery life is good, but if you are concerned you can buy a 6amp 60volt Flexvolt battery to have a spare so you can keep on cutting all day.
It doesn't come with the laser sight some other models do, but the LED light sight system works well.  That's really this saw in a nutshell – reliable portable saw without the frills, but at nearly half the price of some other professional models.
Cross Cut Capacity: 8″ x 3 1/2 ".  Can cut a 2×8" board.
Arbor: 7.25″ blade, 5/8″ arbor Minimum Blade Speed Rating: 4000 rpm.
Type: Sliding  Weight: 36lbs
No Load RPM: 3750
Power: 20V Batteries
Best Large Capacity Miter Saw
Sale
Some jobs require more clearance and cutting room than others.  While nearly every saw can handle a 2×4, the list thins out dramatically as you move up the size charts.  You need more clearance and power to handle the larger sizes of wood.  DeWalt claims the DWS780 is the highest-capacity miter saw on the market – and I have no reason to doubt them!
If you are looking at cutting 2×14″ or 2×16″ wood this saw is a great choice for you.  Yes, it's built to handle larger wood but you also get features you don't find in smaller saws.  The sliding compound saw can miter 60 degrees to the right and 50 degrees to the left which can really help on some jobs.  The stainless detent plate has 10 built-in positive stops to help you easily get the right cut that you are looking for.  It also has an oversized bevel scale – which can really save time when checking angle adjustments.
DeWalt claims the dust collection system captures 3/4ths of the dust generated, but your milage will vary in real-life situations.  One annoyance is how long the dust tube sits off the back of the saw.  The design means you need more clearance than if it weren't located there which can be a problem in tight, on-the-job situations.
Cross Cut Capacity:  Can cut a 2×16″ board with back fence installed.
Arbor: 12″ blade, 5/8″ arbor
Type: Double Bevel Sliding Compound  Weight: 56lbs
No Load RPM: 3800
Power: 15 Amp, run on 120V AC.
Great Miter Saw For Tight Workshop Spaces
Sale
Bosch Power Tools GCM12SD - 15 Amp 12 in. Corded Dual-Bevel Sliding Glide Miter Saw with 60 Tooth Saw Blade
Axial-glide system: The patented glide system allows wider cross cuts and better alignment while also being compact. This saves you 12 in. Of valuable workspace. Bosch glide miter saw also offers unmatched smoothness of cut
Capacity: expanded cutting capacity 14 in. Horizontal capacity Nominal 6-1/2 in. Vertical capacity against the fence base 6-1/2 in. Crown capacity against the fence 45 spring
Adjustable: the GCM12SD miter saw provides easy adjustments with a large easy-to-read uniform bevel and stainless steel miter scales with marked detents and roof pitch angles. Bevel detents: 0, 33.9°, 45° left/right for accurate cuts. Category best 90% dust collection - optimized for cutting 2x material with a vacuum
Precision: square lock quick release fences lock fence 90° to the table and requires no adjustment, 1-touch lock/unlock to slide fence for added support
Bosch Tools has delivered a truly innovative saw in the GCM12SD.  These features make it a perfect fit if you plan on using the miter in a cramped workshop – or to place it up against a wall.
So what are these features?
No rails. That's right, Bosch has built a system that does away with rails.  The secret is the Axial Glide system.  It looks like the arm of a robot in a car factory, but it works well.  It allowed Bosch to reduce the front-to-back footprint of this saw by 12″ versus traditional, railed models.   It didn't compromise cutting capacity either.  You still can comfortably cut 2X14″ boards with ease.
Integrated expanding base extensions (40 inches in total). While the Glide system tackles the back clearnace issue, the larger expanding base extensions provide you with side-to-side space saving technology.  When the saw isn't in use, you can fold them away and not take up valuable room.  When needed, they are sturdy and true – you'll be surprised how well they work.
Combined with the simple-to-use multi-size vaccum attachment built in to the saw (no dust bag needed), you have a powerful device that doesn't take up more space than needed.  I wouldn't consider it portable due to the weight, but at this size you won't need to move it often.
Cross Cut Capacity:  Can cut a 2×14″ board with back fence installed.
Arbor: 12 inch blade, 1″ arbor. Maximum blade thickness: 0.10″
Type: Double Bevel Sliding Compound  Weight: 65 lbs
No Load RPM: 3800
Power: 15 Amp, runs on 120V AC.
Great Saw For Cutting Steel or Nails
Sale
Evolution Power Tools R255SMS 10" TCT Multi-Material Sliding Miter Saw
Accurate: cuts within +/- 0.5˚. optimized gearbox ensures the best RPM for cutting steel and wood with nails. Clean & consistent cutting in wood. Virtually no burrs on steel = instant workable finish
Reliable: 160 hour motor life. Cut test endurance at 40, 000 cuts. Combined components improves durability and accuracy. Precision Component machining to deliver consistent cutting accuracy
Powerful: 15A motor. Hi-torque gearbox increases motor & blade-life. "Cuts through steel like a knife through butter."
Safe: no heat & virtually no sparks. Built in safe and convenient cable hooks. Ambidextrous, ergonomic, horizontal trigger with comfortable grip = combats repetitive strain
While most homeowners use their miter for cutting wood, they can also be the best saw for cutting metal and masonary.  The Evolution Power Tools R255MS is a great choice for cutting through steel, or wood boards with nails still in them.  It has to do with the motor speed.
You see, this tool can run at a much lower RPM than the average saw.  It can run at 2500 rpm compared to the 3500-6000 rpm some miter saws revolve at.  These lower speeds are needed to cut through metal without quickly destroying your blades.
The great thing is, you can still cut wood with it like any other saw.  The lower speed might be an issue with wood on some projects, but on average you probably won't notice a difference.  Considering the price, you'll be getting a good deal on a multi-talented tool that can cut most anything you throw at it.
Do note that you'll want to swap out the included blade if you are going to do more than minimal metal cutting.  The multi-material blade will work but will wear out pretty quickly if used on numerous non-wood projects.  If you are just worried about cutting through nails in wood it should be fine, but it won't last long for more serious work.
Pick out the right Evolution blade for the material you'll be cutting.  There are specific blades for steel, stainless steel, aluminum and masonry (along with wood).
Cross Cut Capacity: Can cut 11″ x 16″ wood pieces.  Metal will vary by hardness.
Arbor: 10″ blade, 1″ arbor
Type: Sliding  Weight: 34 lbs
No Load RPM: 2500
Power: 15 Amp, runs on 120V AC.
Best Entry Level Inexpensive Miter Saw With Laser Marking
If you are starting to deck out your woodworking woodshop, or even add some quality tools to your garage for cheap, the Hitachi C10FCH2 is one to check out.  It's powerful, can handle most wood cuts with ease – and even includes a laser guide to help you make perfect cuts every time.
One unique feature that this model offers is access to the carbon brushes on the motor – you can replace them the brushes when needed.  This will help extend the life of the motor.  At this price range, most manufacturers are designing products to last just past warranty range – not to figure ways to keep your tool alive long after others have died.
This isn't professional grade – it's a solid hobbyist miter.  Dust collection is poor, and like most entry-level miters you'll want to verify the angle measurements are true before first use.  But you'll find it is solidly-made – no vibrations or movement in the frame.  Get a decent blade on your own – included one is servicable but you'll be happy to upgrade.
Note: Hitachi has been shedding brands and products lately to deal with financial issues, and the power tool division was one to go.  They were bought by Koki Holdings Co in October 2018, Ltd and will be rebranded as Metabo HPT someday.  So far there appears to be no change in quality (up or down) – but we will keep an eye on it going forward.
Cross Cut Capacity:  Can cut a 2×6″ in one go.
Arbor: 10″ blade, 5/8″ arbor.
Type: Compound  Weight: 26.5 lbs
No Load RPM: 5000
Power: 15 Amp, runs on 120V AC.
Best 13 Amp Saw
Sale
Makita LS1018 10-Inch Dual Slide Compound Miter Saw
Powerful 13.0 AMP direct drive motor requires less maintenance and delivers 4,300 RPM
Miters 0° - 47° left and 0° - 60° right, with positive stops at 0°, 15°, 22.5°, 31.6°, 45° (left and right)
Cuts up to 12" at 90° and 8-1/2" at 45°, Arbor 5/8 inch, linear ball bearing system for accurate cuts
Rear handle bevel lock is easily accessible and adjusts 0° - 45° (left and right) with positive stops at 0°, 45° (left and right)
While it's a fact that 15 amp tools deliver more power than a 13 amp one, not everyone can use the larger motor.  If you live in an older home without an upgraded electrical system, you are probably in this boat. For a variety of reasons I'm not going to go into detail about here, you shouldn't use a 15Amp powertool on a 15 amp circuit.  You should really have a dedicated 20 amp circuit available.
Not everyone has this; some people only have 15 amp circuits in their work area. If you won't (or can't) upgrade your electric system, you'll have to work within the system you have.   While it's not ideal, you should normally be ok to run a 13amp miter saw on a 15 amp dedicated circuit.  If this fits your situation, the Mikita is a solid choice for your workbench.
Under the hood, this miter saw packs a punchy 13 amp motor that drives a 10-inch dual sliding compound blade head. The built-in three-stage reduction gear unit allows you to vary the operating blade speeds depending on your workpiece. The result is that the saw can make cuts for crown molding of up to 6.4 inches in height. For baseboards, the figure is a little lower at 4.75 inches.
It's lightweight design makes it more portable than many other tools.  While not quite as powerful as some of the other saws on our list, it's a good quality choice you should be happy to use.
Cross Cut Capacity:  Can cut a 2×12″ in one go.
Arbor: 10″ blade, 5/8″ arbor.
Type: Slide Compound  Weight: 43.7 lbs
No Load RPM: 4300
Power: 13 Amp, runs on 120V AC.
FAQ:
What Is The Blade Guard?
The blade guard is a safety feature standard on all miter saws.  It's a protective cover to help prevent items – including fingers – from being cut while the blade is in the air.  As the blade approaches the cutting surface, the blade guard retracts around the blade allowing the wood to be cut.  When the blade is raised the guard once again covers the cutting surface to protect from accidental injury.
What is Arbor Size?
I've seen some poor explanations of what arbor is on the internet.  Arbor isn't complicated – it's the diameter of the hole in the blade that mounts to the saw.  When we talk about the arbor size of the miter saw, we are refering to the diameter of the shaft of the saw that attaches to the blade.  There are adapters you can use if the saw arbor is smaller than the blade.  Unfortuantely, physics prevents you from doing anything if the saw arbor is larger than the blade you want to use.
10″ blades usually are 5/8″ arbor, while 12″ ones are 1″ in diameter.  That means you may have to hunt around for awhile for a 10″ blade to fit your 1″ miter saw arbor. Most of the saws we have used (and recommend) are 5/8″ arbor.
What Do I Need To Know About Speed (RPM)?
The No Load RPM measures how fast the blade spins when it is not cutting through a surface.  This is important from a safety perspective.  Always buy blades that are rated AT LEAST as high as the no load RPM of your miter saw.  Using power tools can be dangerous enough without picking the wrong blade and having it explode under high speeds.
The no load RPM also affects performance and material type as well.  Metal generally requires a lower RPM to be cut through effectively.  Wood cutting generally requires a higher RPM to avoid kinking and other problems that pop up at lower speeds.  These are generalizations – there are blades you can buy that can handle higher-speed metal cutting but they are expensive and sometimes hard-to-find.
What Are The Types of Cuts You Can Make With A Miter Saw?
A Cross Cut is the most basic cut.  The saw comes down at a ninety-degree angle across the wood, leaving a perfectly cut edge on your wood.
A Miter Cut is what you probably picture as a normal angle cut.  The cut is along an angle across the width of the wood. The blade will still drop down vertically like in a cross cut, but cuts through at an angle.  While it can be used for many situations, it's often use for joining two frames.
A Bevel Cut is when you cut diagonally against the thicker part of the wood.  This is done by tilting the sawblade at an angle.
A Compound Cut takes the bevel and miter cut and combines them together. The wood ends up with two different angles cut into it.   If you think you'll need to perform this cut make sure you buy a compound saw – you'll thank me later!
Walk Me Through The Variety of Miter Saws
Basic
Even though they typically don't feature any bevel options, these saws are just as effective in making precise miter and crosscuts.  What you get with one of these is better ease of work because it is light and will be more accurate than a manual miter or that backup handsaw.
Their smaller size and a few missing options will mean that you can fetch one at a relatively low price tag.
Compound
These will feature not just single, but dual bevel capabilities for better flexibility on bevel cuts as together with crosscuts and miter cuts. They will also have provisions to make compound cuts, that is both bevel and miter cuts, and with the cutting element tilting up to 50 degrees, sometimes more.
The thing with dual bevel options means you can still make compound cuts on your wood piece in both directions, without the need to turn the wood over. Bevel capabilities will typically range 50 degrees in both directions. Therefore compound miter saws will be a little costlier than their basic counterparts.
Cordless & Battery Powered
Essentially, these models will use batteries to power the equipment. It is most convenient for work sites away from continuous power supply. They are made with portability in mind. Thus you can be sure you are getting a device that you can place in your car trunk while moving about.
Key pluses to these miter saws are that you won't need to hook them to generators or use lengthy cables that often tangle.
Sliding Compound
With these models, you can count on solid crosscuts, bevel and miter cuts as well as the ability to pull off compound cuts. They are chunkier pieces of equipment, but they carry the deserved versatility; able to make compound cuts and bevel cuts bi-directionally.
Probably the most distinguishing feature is that they have a sliding element or head that will move through wider wood pieces. Not only will you be able to get more work done with fewer movements and changeovers, but the resulting quality will also be maintained throughout.
Conclusion
From the selection we have provided you with, you should have an easier time deciding on the best miter saw that suits your needs. It is imperative that once you buy one, and before using it, you should:
Read the instruction manual carefully
Carefully assemble the equipment
Visually inspect it before use
Wear protective attire, for instance, goggles and work gloves, whenever operating this category of power tools
Refer to more miter saw reviews online to see how other people go about making the most of the saw