The Best Lawn Mower Blade Sharpener To Buy in 2021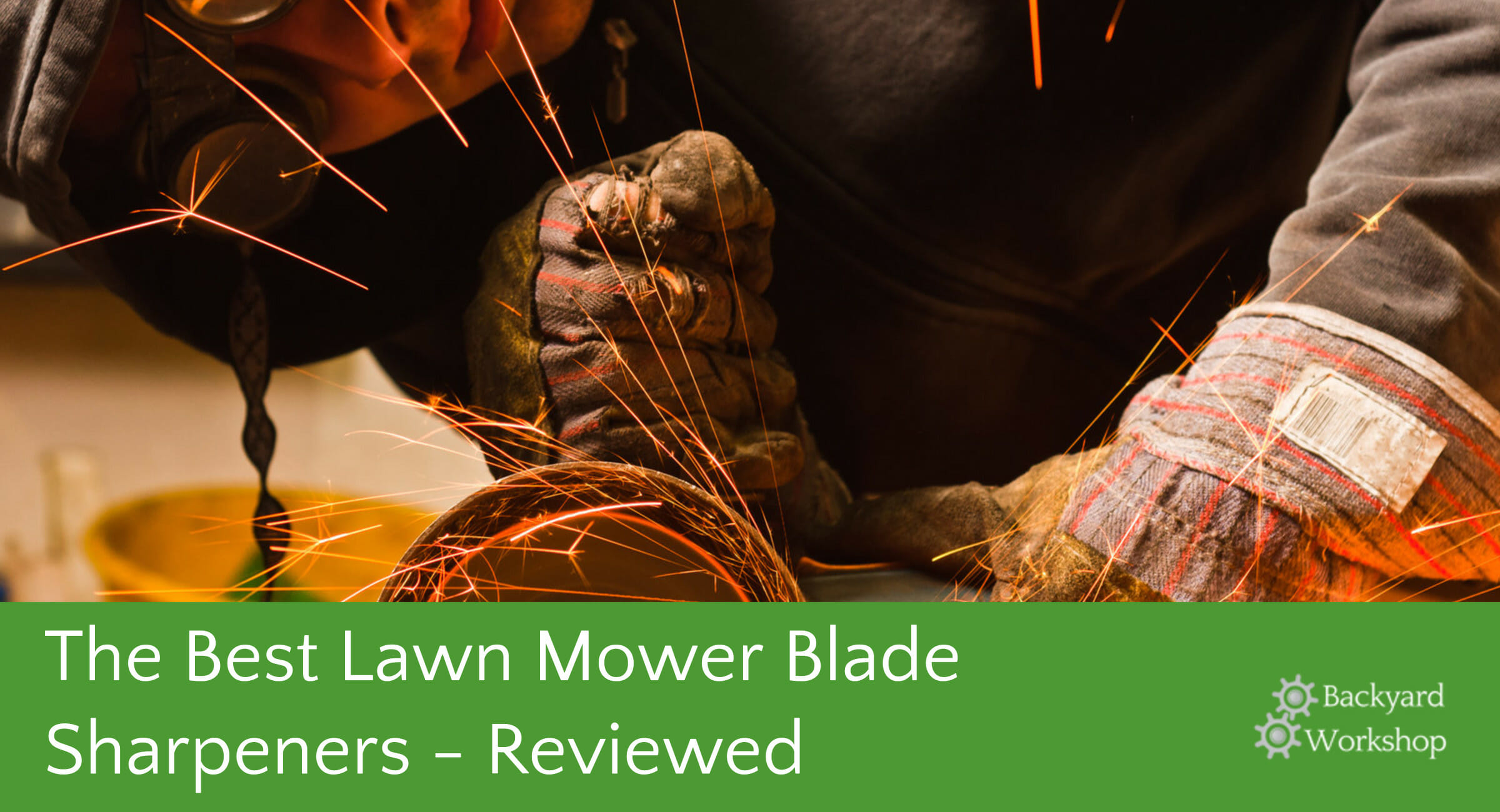 This is our review of the best lawn mower blade sharpeners in 2021.
Dull lawn mower blades can rip the grass, leaving jagged edges that weaken the plant and encourage fungal growth. The grass may also appear brown, yellow, and rugged. A dull blade will hurt your lawn.
For this reason, sharpening your lawn mower blades is essential. Lawn Mower blade sharpeners are very useful for this task. As a gardening enthusiast, I researched and worked with different sharpeners to find their efficiency until I came to the best lawn mower blade sharpener.
My overall best choice is the All American Sharpener. This sharpener features a pivoting head so you can sharpen both sections of the mulching blade. You can also sharpen straight standard and high-lift lawn mower blades.
If you have both right and left-hand blades, you don't need separate sharpeners as it can handle them both. Additionally, its sharpening angles are adjustable, allowing you to sharpen different lawn mower blades to crisp edges.
Our best professional mower sharpener delivers the right speed and force for sharpening 6″ blades for professional landscapers. The Oregon 88-023 also comes with a reverse switch and height adjustment features.
If you're on a budget, don't worry. Our best budget mower blade sharpener is made from hard, rust-resistant material for durability and is affordable.
While the All American Sharpener is the best overall lawn mower blade sharpener, it is a little pricey for some and might not be the best for people on a budget. Additionally, it isn't ideal if you're looking for a drill attachment or a versatile sharpener.
However, we've created a guide for best sharpeners in specific situations and discussed them in detail below.
Let's get started.
The Best Lawn Mower Blade Sharpeners for Homeowners – Reviewed
The All American Sharpener is our best choice for lawn mower sharpeners. It has a unique design of a vice head to hold the mower blade and an articulating arm that attaches the grinder. The arm also ensures the sharpening angle is proper every time.
It can sharpen mulching, standard, and high-lift blades. It features a pivoting head for sharpening both mulching blade's sections at a proper angle. With this sharpener, you'll be able to sharpen straight standard blades to perfection in a matter of minutes.
You can also adjust sharpening angles between 15° and 45°. Additionally, the blade can sharpen both right and left-hand blades.
The All American Sharpener 5005 comes with four pins. They screw into the threaded port and allow you to connect a 4½" angle grinder.
With this sharpener, you can sharpen multiple blades efficiently. Previously ground and used blades can come back to an almost new condition after using this sharpener.
And when you want to use it, you can easily mount it on any worktop – bolted or clamped. If you're going to use it while you are out and about, you only need to attach the mounting bracket to a trailer or truck. It is completely portable as it comes with a cordless grinder.
However, it is expensive compared to some other less-featured sharpeners. But, if you have left and right-hand blades or mulching, high-lift, and standard blades, and you love perfection, this lawn mower blade is the best option for sharpening lawn mower blades.
If you are on a budget but still looking for a quality blade sharpener, the AccuSharp Garden Tool Sharpener might be what you're looking for.
It is designed to sharpen all single-edged garden tools such as lawnmower blades, pruning shears, shovels, hoes, and limb loppers.
Made from diamond-honed tungsten carbide, it is hard, durable, and can handle almost any gardening blade you throw at it.
Its long-lasting construction is rust-resistant, and you can clean it easily with soap and water or in the dishwasher.
The sharpener features an ergonomic handle that can fit in either hand for both right and left-handed users. Additionally, it has a full-length guard to protect your fingers when sharpening.
The AccuSharp Sharpener will sharpen and restore your blades at an affordable price. It is an ideal choice for people looking for a decent lawn mower blade sharpener with a limited budget.
If you're looking for an excellent residential lawn mower blade sharpener — not professional — you will appreciate Smith's 50603 Lawn Mower Blade Sharpener.
This easy-to-use sharpener has a hard and long-lasting carbide blade. It will put a sharp and smooth edge on your blade in a few minutes and last for a long time.
It features a durable plastic head and an oversized handle so you can fit your hands with gloves. The large finger guard makes the sharpening process safe and secure.
The mower blade sharpener comes with a wire-bristle cleaning brush and storage on the product handle. After using it, you can easily clean and store it.
You'll also be glad to know that the coarse, premium carbide blade is replaceable. This makes it cost-effective. Instead of buying another mower sharpener, replace the blade, and you'll be good to go.
Are you looking for a birthday or Father's day gift? This sharpener will make an excellent gift for the gardener in your life. It's an excellent choice for homeowners enthusiastic about keeping their lawn neat without much hassle.
The SHARPAL 103N All-in-1 is the most versatile sharpener on this list. Apart from lawn mower blades, you can sharpen single and double-beveled blades like scissors, pruners, hedge shears, machetes, loopers, hatchets, among others.
It has five sharpening parts to accommodate blades of different angles, single or double bevel, shape, etc.
They include a tungsten carbide bar with a unique design, one ceramic bar, and three different slots with preset sharpening angles. These sharpening parts give the best sharpening performance to all the different blade types.
The sharpener is made from a durable abrasive sharpening material. They pass a 10,000 times field test and never wear out.
It has an oversized handle, so you can use it with gloves. The rubber-coated handle and base provide a comfortable grip and prevent slipping. Additionally, the large guard protects your hand and fingers from the blades.
This tool comes with a 3-year warranty. It's perfect for people with lots of yard tools and prefers one sharpener for most if not all of them.
While manual blade sharpeners are affordable, they require a lot of effort to sharpen. Electric ones sharpen your mower blade quickly and easily without requiring a lot of labor.
The Grizzly Lawn Gear lawn Mower Blade Sharpening tool is an electric mower blade sharpener with a drill attachment kit. It includes a free blade balancer and natural latex garden gloves to protect your hands against bruises.
Each drill attachment has a durable corundum stone that can sharpen blades of any size. The stone is 0.70″ thick, making it long-lasting.
The attachment can fit any hand or power drill, ensuring a crisp, sharp blade edge. You can also use it on your power mower blade. It's not as powerful as a bench grinder, but will still do a fine job.
Made from premium nylon material, the precision sharpening guide can withstand repetitive force against the blade, thus preventing shattering. 
The blade balancer makes sure the blades are balanced for even sharpening. For mower and tractor blades, the balancer fits all styles of blade holes.
You also get a lifetime warranty and money-back guarantee so you can shop risk-free. This electric blade sharpener is for people looking to upgrade from manual to electric or who want to sharpen faster with less effort.
For homeowners looking for a professional mower blade sharpener, you'll love the Oregon 88-023 ½ HP blade grinder. It's a ½ HP, standard duty, 750 RPM spinning speed motor blade grinder that can sharpen up to 6″ cutting edge.
Apart from an ON/OFF safety switch, it comes with a reversing switch for grinding right and left-hand blades.
It also includes an adjustable light for sharpening when it's dark. Additionally, you can adjust the height easily and fast using the easy-to-turn rotary adjusting knobs and handle.
The grinder also features a grit collector to prevent the mess from spreading all over the working area. However, the grit collector is sold separately.
This sharpener is one of the most powerful electric grinders. It can be a perfect choice if you're looking for a powerful sharpener for your 6″ mowing blades.
Also, if your yard usually grows hard weeds and grass that easily blunt your blades, you might need a more powerful sharpener to give your blades a crisp cutting edge.  This is the tool for you.
The Bosmere R305 mower sharpener is a drill attachment that fits any power drill and will sharpen your mower blades in minutes.
It features a reversible aluminum grinding wheel that offers you about ten resharpenings for your mower blade. The sharpener will also reshape your rotary mower blades in minutes.
It will also re-edge and reshape hoes, spades, and lawn edgers for more versatility, thus making it easier to use.
This mower sharpener can fit any domestic power grill and sharpen your blades. Sharp blades are safer to use, give a clean-cut, and leave your grass healthy.
It is for people looking for a cheap, easy-to-use drill attachment for their power drill. However, if you're looking for one with premium features and lasts a lifetime, this is not your ideal choice.
The Dremel A679-02 sharpening kit helps keep your favorite gardening tools like mower blades and chainsaws sharp and ready for the next DIY project.
The kit includes a lawn mower sharpening attachment, a gardening tool sharpening attachment, a chainsaw sharpening attachment, two spacers, sharpening and grinding stones (453,454, 455,932), wrench, and gauge.
The three main attachments help sharpen even the dullest of mower blades and chains and provide optimum sharpening angles.
This sharpener is compatible with Dremel Rotary tool models 8100, 4300, 7760, 8220 (for use with collet and collet nut), and the 100, 200, 3000, and 4000 series.
These attachments are easy to install. You only need to screw them on your Dremel rotary tool. The kit comes with a 1-year warranty, and in case of anything, the manufacturer offers customer support through email, chat, or phone.
This sharpening attachment kit is ideal for someone looking for a mower blade and chainsaw sharpener. It can also sharpen other garden tools. 
Buying Guide
What to Look for in a Lawnmower Blade Sharpener
 When buying a lawnmower blade sharpening tool, you need to consider these factors:
Speed
How fast will the grinder you're considering sharpen your mower blades? How much time are you willing to invest to sharpen mower blades?
If it's a manual one, it'll most likely take more time to achieve your desired edge — anywhere from around thirty minutes to several hours.
On the other hand, electric grinders take less time, with others as less than a few minutes. Some are quicker than others. The speed depends on the RPM speed and the horsepower of the grinder.
However, the fastest is not always the best. Go for a sharpener whose speed is relative to the blade. Excessive speed can damage the blade by overheating, and you also risk injuring yourself.
Power Type
Do you prefer a manual or an electric sharpener for your mower blade?
Manual sharpeners are affordable but require a lot of effort. Electric ones are fast and do not require much labor. However, they are more expensive than manual sharpeners.
Usage
Your choice of sharpener can depend on your usage. Sharpeners range from hand-held blade sharpeners to heavy-duty angle grinding wheels and powerful motor grinders.
If you only need to bring back one compact mower blade, you don't need a professional, industrial-style grinder. Also, if you're a professional landscaper sharpening blades for commercial use, a cheap hand-held sharpener won't cut it. You might also want to look for a professional solution that will allow you to sharpen multiple lawn mower blades.
Before purchasing, ensure you know how you'll be using the tool and how often.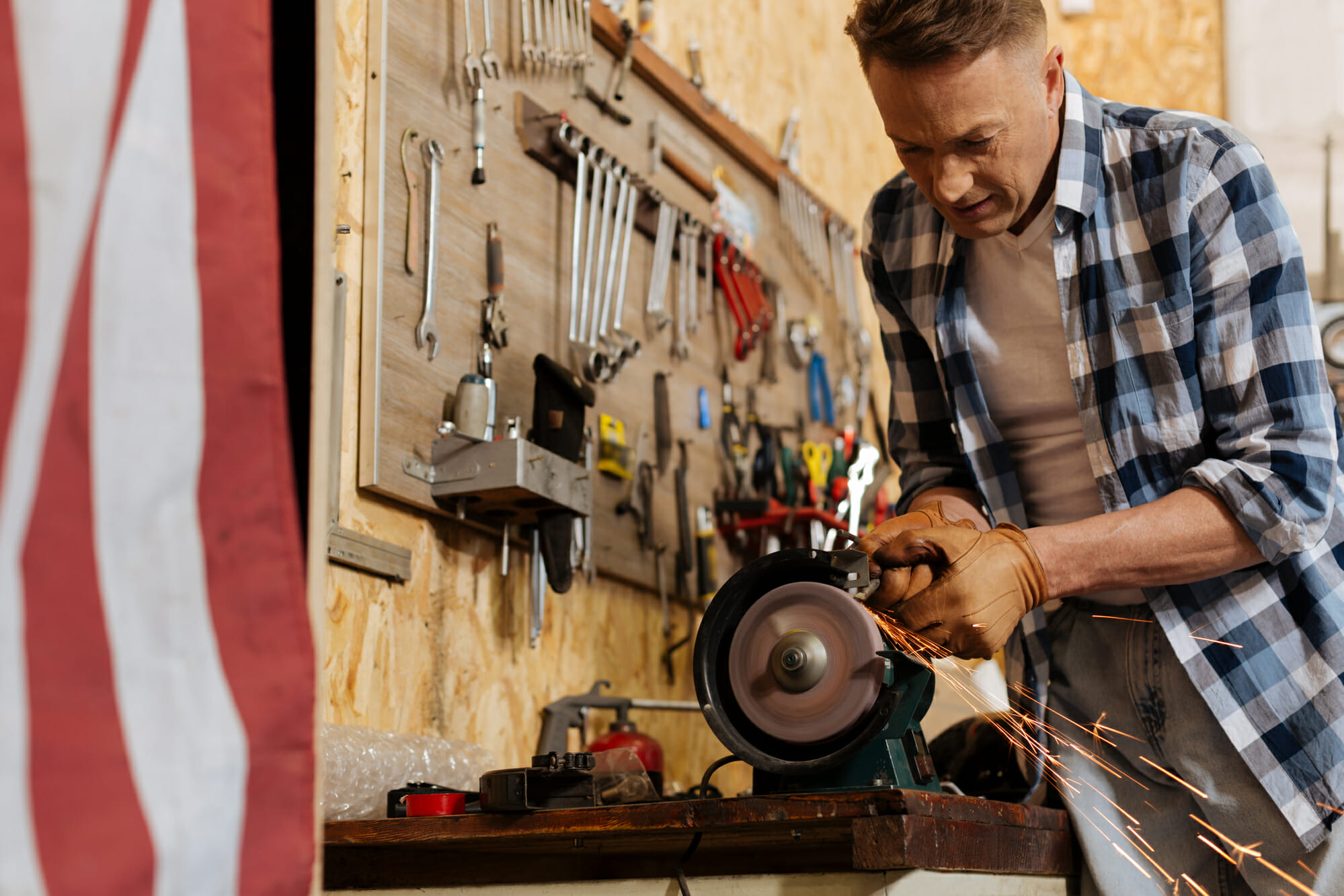 Guide Material and Durability
Blade sharpeners feature a guide that controls the angle of sharpening. This guide ensures the blade remains at the correct angle and does not shift.
Most guides are made from plastic. However, if low-quality plastic is used, it can overheat, melt, and even produce smoke. Using too much force when sharpening can also melt the plastic.
Ensure the guide plastic is durable and cannot break or melt easily. You can also check online reviews of the brand you intend to buy.
Mulching blades can be a problem for some guides – if you have a mulching blade, make sure to check if your dull lawnmower blade can work in the guide you are buying.
Compatibility
While some sharpeners are grindstones and traditional blade files that can sharpen any blade type, others have compatibility issues. Pick the wrong one for your needs and you won't have a sharp blade.
Some require fitting to power drills that generate the force needed. However, some drills are not compatible with some attachments.
If you buy a drill attachment sharpener, make sure it's compatible with the drill you already got. Otherwise, it won't work, and you'll have wasted your money.
Ease of Use
You don't want a sharpener that'll make you curse all day because using it is rocket science. Worse still, it might damage your blades and potentially injure you.
While some sharpeners may look simple, they might be hard to use and may cause damage. For this reason, go for a sharpener that you're comfortable using. 
Most sharpeners that attach to drill are easy to use. But, if you've got a different type, ensure you're physically capable of handling it.
Also, is the sharpener made for right-handed people, left-handed, or both? Ensure you confirm before purchasing. 
Versatility
While they are mostly labeled as lawn mower blade sharpeners, most are versatile and can sharpen different blades.
For gardening enthusiasts with a load of different blades, buying a sharpener for each blade type can be costly. It would be an excellent investment if you got one that can sharpen other blades.
However, you should be careful as the sharpener might be great at sharpening one blade but destroy the other.
For instance, a heavy-duty commercial sharpener might do an exceptional job with mower blades and other large ones, but it'll destroy your thinner blades.
Also, some sharpeners can sharpen standard blades, mulched, high-lift, among others. Keep your sharpening needs in mind and decide whether the tool you're considering is versatile enough and won't damage your blades. 
Safety
Blade sharpening can be a hobby for some people, but it's also dangerous and prone to accidents if you're not careful.
Does the sharpener you're interested in have safety features? It should protect you from cuts, friction, and even sparks.
At the very least, a handheld sharpener should have finger guards. Your fingers are the most exposed and could suffer cuts and bruises. The best finger guards should be oversized so you can use them while wearing gloves.
For motor grinders, there can be sparks and metal filings. You will need eye protection which you will probably buy separately.
It is also recommended to use safety gloves every time and non-flammable clothing or a protective apron.
Price
Different sharpeners have different prices depending on the features they offer. A heavy-duty grinder will cost more than a handheld sharpener.
You should consider your budget and needs when buying a sharpener. If your budget is limited, you can opt to go for a cheaper sharpener then upgrade later.
Just ensure the sharpener you're are buying is worth the price.
Warranty
Most manufacturers offer a warranty on their sharpening tools. The warranties, however, differ from tool to tool, depending on the manufacturer.
The warranty will give you peace of mind in case anything goes wrong. Still, some brands may not offer any warranty.
Additionally, consider the return policy of the sharpener. If there's any fault, can you return it, or you'll be stuck with a non-functional tool and lose your money?
Go for a sharpener with a warranty you're comfortable with as well as a favorable return policy. Other brands offer risk-free shopping where you can get a refund if the tool doesn't function as stated.
Our Verdict
A lawn mower sharpener should not only sharpen the blade but also make your work easier and efficient. Sharpeners come with different features to help you achieve your goal.
While all sharpeners in this guide are the best in their respective categories, the All American Sharpener Model 5005 is the best overall. Apart from sharpening straight standard, high-lift, and mulching mower blades, it can sharpen both right and left-hand blades.
That, plus other features like adjustable blade angles, mounting bracket, and cordless grinder for portability, and how easy it is to use the sharpener, makes it an overall excellent sharpener.
While it's pricey, I think it's worth every dollar. Don't let grass overgrow in your yard because of blunt mower blades.
Click on the affiliate links above to proceed with purchasing the overall best sharpener or any other that fits your preferences and budget.