The Best Lawn Mowers – Reviewed in 2022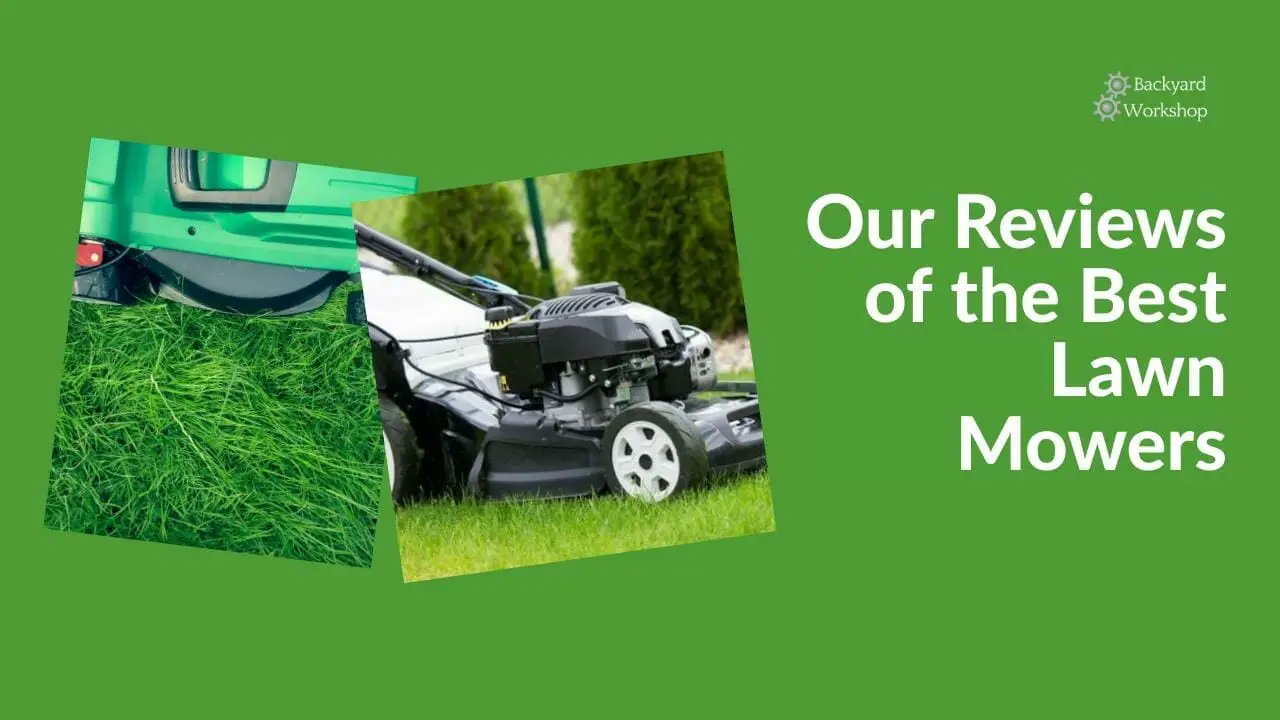 Mowing your lawn is an important component of yard maintenance. A yard that is properly and regularly maintained not only increases the aesthetic appeal of your house, but it also enables you to eliminate pests and debris from your property. Keeping your yard clean requires two important things – determination and a good lawn mower. While finding the determination to clean your yard can be hard, spotting the best lawn mower can be harder.
When purchasing a new lawn mower, you need to focus on a number of factors. This includes things such as the type of mower, your budget, the size of your yard, as well as your physical condition. The features of lawn mower should be compatible with the maintenance requirements of your yard. Therefore, before you make the purchase, it is important for you to look into the different options on the market.
The Best Lawn Mower Reviews For 2022
Sale
The GreenWorks corded lawn mower runs on an electric motor and has enough energy to cut through thick grass. Although the machine weighs 56 pounds, it makes up for this bulkiness through its performance. The 10-inch rear wheels and 7-inch front wheels enable you to move the machine with ease.
Durable Cutting Deck
The 20-inch cutting deck of the 25022 enables you to mow your entire yard within a short period of time. The sharpness of the deck enables you to finish the job quickly and efficiently without wasting too much time or effort. Moreover, since the deck is made of durable steel, you will be able to mow your lawn even during tough climate conditions.
Multiple Clipping Options
The grass clippings can be disposed of in more than one way. You can either use the rear bag to collect the clippings or opt for side discharge. The machine includes mulching capabilities too. This availability of options enables you to dispose of the clippings according to your preferred method.
Height Adjustment
The cutting height can be changed into seven different positions. The cutting height ranges from 1 ½ inches to 1 ¾ inches. You can choose a cutting deck height and position that suits your personal convenience and grass type.
High maneuverability
Sharp and adjustable cutting deck
Multiple clipping disposal options
A little on the heavy side
Limited mowing range – depeends on extension cord length
---
Sale
The GreenWorks 25302 is a type of electric lawn mower that offers you high maneuverability and cutting capacity. This double-duty machine has dual batteries, motors, and blades. Thus, it delivers a high level of service when compared to its counterparts. The 40V lithium Ion batteries enable the mower to work for 60 minutes straight – even in the toughest yards.
Dual Motor Design
The dual motor design of this mower offers you a superior cutting performance. The dual metals blades of the machine are powered by these dual motors. This enables you to power up the shorter cutting blades without having to waste too much electricity. The dual blades enable you to produce finer and shorter clippings. These cuttings can be easily packed and disposed of when compared to larger clippings.
Dual Battery Design
This feature is included in the equipment to enhance the running time. There are two 40V Lithium-Ion batteries in the unit. One of these batteries offers you 73Wh while the other offers you 146Wh. You only need an hour to charge the 73Wh battery. Charging the 146Wh battery would take approximately 120 minutes or 2 hours.
Power Save Feature
This particular mower includes a Power Save feature. This feature is specifically designed to maximize the running time and the battery life of the machine. This feature controls the speed of the blades, and thereby the energy used, according to the thickness of the grass. Meaning, the blades will only run faster when you mow thicker grass.
Dual blade design
Ability to accommodate various grass types and lawn conditions
Lightweight design
Inefficiency in mowing dense grass area
Environmental damage due to regular battery disposal
---
Sale
3. GreenWorks 27022 10 Amp 14
Robust 10 Amp motor
14-inch dethatching path gets your work done faster
3-position tine depth adjustment provides greater control by removing matted layers to promote lawn health
Stainless steel tines stay sharp longer for reliable performance
This is one of the most eco-friendly lawn mowers in the market. It has zero carbon footprint since it does not release an ounce of carbon into the air. The GreenWorks 27022 is a corded electricity lawn mower that comes with a good warranty. The high-performance quality and the longevity of the product are some of its biggest assets.
High-Quality Performance
The product is specifically designed to get rid of the rake by bringing it to the surface. The machine includes two major working depth levels – 3mm and 10mm. The well-made, reliable design enables you to use maximum power to clean even the toughest of yards.
Easy to Use
The machine weighs approximately 31.5 pounds and thus can be moved around without much hassle. You can power up the machine through a button without having to use a cord. Most importantly, the machine includes an integrated extension cord lock that eliminates the possibility of accidental disconnect.
Stainless Steel Tines
The tines of the mower are manufactured from stainless steel. These tines are extremely sharp and are known to offer reliable and efficient detaching performance. The package includes a full set of replacement tines too.
Low maintenance
Low environmental pollution
Excellent Warranty
No dethatch collection bag
Limited mobility
---
Sale
Greenworks 10 Amp 16-inch Corded Mower, 25142
Greenworks, 10 Amp 16-Inch 2 in 1, Rear Bag or Mulch Electric Lawn Mower, Converts Easily from Rear Bag to Mulch, Model 25142
10 Amp electric motor delivers enough power to cut through touch grass. Assembled product weight: 48.0 Pounds
Durable 16-Inch cutting deck gets the job done quicker and more efficiently
2-in-1 feature provides mulching and rear discharge capabilities
The GreenWorks 25142 is a posh corded electric land mower that is highly suitable for yard maintenance of a small garden. It's compact size and the lightweight quality makes the product easy to use and maintain. Moreover, the simplistic design makes the machine suitable for lawns in various landscapes.
Composite Deck
Although the 16-inch cutting deck is made of plastic, it is surprisingly sturdy. Since the deck is generously wide, you will be able to mow large areas within a short period of time. Moreover, the plastic deck will last longer than a steel deck since the former type does not rust.
10 Amp Electric Motor
Since the machine is operated through electricity, it can be simply turned on through a button. Although 10 amp does not sound much powerful, this capacity is more than enough to power a 16" blade. So, you can be assured that the grass will be cut smoothly and efficiently.
Adjustable Height
The lever that sits on top of the machine enables you to adjust the height of the machine. All four wheels can be adjusted into 5 positions. The height ranges vary from 5/8 inches to 2 5/8 inches. This wide range enables you to eliminate both tiny and thick grass areas.
Excellent performance quality
Easy to maneuver
Convenient height adjust-ability
Inability to mow wet grass
Noise pollution
---
The battery powered EGO Power+ enables you to mow your lawn without disturbing your neighbors and making a mess of your yard. The operational efficiency of the machine is one of its most impressive features. It is possible for you to mow up to 2 miles on a single charge. The machine can be used for 45 minutes and only takes half an hour to recharge.
Power
The machine is powered by a single 56V lithium-Ion battery that enables you to use the mower for an hour. It is important to note that this running time can vary according to the height and thickness of your grass. Although regular Lithium-Ion batteries take two or more hours to charge, the Power+ recharges itself within 30 minutes.
Lightweight
Since the battery weighs no more than 3 pounds, the overall weight of the charger is not heavy. Although the machine looks big and bulky, it can be easily moved around. A lightweight lawn owner makes the task of mowing easier since you will be able to move the machine at a comfortable pace.
Quality Performance
You can start the mower without having to use an exhausting pull cord. It is possible for you to adjust the height of the cutting deck through the lever according to your convenience. Moreover, the machine includes a bailout bar to ensure your safety during the mowing.
Easily dispose of clippings
20-inch cutting path
Quick recharge time
High maintenance
Lack of self-propulsion
Lawn-Boy 10732 Kohler XT6 OHV, Rear Wheel Drive Self Propelled Gas Lawn Mower, 21-Inch
Rear Wheel Drive System provides a better traction and control on hilly terrain and large, easy empty bag makes emptying the bag fast and easy
2-Point Height-of-Cut System allows you to quickly adjust cutting heights from one side of the mower
3 year Tru-Start Commitment - starts with 1 or 2 pulls or Lawn-Boy will fix it for free
Kohler 149cc/ 6.5 ft.-lbs. Gross Torque/ OHV Engine
The Lawn-Boy is a self-propelled gas mower that is ideal for your yard maintenance. It includes an engine that is highly reliable and easy to use. The rear wheel drive and the speed control system enables you to move the vehicle at a comfortable pace. Moreover, the mower also offers a 2-year warranty.
Engine
The engine is the main attraction of the machine. Four-stroke engines are not common among mowers and are definitely not available within this price range. This four-stroke engine makes the overall mower more reliable, quieter and long lasting.
Adjustable Cutting Height
The cutting height can be adjusted from 1 ¼ inches – 3 ¾ inches. The height can be adjusted through the rear wheels and the front wheels. When adjusting the wheels, the front wheels have to be bent inwards to some extent to make sure that the knob won't jump out.
Assembly
Although the product arrives in tiny sections, the assembly is quite easy. There is no need to look for a YouTube tutorial since the user manual is informative and easy to understand. With its assistance, you will be able to put the lawn mower together quickly and easily.
Durable construction
Self-propulsion
Excellent engine
Weak front wheel adjustable
High fuel costs
---
Troy-Bilt 30-Inch Neighborhood Riding Lawn Mower
This neighborhood mower is ideal for standard land owners with a medium sized landscape and relatively even terrain
Powerful OHV Troy-Bilt Engine with top forward speeds of 4.25 MPH and a 6-speed transmission
Manual power take-off for fast and easy blade engagement
The 30-Inch cutting deck featuring 5 adjustable settings couples the benefits of a standard riding mower with the size of a wide cut walk behind mower
This Troy-Bilt gas mower is ideal for individuals with prickly neighbors and medium-sized landscapes. This particular machine is known to offer excellent service for a long period of time. Although the machine has a 30" cutting deck, it can be easily stored in your garage without consuming too much space.
Wide Cutting Deck
The biggest asset of this machine is its 30-inch cutting deck. This wide deck enables you to beautify your yard quickly and easily. This means that you do not have to unnecessarily spend too much time for this chore. Moreover, you will be able to mow the lawn in a comfortable, seated position too.
Fuel Sight Window
Since the machine operates through gas, it is important for you to keep an eye on the gas level. There is no need for you open the machine and check the fuel level since the mower includes a fuel sight window. This enables you to monitor the fuel quantity at all times.
Adjustable Blades
The cutting blades of the machine can be adjusted according to your grass type and personal convenience. The machine has 5 cutting positions in total. You can either lower or raise the blades to a suitable position in order to make the mowing more efficient.
No noise
Electric key start
Fast and easy blade management
Back support
High maintenance
Plastic footrest area
Types of Lawn Mowers – Battery, Corded, Gas
Lawn mowers can be differentiated according to their size, maneuverability and price range. Most importantly, these machines are differentiated according to their energy source. Lawn mowers are usually powered by electricity (corded or cordless) and gasoline. Of course, some types are used through manual labor too. The following are the three main types of lawn mowers that you need to know.
Battery Powered Lawn Mowers
Battery powered lawn mowers are machines that are operated by rechargeable batteries. These type of mowers usually include 1-4 12-volt batteries that are either placed on the outside or the inside of the machine. Machines that have the batteries on the outside tend to be more convenient since you can easily swap the batteries once they are depleted. One of the biggest advantages of battery-powered mowers is the fact that they enable you to clear your yard without high fuel or electricity costs. Moreover, it is also a much more eco-friendly option than the alternatives since it does impact the environment negatively.
Low Noise: This enables you to mow the lawn without disturbing the neighbors
User Friendly: No need to drag the cord all over the yard
High Maneuverability: Allows you to clean your yard quickly and easily
Low Power: Batteries are incapable of producing high levels of horsepower
More Expensive: These mowers aren't as available and thus, pricier
Higher Maintenance: Finding a mechanic to fix a battery powered mower can be difficult
Corded Lawn Mowers
Corded electric lawn mowers work by directly connecting the machine to a power outlet. It is possible for you to use the machine within 100-150 feet from the nearest power source. The eco-friendliness and the absence of noise pollution are some of the most beneficial features of this type. You will be able to mow your lawn without annoying your neighbors or worrying about fuel waste. The appliance can also be easily used and handled since the maneuverability is quite simple and straightforward.
No Gas or Oil: There is no need for you to waste precious natural resources such as gas and oil
Cost Savings: Recharging an electric mower costs much less than oil or gasoline consumption
Cuts Time: Easy maneuverability enables you to mow the lawn within a short period of time
Limited Range: You can only use the machine within 100-150 feet
Electric Shock: Accidently mowing over the cord can result in electric shock
Weather Limitations: Highly unsafe to be used during the rainy season
Gas Lawn Mowers
Supported by internal combustion engines, these machines run on gasoline. They usually have four-stroke engines and a power range of 2-7 horsepower. Although most gas mowers are started manually, some large commercial mowers use electric starters too. While it is possible to control the engine speed through the throttle control on the handlebar, some machines have a fixed, pre-set engine speed. The most impressive feature of this type of mower is its ability to generate high levels of power. It is possible for you to mow a humongous yard without any technical interruption. Moreover, the absence of a cord enables you to cover long distances too.
No Recharge: You can cover large areas of land without having to recharge the battery
No Electrocution: The absence of electricity enables you to mow safely and peacefully
High Durability: This type of mowers last longer than alternative models
High Levels of Pollution: They release carbon monoxide and dioxide into the atmosphere
Regular Maintenance: Certain gadgets need to be regularly cleaned and replaced
Too Much Noise: These machines result in noise pollution and disturb the neighborhood
Conclusion
Since you are investing quite a bit of money and risking the safety of your property, it is highly important for you to read descriptive, yet unbiased lawn mower reviews before you make the final decision. This will definitely enable you to choose a lawn mower that suits your maintenance requirements and personal preferences.  Also don't forget to pick up a set of good lawn mower blades – you'll be glad you did!
Prices and availability are accurate as of 2022-05-23 at 03:34 CST - Details