The Best Mower Headphones in 2022
Taking headphones out with you while you're mowing can solve two problems at once. First and most importantly, a good pair of noise-canceling headphones for mowing can prevent serious damage to your hearing from the loud noise that lawnmowers produce. 
Many lawnmowers create over 90 decibels of noise, which is a serious risk to your health—especially if you have a large lawn that takes a long time to mow. 
Secondly, headphones for mowing can also provide entertainment during an often boring, time-consuming, and thankless task. Putting on an awesome playlist or an interesting podcast can transform mowing the lawn from something you dread doing to something that isn't all that bad. 
In this list of the best headphones for mowing the lawn, you'll find a diverse range of options—from burly over-ear headphones designed for construction workers to small but powerful in-ear headphones with great sound quality and active noise-canceling capabilities. 
Overall, we find that the 3M WorkTunes Connect Hearing Protector is the best overall headphones for mowing the lawn. They have all the features you could want, including a high degree of noise-canceling capacity, high-fidelity speakers, and a microphone that enables phone calls and voice control in high background noise situations. 
Not only does it come packed full of features, but the 3M WorkTunes Connect Hearing Protector is a durable enough product that you can plan on using for years to come. You'll be amazed at the sound quality as well.
However, we realize that different consumers might have different needs and preferences. For instance, some people don't like wearing over-the-ear headphones, and others won't need the same level of noise-canceling protection. 
For that reason, we've included lots of other high-quality and reliable options that can enable you to protect your hearing while working on the lawn. 
Keep reading to find out which of these noise-canceling lawn mowing headphones fits into your lawn care routine the best. 
The Best Headphones For Mowing The Lawn Compared
3M WorkTunes Connect Hearing Protector with Bluetooth Technology, 24 dB NRR, Ear protection for Mowing, Snowblowing, Construction, Work Shops

Lowest Price

Check price at

3M WorkTunes Connect + AM/FM Hearing Protector with Bluetooth Technology, Ear protection for Mowing, Snowblowing, Construction, Work Shops

Check price at

ISOtunes PRO Bluetooth Earplug Headphones, 27 dB Noise Reduction Rating, 10 Hour Battery, Noise Cancelling Mic, OSHA Compliant Bluetooth Hearing Protector (Safety Orange)

Check price at

Anker Soundcore Life Q20 Hybrid Active Noise Cancelling Headphones, Wireless Over-Ear Bluetooth Headphones, 40H Playtime, Hi-Res Audio, Deep Bass, Memory Foam Ear Cups, for Travel, Home Office

Most Popular

Check price at
Buyer's Guide: What to Look for When Buying Headphones for Mowing the Lawn
As with the purchase of any piece of complex technology, there are lots of factors to consider when buying noise-canceling headphones for mowing. This is, of course doubly true when it comes to items that have an impact on your health and safety. 
In this buyer's guide, we'll go over the most important questions to ask yourself when choosing between prospective headphones for mowing your lawn. 
How Well Do the Headphones Protect Your Hearing? 
At the end of the day, you want to be sure that the noise-canceling headphones for mowing that you buy. 
According to the US Department of Labor, exposing yourself to loud noises is a hazard that has harmful effects in both the short term and the long term. In the short term, loud noise can cause tinnitus or a ringing in your ears. Longer-term exposure can lead to permanent hearing loss. 
There are government regulations that require employers to practice good hearing conservation, or the prevention of any harmful effects from loud noise, for their employees by supplying the necessary hearing protection equipment. Why wouldn't you want to use the same best practices in your own home? 
You are at risk of hearing loss whenever you experience noise that rises above 70 decibels for a long amount of time. The louder the noise, the less time you need to spend with it before there is damage. 
Given that lawnmowers produce around 90 decibels, you are taking a risk with your hearing when you use one without precaution. Keep in mind that there is a range here: if you have a very large and powerful mower, it's likely much louder than a smaller model. 
You can tell the amount of protection that noise-canceling headphones for mowing afford you by looking at the particular model's noise reduction rating (NRR). The NRR tells you how much sound they can block out, with a higher value corresponding to a greater ability to cancel out noise. 
Do They Have A Snug Fit? 
This is an important question to ask because it is directly connected to the previous question about how strong their noise-canceling rating is. An expensive pair of noise-canceling headphones for mowing that has a high are useless if they don't fit properly. 
When I talk about a 'snug fit,' what I mean is that your headphones completely block the entries to your ears. Otherwise, the sound will find its way into your ears as a result of the gaps left by poorly fitting headphones. 
When it comes to in-ear headphones, be sure that the plug that goes into your ears is the proper size. Many such headphones come with multiple options for that rubber plug in the package, giving you a few different sizes to choose from. Be sure to choose one that's large enough to create a stable seal and one that's small enough to fit inside without popping out often. 
In terms of over-the-ear headphones, you can evaluate the fit by checking whether the ear cups completely encircle your ears. That means they can't be resting on any part of your ear or be so large that they move around. 
You check the fit of over-ear headphones by running a finger around the entire circumference of the outside of the headphone to make sure it is firmly attached to your head at all points. A snug fit provides better sound quality and sound isolation from your hearing protection headphones.
One further note about ear cup headphones is that their ear pads tend to wear out after lots of use, which can eventually compromise their passive noise isolation properties. Luckily, most manufacturers allow you to order replacement pads that will restore a proper fit when you're wearing them.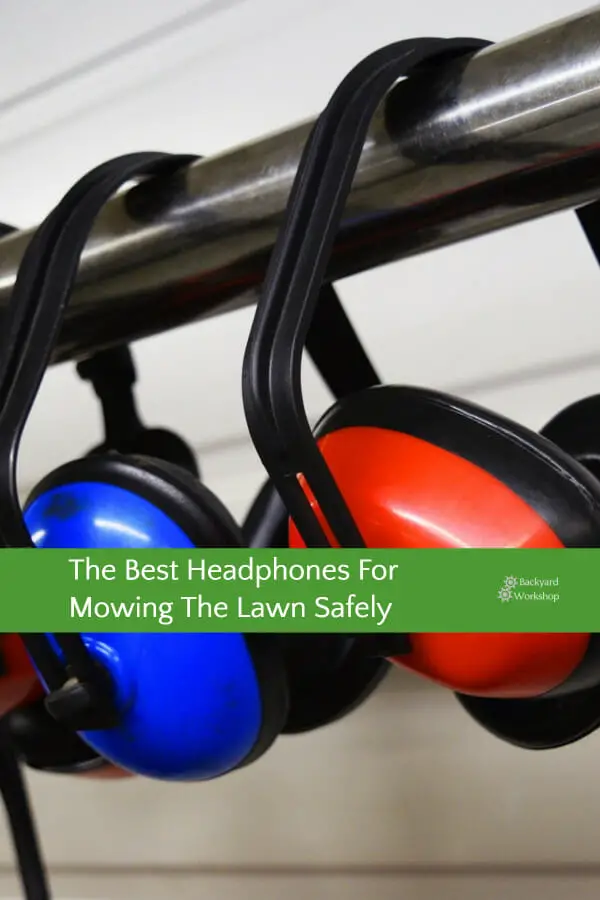 Sound Quality
Of course, you can just buy earplugs if all you are looking for is hearing protection.  But you want to listen to music while mowing the lawn as well as noise isolation.
So superb sound quality is a factor as well.   Some of this is subjective – one person can find a model of noise canceling headphones good enough, while another might notice missing bass.
However – even the most premium headphones aren't going to deliver an audiophile performance for you while you are lawn mowing.  The low frequency noises – and other background noises – are strong while mowing the lawn.  
If you want excellent sound quality from your noise cancelling headphones, try them out without noise.  If they are outstanding without interference, you can be sure they will provide good sound quality under stress – as long as the noise reduction and other active noise cancelling systems are top notch as well.  
How Comfortable Are the Headphones? 
When you're out working on the lawn, you need to make sure that the headphones you're wearing are comfortable for you. Otherwise, they'll become an additional annoyance, and you'll always be tempted to take them out, which can expose you to the risk of hearing loss. 
Everyone has differently shaped ears and tends to prefer one or the other type of headphones in terms of comfort. 
In this context, you can use your preferences for regular headphones to guide you in choosing a pair. If you usually like big, over-ear headphones, then it's a good idea to buy a pair of those for mowing the lawn. They will reduce outside noise the best because of the passive ear protection they provide. The extra mass is good for high sound quality,  passive noise isolation and hearing protection.  
On the other hand, if the idea of having your ears cooped up gets on your nerves, you might want to think about changing it up and going for smaller in-ear noise cancelling headphones – likely with a rechargeable battery.   
If you don't have a strong idea of what you prefer when it comes to the most comfortable noise-canceling lawn mowing headphones, I'd suggest going into an electronics store and trying on some different types. 
That will give you a good idea of which ones will be the most comfortable for you when you're out on the lawn mower. You can also ask them if they carry any of the models on this list in case you've found one or two that you're interested in. 
Do the Noise Canceling Headphones Restrict Your Range of Motion? 
Since you'll be doing physical work while wearing your headphones, it's crucial that you can move comfortably and freely when wearing them. 
Here, the best option is to get Bluetooth lawn mowing headphones, which don't have cords to get in the way. There is a little bit of a price difference in comparison to corded headphones, but these days it isn't too significant. 
How Durable Are The Headphones? 
Durability is a crucial consideration when buying headphones because you don't want to have the pair break after a small amount of time and then have to buy a new pair. It can, however, be difficult to tell whether a pair of headphones is durable or not. 
Here are a few ways to know whether a prospective pair of headphones is likely to stand the test of time. 
The first thing to look at is the brand. If it's from an internationally recognized and well-regarded brand, chances are that the headphones are made from high-quality materials and unlikely to break for no reason. Headphones made by brands that don't have much of a track history or web presence beyond amazon are much riskier to buy from. 
Secondly, you can look at the materials the manufacturer uses to make the headphones. In general, metals and high-quality plastics are going to be more reliable than cheap, hard plastics that you might find on lower-priced headphones. 
Finally, a good piece of information to look towards is the manufacturer's warranty. When a company grants lifetime or long-term warranties on their products, it shows that they believe in the durability of their product. 
Do You Want Over-Ear or In-Ear Headphones? 
We briefly looked at this choice when going over the importance of finding headphones that are comfortable for you. However, there are a few more factors involved in this decision that I'd like to go over. These are especially important to go over if you're one of those people that doesn't have a strong preference when it comes to in-ear vs. over-ear headphones. 
At the end of the day, over-ear headphones are going to be able to provide the most powerful hearing protection from noise. The reason that they are better than in-ear headphones is relatively simple: they have all that extra material in their large ear muffs that help to block out surrounding noise.  It's a passive form of effective noise cancellation.   When complemented by active noise reduction, they can cancel out a lot of noise while mowing the lawn. 
So, if you have a particularly loud lawn mower or are very worried about hearing loss and want to maximize the degree to which you avoid it, over-ear headphones are best for you. They have the best ear protection hands-down.
On the other hand, you might not need as much NRR out of your headphones if you only have a small lawnmower and a lawn that doesn't take too much time to mow. In those conditions, the risk of acute hearing loss is lower, so in-ear headphones will provide adequate ear protection.  
Another consideration is heat. I have quite a large lawn and live in a hot climate, and let me tell you that over-ear headphones can become uncomfortably hot during the summer. If you're sensitive to heat, then in-ear headphones are a good idea while out lawn mowing midday.. 
Watch Out for Battery Life With Bluetooth Headphones
If you're looking at buying a pair of headphones that feature a rechargeable battery, make sure that they have enough battery life to get through not just the lawn but a full day of yardwork. You don't want them to run out of power while you're trimming the hedges in the middle of one of your favorite albums.  Most bluetooth headphones are rechargeable – but not all.
Further, you should still consider the efficiency of active noise-canceling headphones that use replaceable aa batteries because these are extra expenses that can add up over time. A pair of noise-canceling headphones that are powered by replaceable batteries will typically go through the power of one battery in about 25 hours. 
If you buy a pair whose battery needs to be replaced after significantly less time, you'll have to pay for many extra batteries over the lifetime of the product. Battery life is important.
Frequently Asked Questions
Can Noise from Lawnmowers Damage My Hearing? 
Yes, noise from lawnmowers can damage your hearing, especially over long periods. Hearing damage is cumulative, which means that once you do damage, it doesn't heal and you can always do further damage. 
The 90 decibels that household lawnmowers produce are more than loud enough to produce hearing damage if you don't take the proper precautions. 
How Long Do Noise Cancelling Headphones Last?
It depends on the make and model of your headphones, but the best quality noise-canceling headphones can last from 5 to 8 years. Lower quality headphones might only last 1 to 3 years. 
Do Noise Cancelling Headphones Wear Out? 
No, noise-canceling headphones don't wear out, but some of their components might do so. For instance, the pads on the outside of over-ear noise-canceling headphones will eventually wear down from repeated use, but the actual mechanism that cancels out noise won't break down. 
Likewise, you'll eventually have to replace the battery in noise-canceling headphones that require battery power. 
The good news is that when you buy high-quality noise-canceling headphones, more or less all of the components will be replaceable. All you need to do is get in touch with the customer service division of the manufacturer and have them send you replacement parts. Whether or not your headphones are still under warranty will determine whether this comes at a cost to you or not. 
Product Reviews 
Here are the best headphones for mowing that we could find after an exhaustive search. I believe that each of these headphones can do a great job of keeping your hearing safe and your mind entertained while you're out there working on the lawn. 
Check price at
3M is one of the largest companies in the world for a reason: they apply science and great manufacturing practices to whatever they manufacture. The 3M WorkTunes Connect Hearing Protector is no exception. 
In our eyes, it's the best Bluetooth hearing protection that you can get, filled with features that enhance both its effectiveness and its comfort for the wearer. 
That starts with the extremely high noise reduction rating of 24-decibels, achieved through a combination of active noise cancelling and passive noise-canceling. Wearing these, you'll be protected from even the loudest lawnmowers and be able to mow the largest lawns without any negative consequences. 
When it comes to the entertainment side, these are a great pair of headphones that feature high-fidelity speakers. You can stream any media you like from any Bluetooth-compatible device to these, which don't feature any cords or antennae to get in your way. 
Finally, and probably my favorite feature of the 3M WorkTunes Connect Hearing Protector, is the microphone that's integrated into the headphones that allow you to take a call while you've got them on as well as enabling voice control.
These headphones are for those who are very serious about both their lawns and their technology, not interested in anything but the best in both situations. When you're out working on the lawn for hours upon hours, striving to outdo your neighbors, you want the best headphones for mowing as well.
Check price at
This model from 3M is a close cousin of the one we just discussed except for a few extra features. We've ranked it just below the top spot because many of these features won't be seen as necessary by everyone, but for some people, this version of the 3M WorkTunes Connect will be the preferred option. 
The headline is that the 3M WorkTunes Connect + AM/FM Hearing Protector is capable of picking up both AM and FM radio in addition to connecting to Bluetooth devices. Some people will appreciate the extra feature because they love listening to the radio while out mowing the lawn. 
Other than that, the appearance is a little bit different, with grey earmuffs to block out the mower noise and antennae to pick up the radio. These two differences give the 3M WorkTunes Connect + AM/FM Hearing Protector a little bit more of a workmanlike feel than the other 3M headphones, which look like they could be used just as easily in a studio as on a worksite. 
These headphones have the same 24-decibel NRR as the base 3M Worktunes Connect so you'll get great external noise protection from this model.  You'll also find many of the same features to enhance comfort, like cushioned ear pads and an adjustable headband. 
In conclusion, I'd say that the 3M WorkTunes Connect + AM/FM Hearing Protector is for the almost same group of people as its sister product. The only difference is that the people these headphones are for love listening to the radio. 
Check price at
While our first two headphones were from the same manufacturer and quite similar to one another, the third pair that we're taking a look at is different. The ISOtunes PRO Bluetooth Earplug Headphones are an innovative and effective pair of in-ear headphones that can keep you safe while working in high-noise environments. 
With their high visibility, safety orange color, these in-ear headphones are OSHA compliant, and with their over-ear wires, they're also difficult to use. 
The ISOtunes PRO Bluetooth Earplug Headphones have an NRR of 27 decibels, which outperforms many over-ear headphones. They pull off such a feat by using heat-activated memory foam that expands to produce a perfect seal when you put them on, which enables a high degree of passive noise cancellation. 
When you combine that with the powerful active noise cancellation coming from the speakers, you get a huge degree of noise cancellation overall. 
Those speakers also provide great sound quality playback of anything that you send over Bluetooth. And you'll be able to listen to whatever you like for a long time: the ISOtunes PRO Bluetooth Earplug Headphones have a 10+ hour battery life that will take you through a full day of yardwork. 
Like the two headphones from 3M, the ISOtunes PRO Bluetooth Earplug Headphones come with a microphone that allows you to take calls while you're working. The difference here is that the microphone is located on the wire that connects the two headphones, along with volume control and a pause button. 
Check price at
The Anker Soundcore Life Q20 Hybrid Active Noise Cancelling Headphones bring a lot to the table when it comes to using them for protecting your hearing while mowing the lawn. The impressive thing is that they do so while maintaining an audio quality that any music lover would be happy with. 
These are an outstanding pair of bluetooth hearing protection headphones – so good you won't just wear them when mowing the lawn. The sound quality is that good.
But let's start with safety. Anker claims that their headphones reduce ambient noise by 90%,, although they don't cite a specific NRR. However, given that the noise cancellation is quite powerful and the over-ear design leads to a large amount of passive noise cancellation, you should be more than good to use these for mowing. 
As well, the earpads on these are incredibly comfortable, so you won't ever be tempted to take them off while working. 
The standout feature of the Anker Soundcore Life Q20 Hybrid Active Noise Cancelling Headphones is the Deep Base technology that gives you the feeling you are in the club, not mowing the lawn, while EDM or hip-hop is playing. You can also turn off the enhanced bass when listening to genres that don't demand it as much. 
When you combine all those features with the 40-hour playtime per charge, you get a product that's one of the Bluetooth headphones for mowing.
Our Verdict 
I hope this overview of the best headphones for mowing has convinced you of the importance of wearing ear protection around loud lawnmowers. Hearing damage is permanent and can always get worse, so trust me when I say that your future self will thank you for wearing protection while working with lawnmowers and all other loud machinery.
We find that the 3M WorkTunes Connect Hearing Protector are, overall, the best headphones for mowing safely. They have all the features you could want and nothing extra—which we view as the mark of a great product. They have great speakers and Bluetooth connectivity to go with a great NRR of 24 decibels. 
Ultimately, that's just about all you could want from the best headphones for mowing. So why not protect your hearing today and order yourself a pair?