The Best Battery Powered String Trimmer – Weed Eater To Buy in 2022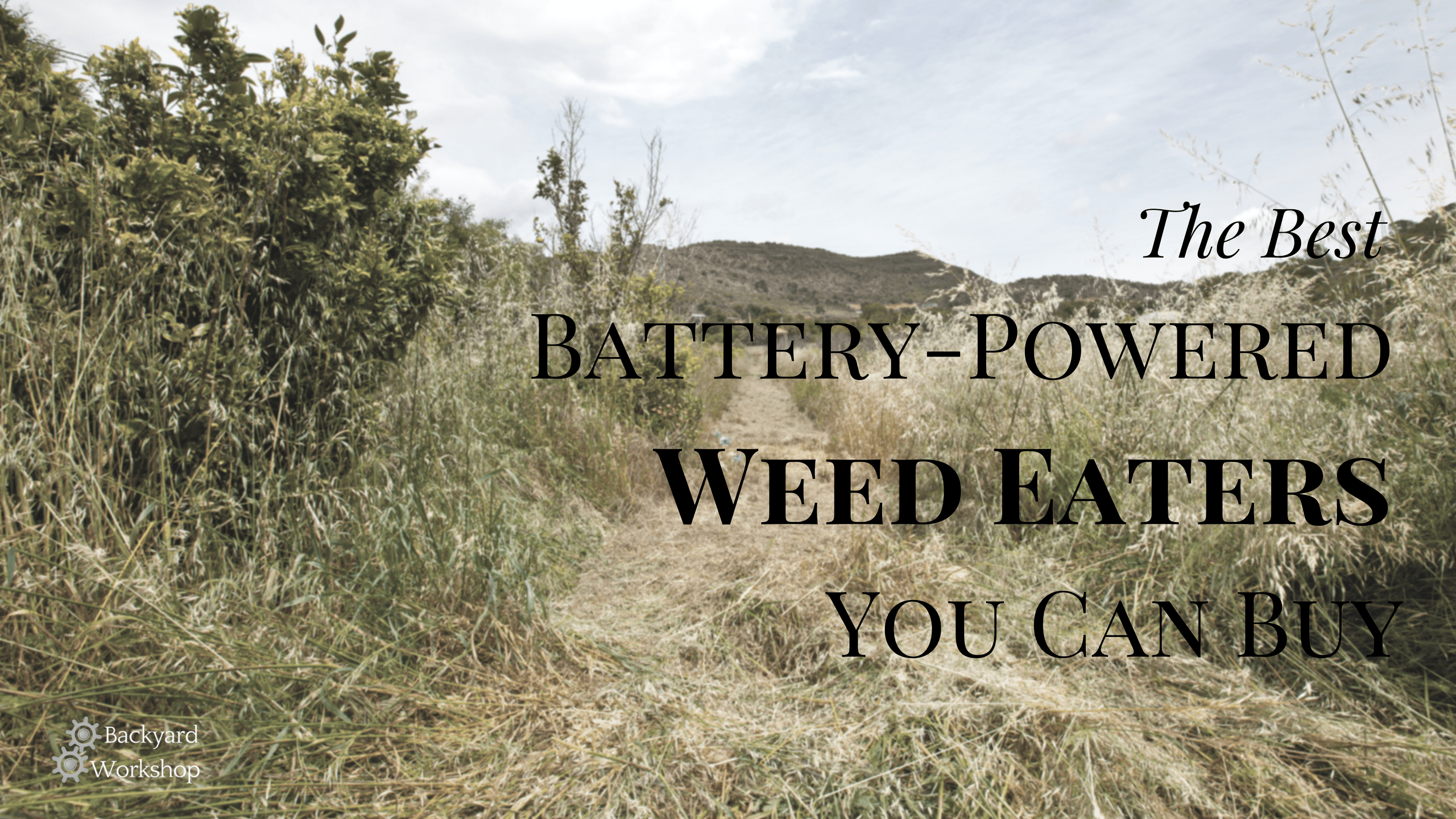 It's amazing how far battery powered weed eaters have come in a short few years.
No longer considered a toy, a cordless string trimmer is a great choice for homeowners that are looking for a good mix of convenience, ease-of-use and reasonable power.  Advances in lithium-ion battery technology have been pushed primarily by electric car manufacturers, but it's trickled down to less expensive products. 
That's great news for homeowners and others looking for the user-friendly convivence of a battery powered weed eater.
Maybe you looked at a cordless string trimmer in the past, and thought they weren't powerful enough.  If so, it's time to take a second look – the best battery weed eater can now do just a good a job on most tasks as other string trimmers.
This guide will help you determine if a battery powered weed eater is right for you. We lay out all the pros and cons and describe what features you need to look for when buying a weed wacker. We also have a list of the best battery powered trimmers on the market to make your buying decision even easier.
Jump To Recommendations
Our selection criteria and expanded reviews are below, but we know you might be in a hurry. If so, here's our recommendation by use case:
Prices and availability are accurate as of 2022-01-24 at 12:55 CST - Details
There Are Solid Reasons For Going With A Cordless String Trimmer
There are a lot of reasons as to why you'd choose a cordless battery powered weed eater. Here are the main benefits of the class:
Mobility: Cordless weed eaters are light and have no cords.  Without the cord, you are free to move about your yard while working with a cordless string trimmer. Lithium ion batteries provide the power to your trimmer head.
Easy to Use: It's almost unanimous: The best battery powered string trimmers are way easier to use and maintain then a gas string trimmer. There's also no annoying extension cord to worry about like you get with corded electric string trimmers.
To start a battery powered weed eater, you simply pop in a battery into the string trimmer and push a button. There's no need to mix gas or kill your shoulder with a pull start when working with cordless battery powered weed eaters.
You'll also find battery powered weed eaters easier to maneuver around backyard obstacles.  No more worries about damaging the sprinkler pipe or breaking your trimmer line against the fire pit!
Quiet: We've done a lot of work on measuring just how much more silent battery powered string trimmers and other tools are versus their gas powered cousins. Aside from the trimmer heads whirling at high RPM, there is virtually no noise from these devices.  Your neighbors – and your ears – will appreciate the lack of noise pollution your cordless electric string trimmer makes.
Environment: A battery powered weed eater emits no pollutants.  The power is provided by a lithium ion battery pack which you simply plug in the wall to recharge .  Using the same battery repeatedly helps make the best battery powered weed trimmers a very eco-friendly tool.  Energy consumption tends to be lower as well because you can easily turn the trimmer off when moving.
Cost Effective: A great battery powered weed eater can cost less upfront than gas string trimmers, and still provide plenty of power to cut thick grass.  When you add the savings in fuel and materials, cordless string trimmers are a great choice for most yards.
There are two main reasons why you might go with gas powered trimmers  or a corded electric string trimmer for your weed whacker needs. These conditions don't apply to most people, but if either apply to you try our other guides because a battery powered weed whacker isn't the best for you:
Really Thick Weed Growth: If you have many weeds that are thicker than a grown man's thumb, you'll need a thicker trimmer line than most battery powered string trimmers can handle.  A gas trimmer will probably be your best choice.  Thick weeds like this is usually only a problem if you live next to open fields of weeds or way out in the country.
An Estate-Sized Yard Area: If you need to take care of tens of acres of land, it'll probably be more convenient to just shop for one of the best gas-powered string trimmers.  You're more likely to have large weeds, and with a battery powered string trimmer you'll have to swap out batteries a few times – and then manage recharging a spare battery with a cordless string trimmer. While improvements have been great in battery technology, current lithium ion battery powered string trimmers don't have enough battery life to run a battery powered string trimmer over that size of property. Skip the battery powered models.
Selecting the best battery powered weed eater among the plethora of options available in the market may be a daunting task. To simplify things for you, we have reviewed some of the best products for your convenience.
Our Picks For The Best Battery Powered Weed Eaters
Our Top Pick: The Black + Decker 40V Lithium Ion Battery Powered String Trimmer
High-performance 40V max Lithium ion Battery with state of charge indicator that shows remaining power
Power drive high-torque transmission gives you cutting power at the string for clean, fast cuts. Nominal voltage is 36.
Automatic feed Spool - afs which automatically feeds trimmer line as needed with no bumping
Converts from trimmer to edger in seconds
Prices and availability are accurate as of 2022-01-24 at 12:55 CST - Details
Our Top Pick For Overall Best Battery Weed Eater
The Black+Decker 40-Volt battery powered weed eater is a great fit for most urban and suburban yards. It's the string trimmer I have for my home – my lakeside yard is pretty small but I do have quite a few areas where I need to knock down weed growth.   
I've had this battery powered string trimmer since 2017 and it's still running strong today in 2021.
It's the perfect fit for your home if you don't encounter weeds thicker than 3/4″ wide.  If you have weeds that big –  the trimmer line diameter that comes on the spool is too small to handle those vegetative beasts.  I just use my lawn mower on the big weeds when they pop up so it's not a huge deal for me.
It's lightweight at just under 8 pounds even when compared to most other battery powered string trimmers.  Thats great;  it won't tire you out as quickly as some of the heavier cordless string trimmer models.  I'm not looking for a workout when I use my battery powered string trimmer – I just want to destroy some weeds and be on my way.  The 13 inch cutting width is great for my needs.  I personally think cutting width is overrated – you aren't using your cordless string trimmer to make successive passes like a lawn mower.  
Not just a trimmer, this multipurpose garden tool can also serve as an edger. It takes under 30 seconds to transform your string trimmer into an edger – it's not a wheeled edger but still can get the job done in a pinch.  You now can edge along your patio or walkway.  I don't use this feature that much, but it is handy to have for those times I need it.
40-Volt Max Lithium Ion Battery – Good Battery Trimmer Power
Black + Decker has an entire line of battery powered tools that run off the 40-volt MAX system.  That means you can buy various tools that use these batteries and use them interchangeably. While not at the top end of the range for battery capacity, it has been good enough for my needs.   I went whole-hog, and bought both the battery powered leaf blower and lawn mower that use these lithium ion batteries.
I haven't been disappointed – with either battery life or power.
I've found that I can get around 50 mins of usage on average from my battery powered string trimmer on one charge of the lithium-ion batteries. It depends what setting I have my variable speed trigger at, but I usually keep it at a three out of five.  That run time compares to 15- 20 mins of mower time.  If I didn't have two batteries already, I'd probably order another one when I bought the trimmer just for convenience sake.  It's nice to have a battery charging while one is being used in your cordless string trimmer.
Even now in 2021, 3 of the 4 batteries are still going strong.  One of the lithium ion batteries isn't keeping my battery powered string trimmer running as long as it used to – but I've learned a way to revitalized these batteries to keep your battery powered tools running for years to come.  Stay tuned!
I've found my 2 amp batteries take between 1.5-2.5 hours to recharge.  The time depends on how hot the battery is (was it just used or sitting around?), and the temperature in my garage where my charger is located.  Heat isn't your friend when dealing with lithium-ion recharging.
Automatic Trimmer Line Feed Spool
This is another excellent feature and can prove to be a big time-saver. In theory, an automatic feed spool will allow you to work continuously. There is no need for manually adjusting the spool – the automatic feed system handles it for you. In practice, it works most of the time.  I've still found myself occasionally needing to bump feed some string on my own rather than having instant line feeding.
Adjustable Height and Handle
The height of the handle of this cordless string trimmer can be customized depending on the length that's best for you. This means that whether you are short or average height, you can expect that the straight shaft will be right for your needs.  An easy to open and close clasp requires means you need no tools to adjust to the perfect height.
I'm 6'2″ – and it's comfortable enough to use for my lot size.  I'd likely go for a bigger model if I had an acre or more to de-weed.
PowerDrive Transmission For This Battery Weed Eater
This is an innovative powertrain feature that is found in most of the battery powered string trimmers from Black & Decker.  The manufacturer claims it provides the trimmer head with more force than their previous transmission models.  I didn't own a previous model so I don't know if that's true, but it seems plenty powerful for my needs. The extra power doesn't come at the expense of mobility or longevity.   With this battery-powered trimmer, you'll be able to move about the yard controlling weeds for 45 minutes+ per battery charge.
The Best High End Rechargeable Weed Eater - The DeWALT Flexvolt 60V Max
Get the POWER of gas in a battery powered weed eater!
Cuts 15 inches of weeds at one pass with it's large cutting width - saving you time when weed wacking.
Make your life easier - avoid time-killing maintenance like replacing spark plugs, air filters or carburetors with this cordless trimmer.
DeWalt is a brand you know and trust for quality.
Prices and availability are accurate as of 2022-01-24 at 12:55 CST - Details
Best High End Battery Weed Wacker
This DeWALT battery powered string trimmer is a PERFORMANCE BEAST.  It's the right choice if you like having the best and don't mind paying for it.
It's all in the stats: A voltage of 60V.  9AH.  A 15 inch cutting swath.  With performance qualities like this, it's as close to replacing gas powered models for superior power as there is on the market.
An Extremely Powerful Battery Powered String Trimmer
It accepts larger line diameter sizes than any of the other string trimmers we spoke about earlier.  So if you do live deep in the weeds, this cordless electric string trimmer is a great choice.  With enough battery packs, you can tackle almost any sized yard.  It is heavier (some people have pleaded for a shoulder-strap to help with the load) but that's the be expected with the bigger brushless motor and battery.
Top End Battery Voltage On Your Cordless Trimmer
Not all battery powered string trimmers require the higher voltage found in this 60 Volt electric string trimmer.  Without getting too technical, in general higher voltage batteries means your cordless weed eater delivers higher torque than lower voltage systems.
If you are dealing with a normal lawn, the higher voltage might not mean a lot to you.  You really don't need the extra torque.
But if you are tackling thicker weed growth, you'll love how much more power you'll feel from the 60 Volt compatible batteries.  
Of course, this cordless weed trimmer is more expensive.  But at least you're getting quality for the money.  DeWALT is a well-known brand with a quality manufacturer reputation.
In my opinion – it's overkill for most people at this price.  But if you have a specific need for this much power in your weed eater and the budget to buy it, it's a great choice.
Best Battery Powered Weed Eater Pick For Urban Yards: Worx GT 3.0
[TRIMMER & EDGER 2-in-1] Easily converts from a string trimmer to a wheel edger in just seconds
[INSTANT LINE FEED] Innovative push button Command Feed spool system for instant line feeding. Plus, Free Spools for Life
[DO IT ALL WITH THE SAME BATTERY] Worx Power Share is compatible with all Worx 20v and 40v tools, outdoor power and lifestyle products
[BATTERIES INCLUDED] 2 powerful and lightweight 20V Power Share MaxLithium batteries come with this tool and can be used on any other tool in the WORX PowerShare family
Prices and availability are accurate as of 2022-01-24 at 12:55 CST - Details
Best Battery Weed Trimmer For Urban Yards and Landscaping
This battery powered weed whacker is a great choice for people who have small yards and don't want a separate lawnmower.  This tool not only converts into an edger, but also into a small mower.  It's not for everyone, but it is a great choice for the right homeowner.
12-inch Cutting Diameter with Wheels
This isn't the widest trimmer out there, but the wheels do make it possible to use it as a mini-mower.  Of course, you don't have to use the wheeled edger, but it's a nice feature for those who are afraid they will tire holding the string trimmer (you won't – see below).  
Pivoting Adjustable Trimmer Head
As stated earlier, this weed eater can also be used as a edger.  The string trimmer head rotates 90 degrees which allows you to use it to edge your lawn and garden.  I personally would rather get the best edger for the job rather than use this feature, but in a pinch it will work fine.  
20-volt Max Lithium Battery
Dependable power even on the go – this is one thing that you can expect from this product. Since it is battery-powered, you can work anywhere. There is no need to have a source of electricity near you. Also, because it is a cordless electric string trimmer, you can easily move as you use this product without dragging around an extension cord.
Quick Release Lever – Good For Height Adjustments
One thing that makes this a versatile choice is the adjustable height of the telescopic shaft. Simply release the lever and in an instant, you can increase or decrease the length of the straight shaft. This will allow you to have the height of the battery powered string trimmer fit your body – and not the other way around.
A Lightweight Cordless Weed Trimmer
This is one of the lightest battery powered string trimmers on the market.   Even if you will need to hold it for a long time, there should be no problem. This string trimmer weighs under 6 pounds.  You'll be able to cut weeds and maneuver in tight situations all day without getting too tired..
Overall, Worx 20-volt GT 3.0 String Trimmer is a good pick because it's a triple threat.  For the right consumer, this product is a great buy.  The Black+Decker above is a better choice for people without a need for the mini-mower functionality.
Solid Choice For 1-2 Acres - The Greenworks 21362
Attachment capable, accepts most gas attachments to provide mulitple use
Brushless motor delivers greater torque, quieter operation and higher battery efficiency
Starts within seconds with gas comparable performance, battery compatible with multiple tools
Battery and Charger include. Compatible with battery models 29462 and 29472 and charger 29482
Prices and availability are accurate as of 2022-01-24 at 12:55 CST - Details
One of the best cordless weed trimmers for midsize yards
This great weed eater is built for larger yards.  The battery is bigger than most and the brushless motor delivers more power to the cutting head through the power drive transmission.  The cutting width is larger than average. – coming in at 14 inches.  That makes this battery weed eater versatile enough to handle both heavy weeds and delicate situations.
 While that means it's a few pounds heavier and harder to handle, if you need to cover a good-sized yard the Greenworks 21362 is a good choice for you.  This is the best cordless weed eater for power-hungry yards.
4AH Cordless Battery
This is a big battery.  Most other brands come with 2.0AH batteries, so it's a decent step up in power storage over the competition. When it is fully-charged, typical battery life is over one hour of run time. On the other hand, when the battery is drained, charging it will take only approximately 120 minutes.  It does add to the weight, which is why this product weighs in around 12 pounds.
Instant ly Start Your Battery Weed Eater
Traditional battery powered string trimmers save you the effort of having to pull a cord to get running.  It's one of the biggest user complaints about gas powered tools in general, and gas powered trimmers specifically.   
You can start this battery weed eater with a push of a button.  No choke or primer to mess with – just push and go!
DigiPro Brushless Motor
The DigiPro brushless motor helps this line of cordless string trimmers balance good battery life and our need for more power.   Battery powered weed eaters always face this tradeoff – the Greenworks battery powered string trimmer does a great job balancing the features.
This Weed Eater Has A 14-inch Cutting Path
This line of straight shaft trimmers also has a 14 inch cutting width. This simply means that you will be able to do more within a single pass with this weed eater. It's not sooo big that you'll have trouble controlling it in tight spots either. It's easy to guide while trimming.
Not everyone needs this much power – but if you think your yard might, it's a solid choice.
Best For Value Buyers: B+D 20 Volt Combo
2IN1 DESIGN – Easily rotates 180 degrees from a cordless string trimmer to an edger for versatile use.
ADJUSTABLE HEIGHT AND SOFT-GRIP HANDLE – Provide convenient, customizable comfort and control for extended use.
AFS AUTOMATIC FEED SPOOL – Continuously feeds trimmer line without bumping for seamless, uninterrupted trimming.
DEBRIS REMOVAL – Sweeper is ideal for clearing driveways, sidewalks, decks, and garages of grass clippings, leaves, and other debris.
Best Cordless Weed Eater Value Combo
The real selling point is the bundling of the leaf blower in this purchase.  Neither tool will break power records, and using 20V batteries isn't future-proofing yourself in this day and age.  But it's cheap, and both products will get the job done.  Considering you get both a blower and a weed eater for almost half the price of some other trimmers alone, it's definitely a good value.  It's so inexpensive that if I bought this package, I'd probably spend some of the savings on the extended warranty just for piece of mind.
20-volt Max Lithium Ion Battery
Over 4 year ago, I stated that 20 volt batteries are in the twilight of their product cycle.  That has proven to be false.  Sure there are 40/60/80 Volt battery packs available in 2021, but the 20 Volt battery voltage continues to be a best-seller.  Not everyone needs the extra torque from the electric motor that a higher voltage battery pack provides.  
So I admit it – I've changed my mind.  For some outdoor battery powered tools, the 20V battery pack is still a good choice even in the 2020's.  The 20v Max is a good battery choice even today.
Runtime Extension Technology – Conserve The Battery
This power tool comes with a dual mode accelerator switch. This allows you to move up and down the motor speed so you can conserve battery juice when it's not needed. All B+D weed whackers tend to have this feature.  You'll also find a variable speed control on this model as well.
2-in-1 Functionality + A Blower
Look, you get another tool for the shed when you buy this combo.  Plus the trimmer can also be an edger, just like most B+D products.  You won't set any world land speed records using these yard products, but they will get the job done.
Indeed, Black+Decker LCC420 String Trimmer has what it takes to be ranked as one of the best within the product category. It has an exceptional battery that holds charge for a long time. It also has excellent transmission for better cutting power, even in tough applications. It is also a plus that it has a lightweight body, which makes it easy to use.
Overview of Other Popular Battery Powered String Trimmers
Conclusion: The Best Cordless Battery Trimmer For You
Depending on what your specific landscape needs are, a cordless battery powered weed eater generally can fulfill it. They are easy to use, reliable and powerful. Much like battery-powered leaf blowers, the lawn care technology has come a long way. Nowadays they are almost the same as a gas powered one. Of course, if you know you don't want to deal with batteries and have a small yard, you should check out one of the many corded electric string trimmers available on the market today. Even if you have a larger yard, the battery life in the string trimmers reviewed above will be long enough to get through an average sized yard. For the price, you really can't beat the value with what you get.
Prices and availability are accurate as of 2022-01-24 at 12:55 CST - Details