What To Look For When Buying A Manual Lawn Edger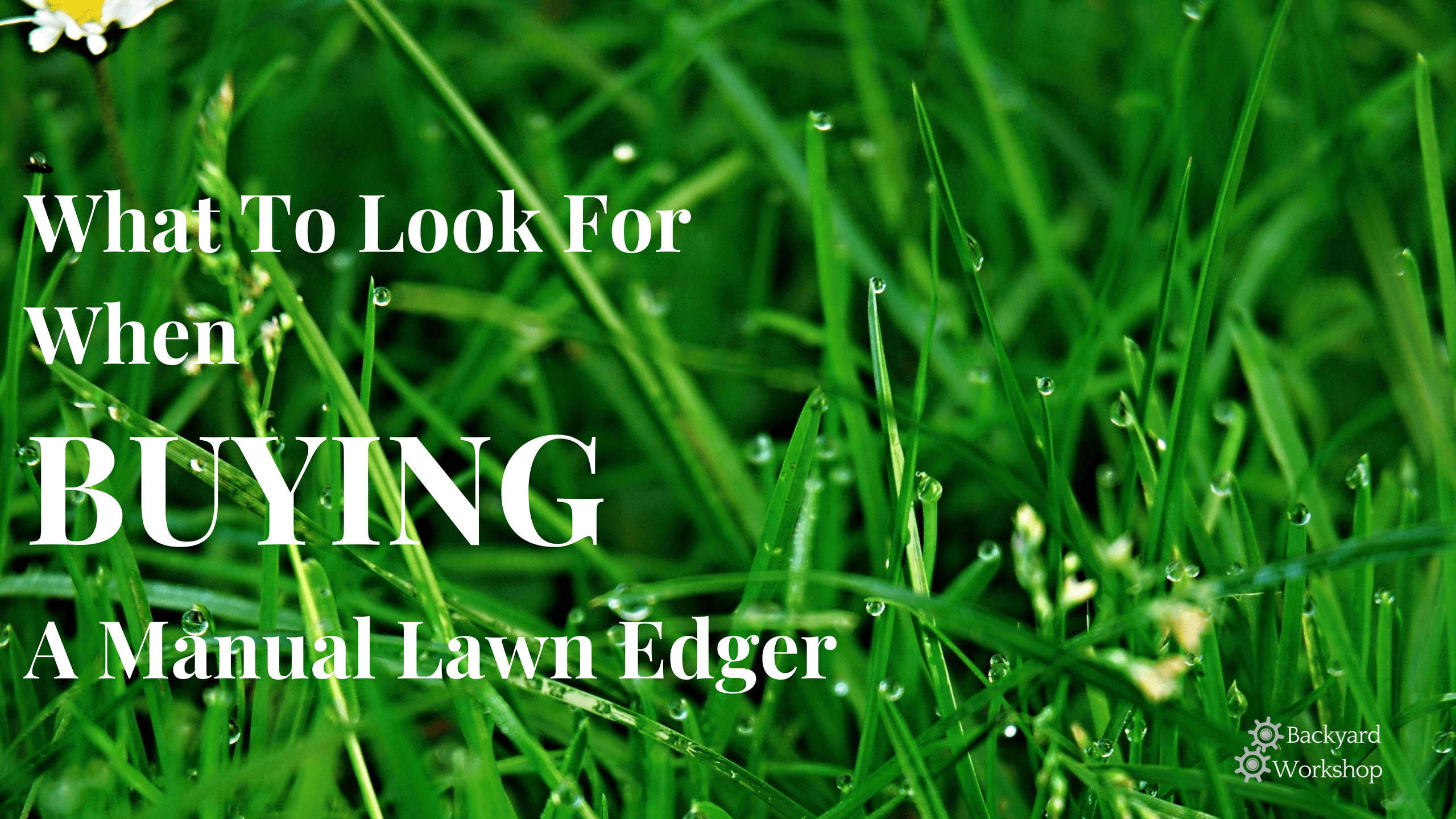 Did you use your string trimmer to try and manually edge the lawn? Were you happy with the result or didn't turn out so well? There's always a difference if you use the right tool for the job. For a clean and tidy border, the edging tool would give probably give the better results.
A manual lawn edger is designed to create edges where the lawn meets the driveway, sidewalk, flowerbed, or path. The string trimmer maintains the edge created by the lawn edger. We've got a guide on how to use an edger effectively.
Low maintenance grass that doesn't make lots of runners could be trimmed with a string trimmer. Grass that sends out runners does need a more robust tool to create neat borderlines.
Sale
Bestseller No. 1
AMES 2917200 Saw-Tooth Border Edger with T-Grip, 39-Inch
Unique footplate provides consistent cutting depth
Works well in straight lines or curves
Cuts trenches and creates clean, finished lawn edges along driveways, lawns and sidewalks
Durable serrated 15-gauge steel blade slices through grass and turf in 1 step
Sale
Bestseller No. 2
Sale
Bestseller No. 3
WORX WG896 12 Amp 7.5" Electric Lawn Edger & Trencher
[POWER LIKE THE PROS] The 12 Amp motor spins the 7.5" blade fast and deep at 4700 revolutions per minute, giving you professional-looking lines and edges
[3 DEPTH ADJUSTMENTS] Cut down at 1", 1-1/4", 1-1/2" depending on the task at hand
[CUTTING LINE INDICATOR] Stay on the straight and narrow with the cutting line guide—you'll notice a difference when you're done
[ADJUSTABLE SHAFT] Users of any height can find a length and comfortable position that works for them with the adjustable shaft and D-grip handle
Features To Consider When Buying A Manual Lawn Edger
If you're a first-time buyer or you need to replace your lawn edger, there are a few features you're probably wondering about. What type of manual lawn edger is there and what're the benefits of using an edging tool. Let's investigate these features.
Types of Manual Lawn Edgers
There are two types of manual lawn edgers: step and rotary.
Step and Rotary Lawn Edgers
Step lawn edgers, or half-moon edgers, look like a type of spade and you step on it to edge the lawn. The blade is pushed into the grass, between the lawn and the driveway, to cut it. Some step lawn edgers have a foot plate to step on when edging the lawn. It works faster than using a spade.
A rotary lawn edger has rotary blades. When you push the edger forward, and backward the rotating blades cut the grass. Rotary edgers are designed for edging lawns against driveways and sidewalks. A rotary wheel on the one side balances and steers the blade that cuts on the other side.
Why would you invest in a manual lawn edger if you could use a shovel?
You can use a normal garden spade to edge the lawn. The step lawn edger, however, is designed for ease of use.
The round blade cuts easier into the grass than the square blade of a spade.
The spade's handle is attached in the center of the blade. To step on it, you to step off-center to the left or the right. With a step lawn edger, you'll have better control by stepping in the center of the top part of the blade.
Use a gardening spade to loosen the overgrown grass from the sidewalks and paths. It helps to see where to edge between concrete and lawn.
Lawn Edger Blades
Some lawn edgers are made with one piece of steel. It is by far more durable. Most edgers are two pieces of steel welded together which weakens the tool.
For clay soil and wet conditions, a stainless-steel blade gives a cleaner cut.
Steel blades do rust; oiling the blades could increase its lifetime.
Why Use A Manual Lawn Edger:
Inexpensive
Manual lawn edgers are cheaper than the electric and gas lawn edging tools. Overall it is an inexpensive gardening tool that lasts for years.
Low Maintenance
Apart from cleaning the lawn edger and oiling its blade for storage purposes, there's practically no maintenance required.
There's no need to add fuel or drain the oil before storing the edging tool. There's no cleaning or replacing of spark plugs, filters, or clogging of the fuel tank. There's no cable to replace or batteries to charge.
Durable With Low Repair
A manual lawn edger consists of a wooden handle attached to the metal that edges. With few moving parts, there is not much that can break that needs repair. Blades need sharpening from time to time, and too dull blades require replacement.
When hitting the concrete sidewalk with a string trimmer, the string can snap, or parts of the string trimmer can bend or damage. The same kind of damage doesn't occur when using the manual lawn edger.
Convenient Edging Tool
There's no preparation required to use a manual lawn edger. You don't need fuel or a power plug or charged batteries.
The edging tool takes little space for storage and can be stored anywhere in the garden shed or garage. It doesn't require any storage procedure against the winter weather.
 What Type Of Manual Lawn Edger To Use
The lawn borders against different types of borders that require unique edging.
Who Shouldn't Use A Manual Lawn Edger
Despite the ease of use, low maintenance, and low cost, the manual lawn edger is not always the best option.
Manual lawn edgers require physical strength. Step edger needs more physical strength than a rotary edger.
Before you buy an edging tool, consider your physical strength when choosing a lawn edger.
Best Lawn Edger for Long Driveways
A manual lawn edger will take a lot of time and strength to edge a 2-acre yard with a long driveway.
Gas lawn edger could be a better option. Alternatively, rotary lawn edgers are designed for creating edges next to driveways and other concrete borders.
Best Edging Tool for Curves
A rotary edging tool moves evenly around curves.
The wheels guide the blade to create curves.
Start in the middle of the curve and work outward.
Best Edge Chopper for Flower Beds
A half-moon step lawn edger will give the flowerbed the clean lines.
With straight lines start at the one side and work towards the end.
For sunken flower beds cut 4-6 inches deeper.
The lip at the top of the step edge blade will keep the depth constant.
Wet soil is easier to edge than dry soil. To make use of wet soil, edge the lawn early morning or wait for the rain.
Prices and availability are accurate as of 2021-11-26 at 19:44 CST - Details