The Best Lawn Mower Blade Replacements You Can Buy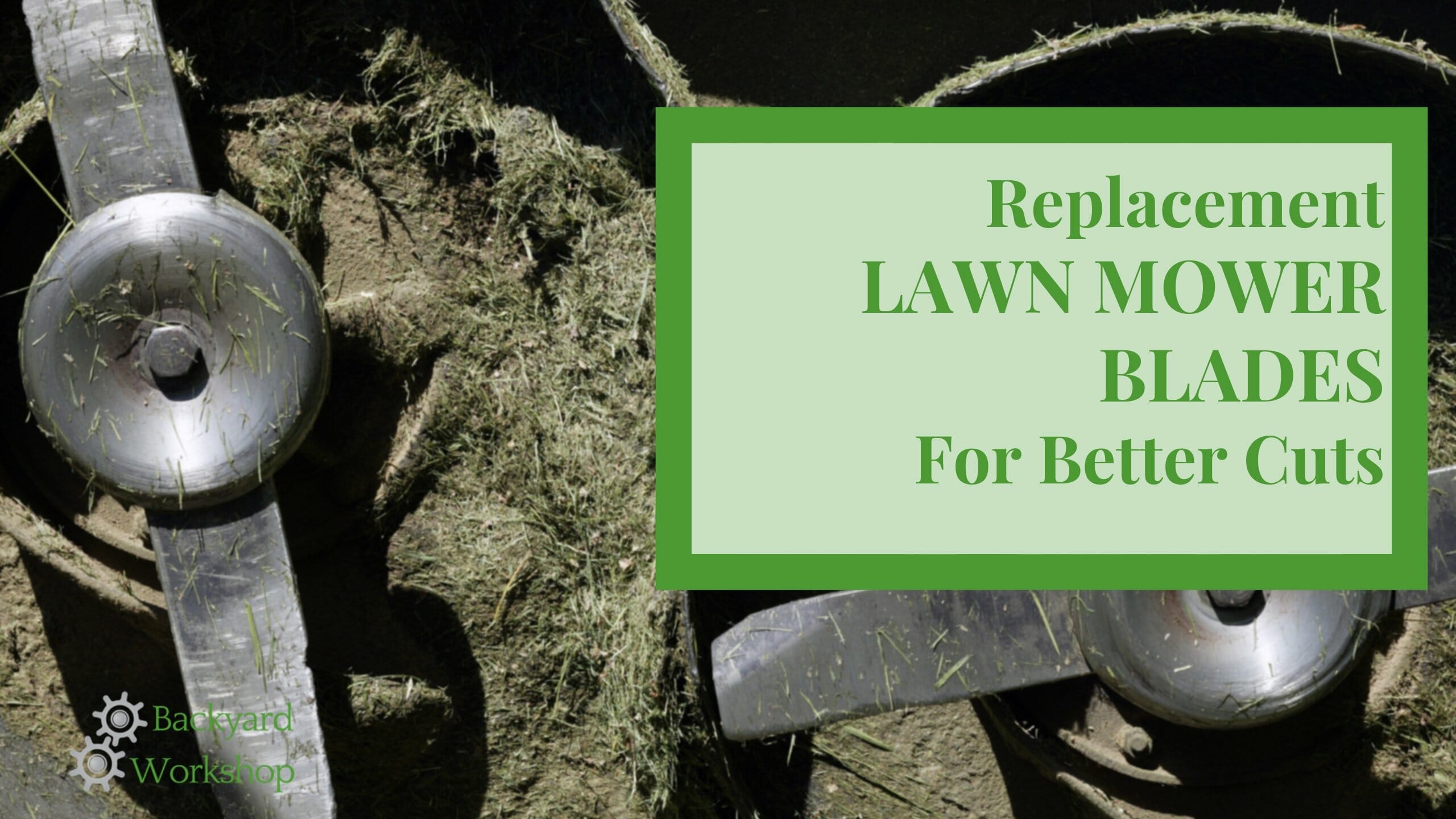 Backyard Workshop is dedicated to finding you the best products available to meet your particular needs. You help support us through our carefully chosen links which earn us a commission. Read more about our standards.
[lmt-post-modified-info]
Choosing the right lawn mower for your yard isn't enough; you need the right type of lawn mower blades for the specific job intended. Manufacturers normally indicate and recommend what type of blades will fit the lawn mower.
Blades don't last forever. They are chipped, dent bent and damaged when hitting obstacles. Damaged blades should be replaced. The quality of the cut depends on the condition and sharpness of the blade.  While some blades can be sharpened to bring back their usefulness, if the blade is damaged there's not much you can do to avoid buying a new one.
How Do You Know if A Blade Fits Your Model of Lawn Mower?
The holes on the lawn mower that attaches the blade, and the blade measurements, as well as the blade serial number, are important factors to consider when replacing mower blades. The following measurements should indicate if the blade fits the mower.
Lawn Mower Measurements:
Number of Holes: The blade normally has one to three holes for attaching it to the lawn mower. The number of holes together with the shape and size must be similar to the lawn mower fittings.
Hole Shapes: Generally, the center holes are 5-point star shaped with round holes to the side. Some blade holes could be rectangular shaped, or the star could have seven points instead of five.
Hole Sizes: In addition to the shape of the hole, it's important to measure the size of the holes. Two measurements should be taken, the inside size and the outer size of the whole. Replacement blades include washers to adapt the whole shapes and sizes for different mowers blades.
Distances between outer holes: An important measurement is the distance between the wholes. These measurements are taken from the center of the two outside side holes.
Overall Blade Measurements:
Length: Too long blades won't fit the lawn mower, and too short blades won't cut as effectively.
Width: ¼ to 4 ¼ inches. The blade length has a greater effect on how the blade fits than the width. For optimum performance, however, choose a replaceable blade setwith the same width as the original blade.
Thickness: 1/10 to 1/3 inch
Once you have these numbers, you are ready to start researching a replacement. Here are some picks for some great lawn mower aftermarket blades you can buy to get your old mower cutting like new!
Best Lawn Mower Blade
Best Universal Walk-Behind Replacement
Sale
Arnold 490-100-005621-Inch Deluxe Universal Detaching Blade for Walk-Behind Mowers
Includes (1) Arnold 490-100-005621-Inch Deluxe Universal Detaching Blade for Walk-Behind Mowers
Compatible with most 21" and 22" walk behind mowers using 3/8", 7/16" & 5/8" universal center hole
MTD Genuine Parts are made for MTD's family of brands including Troy-Bilt, Yard Man, Arnold, Remington, Yard Machines, Columbia, Murray, Robomow, and more.
MTD brands, products, and parts are backed by a strong network of MTD sales, service, and support.
If you have a 21″ or 22″ deck, this is likely the replacement lawn mower blade for you.
The Arnold 21" Deluxe Detaching blade fits most walk behind lawnmowers with 21-22" decks from the following manufacturers: AYP/EHP/Craftsman, Bolens, Honda, Huskee, Husqvarna, Lawn-Boy, MTD, Murray, Poulan, Snapper, Toro, Troy-Bilt, Yard Machines and Yard-Man
There are three holes for fitting to the mower: a center 5point star-shaped with two round holes on each side. Washer adaptors are shaped to fit and attached to different shaped mower holes.
The versatile blade cuts, mulches, bags, dethatches, and scalps too.
The tough .17" nylon lines are replaceable. Included in the package with the blade and hardware pack is the detachable line.
Weight: .8 lbs. Length: 21"  Thickness: .170" Mulching: Yes   Deck Size:21-22"
Built For Mulching With Riding Mowers
Sale
Maxpower 331714S 42" Cut Replaces Poulan/Craftsman 134149, 532134149 and Husqvarna 532 13 41-49 Mulching Blade, Black
1 mulching blade for 42" Cut Craftsman/Husqvarna/Poulan (2 blades required for 42" Cut)
Replaces OEM numbers: Poulan/Craftsman 134149, 532134149; Husqvarna 532 13 41-49
Fits Craftsman models HALT150E, LT150, LZ135107H, PB195H42LT, P145107HP
Fits Husqvarna models LTH1342, LTH1342A, YTH1542XP, YTH1542XPG
The MaxPower mulching blade will fit 42" lawn mower decks of AYP, Craftsman, Husqvarna, and Poulan models. These blades are inexpensive and the two blades you need for your riding mower, will possibly cost you less than one original blade.
The blades are designed for mulching and does a great job. Some reviewers found that it mulched finer than their previous mower blades at half the price.
Weight:1.94 lbs. Length: 21" Width: 2.25"
Mulching: Yes Deck Size: 42"
Solid Replacement For Star-Hole Blades
Sale
MaxPower 331740B Blade for 22 in. Cut Craftsman, Husqvarna, Poulan Mowers, Replaces OEM no. 420463, 421825, 437601, 532437601, Black
Includes 1 mower blade for many 22 in. cut Craftsman, Husqvarna and Poulan mowers
Replaces OEM #'s 420463, 421825, 532-421825, 437601, 532420463 and 532437601.
Also fits Craftsman CMXGZAM100130
Measures: 22 in. L and 2-1/2 in. W
The five-point star center hole fits nicely on a Craftsman, Husqvarna, or Poulan walk behind mower.  The blade fits snugly, and the holes could fit other brands too.
Already sharpened, the blade is ready to use when purchased. Some customers have found it to cut better than the original blade.  That's a nice surprise when something so cheap helps you cut your grass better and faster!
The blade is made in the U.S.A. to meet or exceed OEM specifications.
Weight: 2.6 lbs.  Length:22"  Width:2.5"
Mulching: Yes  Deck Size: 22"
USA Mower Blades
A set of 2 blades that fits onto a 42" deck size riding lawn mower including certain AYP, Craftsman, Husqvarna, and Poulan models. The side holes are 3/8 inches with a 5-point star opening in the center. As the name indicates, the USA Mower Blades are made in the USA. The competitive pricing gives you the option to replace the piece instead of having the old blades sharpened.
The high lift avoids clogging when cutting dense grass. The already sharpened blades are well-balanced to give a clean cut and mulch clippings and leaves.
Weight: 4 lbs.  Length:21" Width: 2.25"
Thickness:.150"  Mulching: Yes  Deck Size: 42"
Sturdy Walk-Behind 21″ Mulching Mower Blade
MaxPower 331737B Mulching Blade for 21 in. Cut Craftsman, Husqvarna, Poulan Mowers Replaces OEM #'s 165833, 175052, 406712, 532175064
Replaces OEM numbers 165833, 175064, 189028, 406712, 176135, 159267, 008020, 175052, 406706, 406712X431, 531300765, 532 15 92-67, 532 17 50-52, 532159267, 532165833, 532175064, 532176135, 532189028, 532406712, 539111878 and PP23020
Also fits Craftsman CMXGZAM100129
Includes 1 mulching blade for many 21-in cut Craftsman, Husqvarna, and Poulan mowers
Measures 21-in L x 2-1/4-in W
The dual beveled designed of the MaxPower mower blades are made for better mulching. The sharp blades cut clippings in small pieces creating a natural fertilizer for the lawn. Although the blades are made in the USA, the blades may bend if hit against rocks and tree roots.  That's a good reason not to hit wood while mowing!
Blade dimensions fit various 21" deck walking mowers.  This single blade set should fit AYP, Sears Craftsman, Husqvarna, and Poulan models. Check with the manufacturer if you are in doubt.
Weight: 1.5 lbs.  Length:21"
Width: 2.25"  Mulching: Yes
Deck Size: 21"
Our Pick For High Lift Blades
Sale
Rotary Blades for Deck/Craftsman/Poulan/Husqvarna
Price is for a set of 3, made in USA rotary blades to replace #180054 or 173920
Will also replace 173921 mulching blade if you do not want to mulch
These are high lift blades, throw the clippings better, blades will work with a bagger
16-3/4 " long, 2-1/2 " wide, .204 " thick
The high lift of the Rotary lawn mower blades is designed to throw the clippings better, resulting in less clogging. It is therefore ideal to use for bagging. Although not designed to mulch, the set of 3 blades have similar dimensions and holes to replace mulching blades.
Blades are sharp and sturdy. The high lift creates a stronger suction power that cuts tall grass cleanly. No need to go over the same piece with the mower.
The center 5-star hole fits various 48" deck riding lawn mowers like the Craftsman, Husqvarna, and Poulan.
Weight:2 lbs.  Length:16 ¾ "  Width:2.5"
Thickness: .204"  Mulching: No   Deck Size: 48"
What's the difference between Standard Mower Blades and Mulching Blades?
Standard blades also called 2-in-1 blades or regular blades and are commonly used on non-mulching lawn mowers for side dispatching or bagging. When adding a mulching kit to the mower, you should replace the standard blades with blades designed for mulching.
Designed for a cleaner cut with greater airflow, these standard straight blades push the cut grass back on the lawn or into a bag attached to the mower.
Three-in-one blades or mulching blades are blades that cut and mulch the grass. These blades mulch the cut crass into smaller clippings that can be bagged or left on the lawn as a natural fertilizer.  The clippings are small enough to let air, water, and nutrients through.
How do High Lift, Medium Lift, and Low Lift Blades Work?
The lift of the blade pulls the grass into the deck and out of the side discharge or bagging. The lift is also what causes circulation suction for mulching purposes. The lift is measured by the degree of the upturned blade edge.
Side discharge lawn mowers will use low lift blades with a ¾ inch or less cutting edge. The low suction power keeps cut grass low so that it may be swept through the side discharge. Low lift blades work well in cutting short or dry grass and on sandy soil preventing unnecessary suction of sand into the deck.
High lift lawn mower blades cause a stronger fan suction power under the mower that pushes the cut grass into the bag. Due to the suction power, the high lift blades require stronger mower engine horsepower than the other blades. The more vertical blade design with 1 to 1 3/16 inches cutting edge will cut tall and compact grass efficiently.
Standard blades are normally medium lift blades with a cutting edge between ¾ and 15/16 inches that rotate horizontally. These blades need less horsepower than the high lift blades.  Mulching blades, however, have curved surfaces enabling it to cut and mulch the grass.
What Material Are Mower Blades Made Of?
The material used to make lawn mower blades vary from manufacturer to manufacturer. The blades are hard enough to mow the lawn but probably too soft to make a knife blade.
Generally, lawn mower blades are crafted from metal like high-carbon nickel allow steel.  The metal isn't so hard that it breaks and shatters into pieces when it hits a stone, tree stump or other obstacles. It is softer and safer, designed to bend rather than break.
Blades are also made from plastic which will bend and break easier than a steel mower blade. Plastic blades are fixed to a plastic cutting disc whereas metal blades are attached to the drive shaft.
Prices and availability are accurate as of 2021-11-27 at 07:35 CST - Details