How To Edge Your Lawn – The Right Way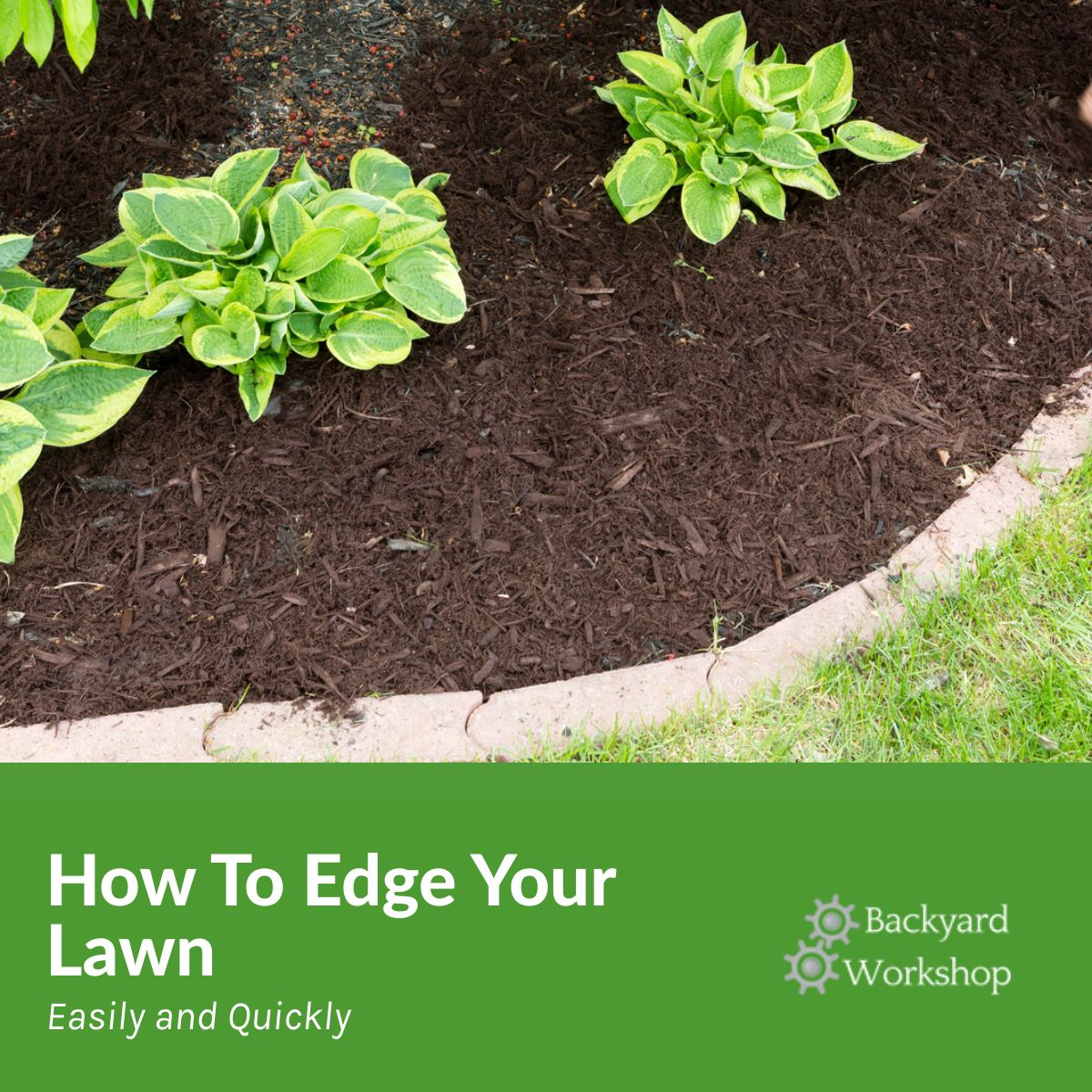 You spend a lot of time making your lawn and garden beds looking great. But if you want your house to have the next level of curb appeal, you need to take the time to keep your lawn edges in shape as well.
Edging your lawn is a simple technique that can make your yard look more tidy and professional. It's also an essential step for those who want to maintain their landscaping the right way. To help you get started, we've created this how-to guide on edging lawns with all the steps, tips, and tricks you need to know about edging!
Follow These Steps To Edge Your Yard
Step 1: Gather your edging tools
Before you begin edging, you need to decide if you are going with a manual edger or a power edge trimmer. Both work fine for edging your grass – you simply need to decide which is best for you.
A grass shear and other manual edgers work well in small gardens and as bed edgers. Although more labor-intensive than power edge trimmers, you have more control. Beginners may prefer manual tools, but power tools are quicker, especially with a large front yard, and then there is also the backyard.
You also will want to grab a pair of safety glasses and some protective clothing if you are using a power tool. If you suffer from grass allergies, now's a good time to get out a face mask to help keep the sneezing and watery eyes under control.
Step 2: Cut your grass
For great lawn care, it is good practice to cut the grass before you start edging. It is easier to create perfect edges along curbs, driveways, and walkways using the cut grass length as your guide.
To avoid cutting too low, causing weak grassroots and bare patches in your front lawn, don't cut more than a third of the height of each blade.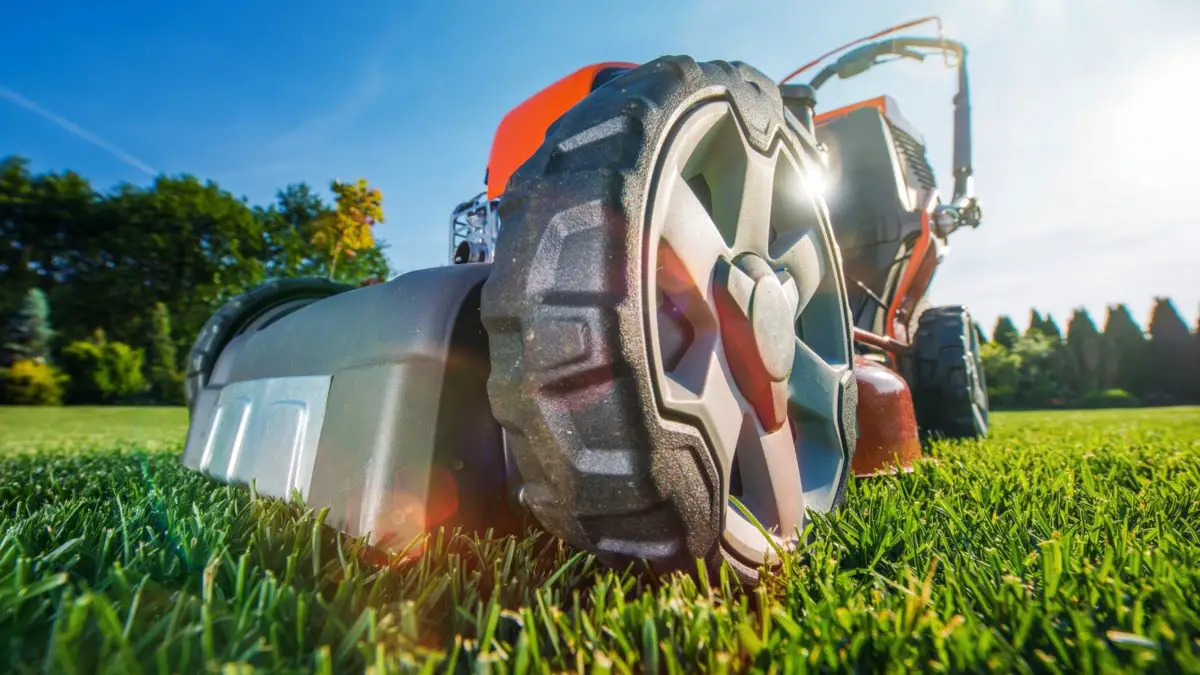 Step 3: Put on your protective gear
Putting on protective gear is one of the most important steps; you may be in a hurry to start edging, but don't miss this step.
Wear a sturdy pair of gloves to protect your hands.
Shield your eyes from debris, pollen, or grass with a pair of safety glasses.
A face mask covers the mouth and nose, which helps if you are sensitive to allergens.
Step 4: Edge your sidewalk, walkway, and driveway
Edging a lawn doesn't have to be a complicated affair. Whether you use a manual edger or a power edger (such as a string trimmer) – the idea is you want to create straight edges along the perimeter of the lawn. You want your edging cuts to be about 2 inches deep, as this should stop the roots of the grass from spreading.
Weed Wacker Edging Technique:
String trimmers are handy tools and part of the lawn care process, often used for trimming edges around walkways, shrubs, and trees your lawn-mower can't reach. Some grass trimmers have the dual option of trimming and edging the lawn; these string trimmers are often called edgers.
Edging is not trimming, so you need to cut in different angles when cutting turf and landscape edging. By keeping the grass trimmer level, you can cut the edges of your lawn or use the wheel, which comes with some string trimmers, as a guide.
Gas string trimmers have the power for large lawns. Corded and cordless string trimmers are less maintenance, more environmentally friendly, and work great for smaller yards. If you are new to using a power edger, start with a practice edge in your backyard before tackling your front yard edges.
Manual Edging Technique:
Manual edgers are cheaper than power edgers but require more manual power. The three types of hand shears are:
Edging Shears. Unlike lawn shears, edging shears come with long handles, making them easy to bend and cut along the lawn edges. For small lawns and to remove excess grass, edging shears will do the job.
Dual Wheel Rotary Lawn Edgers. The dual wheels make rotary edgers less physically intensive. The sharp, flat, serrated blade works best on driveway and sidewalk edges. The blade attached to the one wheel cuts the turf growing over the edges, and the other wheel rolls along the grass.
Landscaping Edgers. For a clean edge, guide the landscaping edger's steel blade to cut overgrown grass and sod. Wooden shafts are lighter than steel edgers. With a 3-4 foot shaft and footrests on either side, you can use it as a bed edger.
Step 5: Edge your Garden Bed or Flower Bed
Next up, it's time to edge around your landscape features – including the flower beds and garden. Use a rope or garden hose to guide your path; stay away from spray paint that the wind can blow in the wrong direction.
Make sure you know where and how deep under the ground buried pipes run, including irrigation and hazardous pipes. Remove any clutter on the surface that could be a hindrance when edging your landscape.
Using A String Trimmer. Check the electric wires so that you don't accidentally cut them. The deflector shield should face your body which means you flip the string trimmer head 180 degrees to cut vertically. Make sure you have a straight stance with straight arms; deliberate navigation movements help keep the string trimmer level and guide it along the path.
Using Manual Edgers. Grass shears and other manual edgers are easier to control. Grass shears cut away the surface turf for a clean edge, while the rotary lawn edgers work the same way a shovel does when you push it into the soil.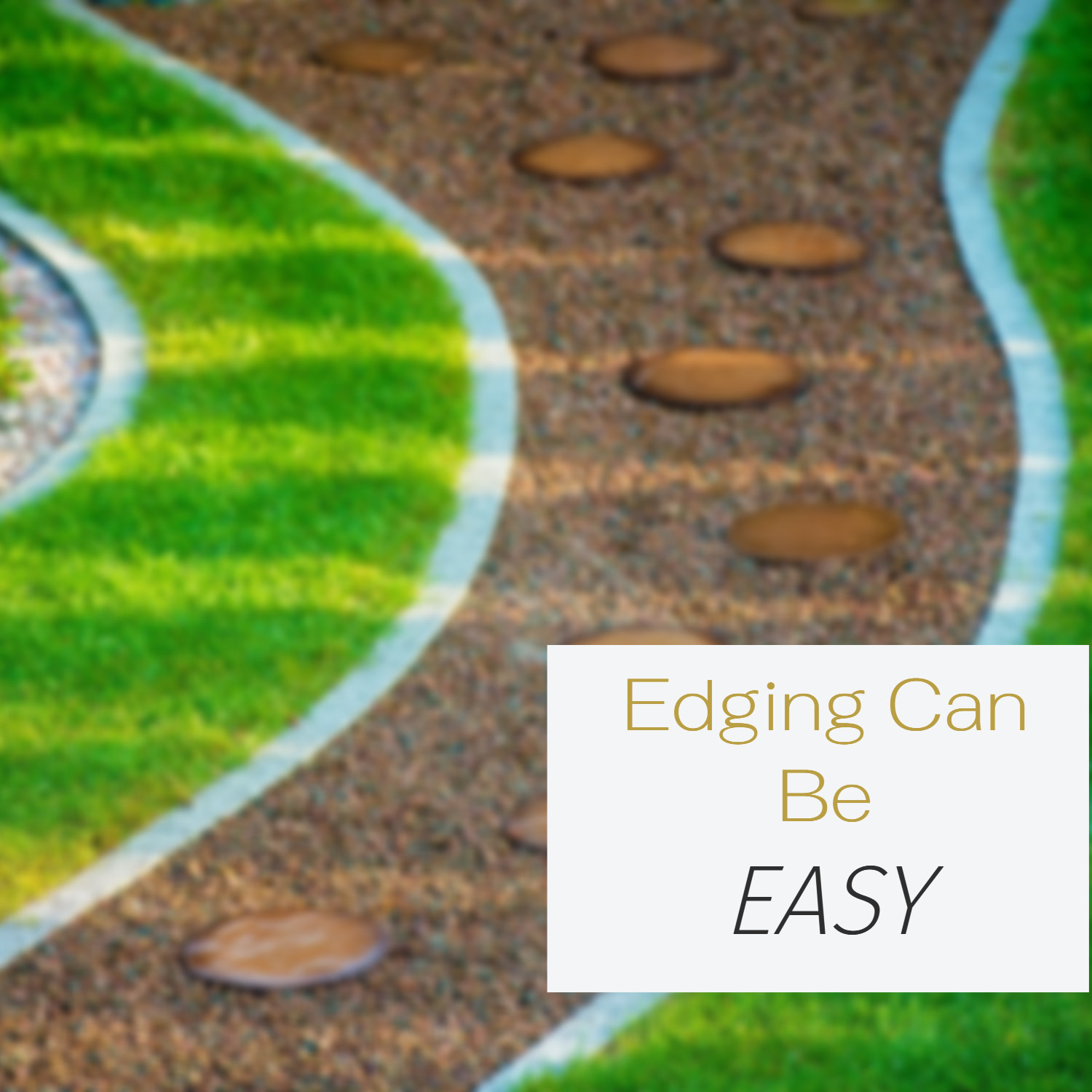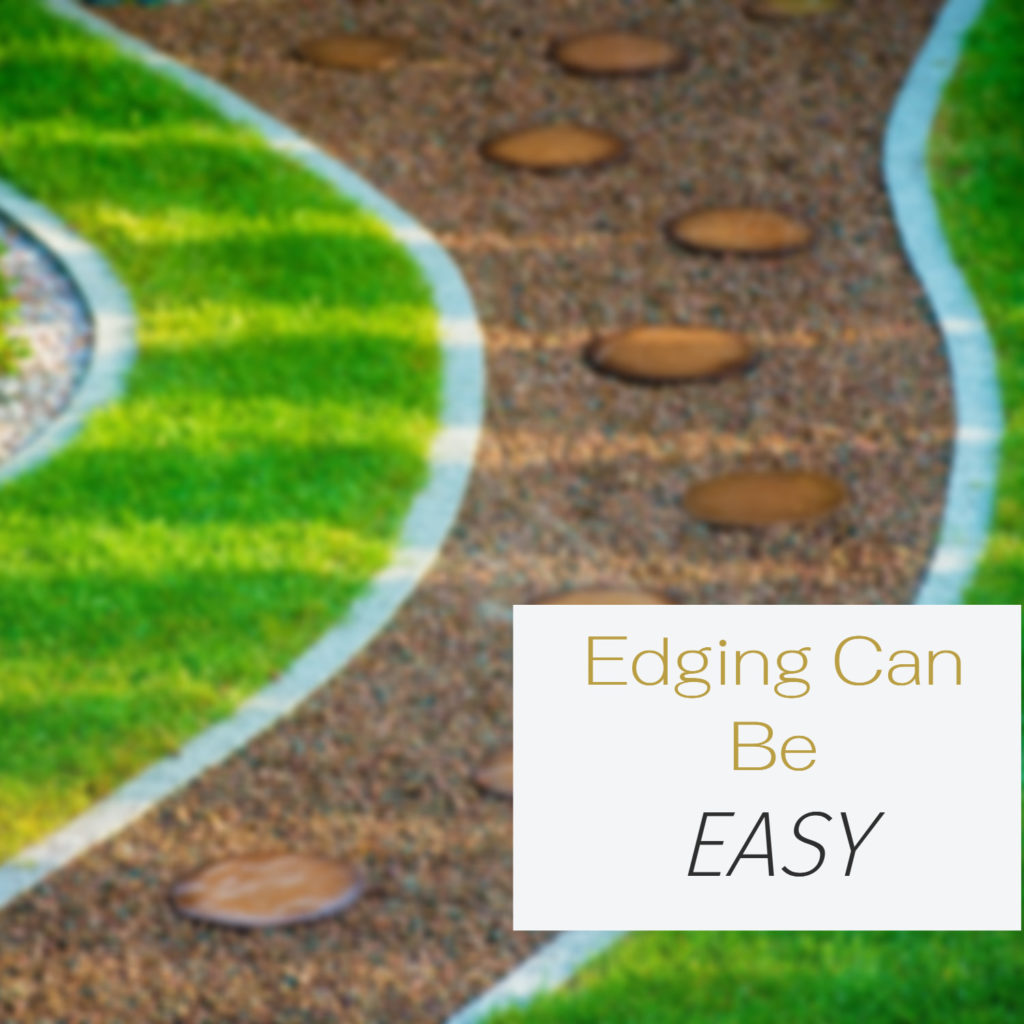 Step 6: Clean up and lawn edging tool maintenance
You are almost done! Use a leaf blower or garden broom to sweep the grass cuttings, soil, and debris from the ground, driveway, and sidewalk.
Now that the ground surface is clean and lawn edges are done, it's time to check your tools before storing them away for next time.
Use a stiff brush to wipe tools clean; it's easier and quicker to brush away loose soil, grass, and debris than trying to get rid of caked and hardened residue. Depending on which DIY tool you used, you would want to
charge batteries of powered tools
check to see if there is enough filament in the spool for next time
check manual edging blade sharpness.
Frequently Asked Questions About How To Best Edge A Lawn
What is the best tool for a lawn edger?
The best tool for edging your lawn are string trimmers, also known as power edgers/trimmers or weed eaters. These lawn power tools use a spinning head with a monofilament string to cut through grass blades on the edge of your lawn.
While you can use a gas-powered product, it's easiest if you use a battery-powered string trimmer. You'll enjoy the freedom the lithium-ion batteries give you to move about your yard.
There are manual edgers like this one: [insert link] that will work as well! I like the dual wheel rotary edger myself – it provides a good balance of control and ease of use when going around my lawn edges. Manual edgers will require more effort on your part but will also provide more control – something you want in a lawn edger.
Some people swear by edging shears. I do not use them – but if you want outstanding control for lawn touch-ups, they are a great tool.
What should I wear when edging a lawn?
If the weather is hot, lightweight long-sleeve shirts and pants are best to protect from the weather while preventing getting overheated. Gloves can be used for sensitive skin around your hands from cutting back overgrown grass near sidewalks or driveways. Wear sunscreen if it's sunny out, so you don't get burned on exposed skin parts of your body.
How often should I edge my lawn?
You should edge your lawn every time you mow your lawn. If you don't have the time, you can skip a week or two, and your lawn edges shouldn't get out of control. Try not to wait longer than a month – otherwise, you'll end up making more work for yourself when you finally tackle mowing those walkways.
How often should I edge my flower beds?
Aim to edge your flower beds each time you mow It's best to make edging part of your lawn care routine.
How Long Will It Take To Edge A Lawn?
The time it takes to edge a lawn depends on the total amount of lawn border area your yard has and the tool you decide to use. An average suburban home with a 2-car driveway can take anywhere from 15 minutes with a string trimmer all the way up to one hour with a manual lawn edger.
What time of the day is best to Edge a Lawn?
The best time to edge your lawn is in the morning or evening when it's cool, so it's more comfortable for you. It doesn't make a difference to your lawn – your grass blades don't have a preferred time of day to be trimmed.
Does Edging a Lawn Harm the Lawn Edges?
You will be happy to know that the process of edging a lawn doesn't harm your grass if done correctly. You are simply making a cut in the soil to break the grass from mingling with whatever lies on the perimeter. Don't go to an excessive depth or cut at a weird angle, and your lawn will be fine.
Do I need To Mark Out A Path Before Edging?
If edging along with concrete or walkway, it isn't necessary to mark out a path. However, if you are new or a perfectionist, you could use a garden hose or rope as a guide. Don't use spray paint; it will not give you the perfect line – the wind blows it in any direction and could even blow it into your face.
What is the best way to edge your lawn?
The best way is the way you can do it the quickest while still maintaining control.
Use a string trimmer or manual trimmer – your choice.
How Do You Use A Half Moon Edger
A half-moon edger (also known as a step edger) is a non-rotary manual edger. It looks like a shovel but with a half-moon plate and a lip on top to step on, providing downward pressure. The half-moon edger gives you a straight edge. After you've marked the path, stick the half-moon edger in, making sure it is straight, wiggle it right, left, and a little forward. Slide it to the right and repeat until you come to the end of the edging area.
I hope this article helps you. If you have any more tips of tricks, please leave them in the comments below!