The Best Bug Zapper To Use In Your Home and Yard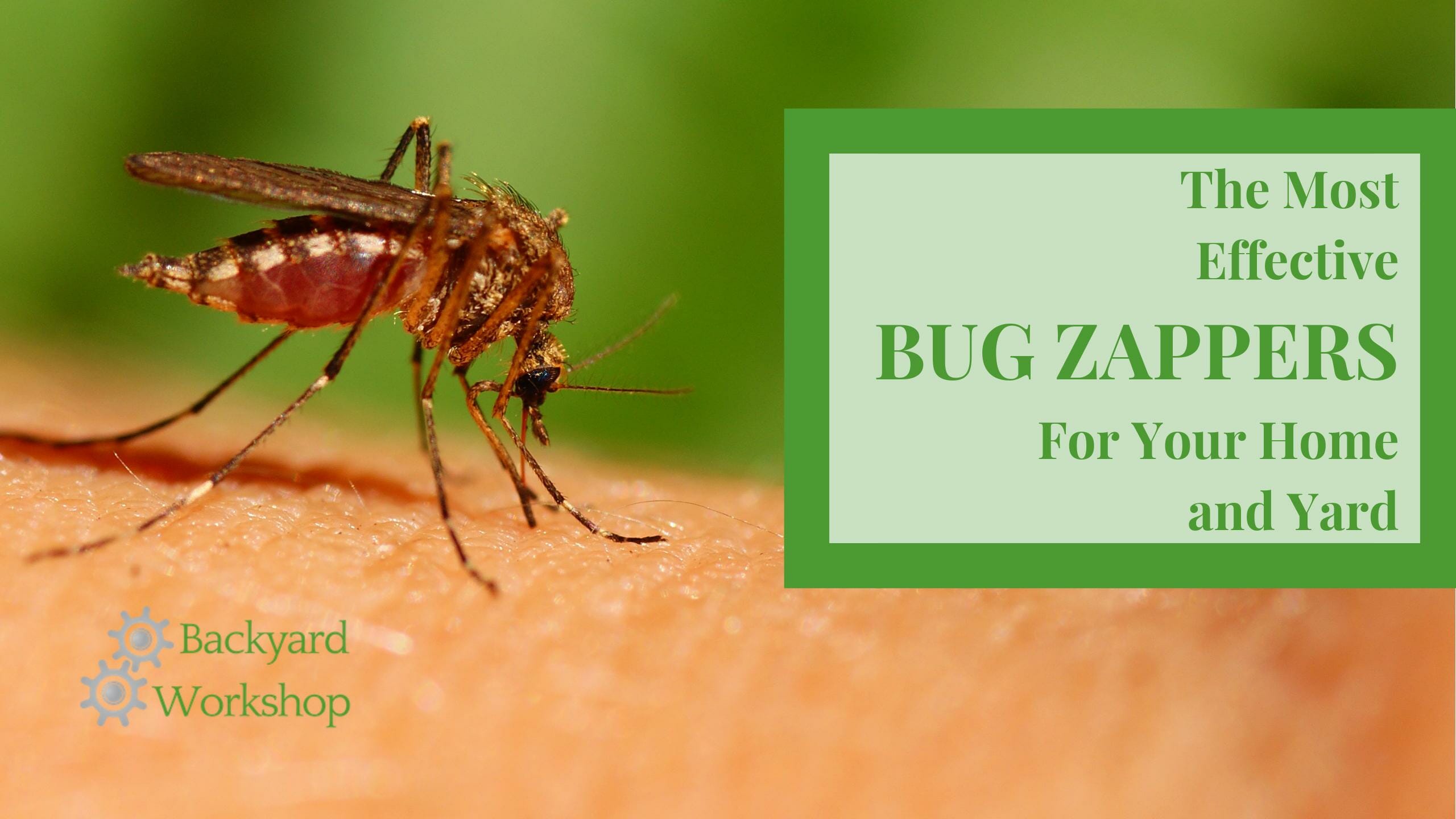 If you've ever sat in the backyard on a hot summer night being eaten alive by pests, you know how satisfying the sound of a bug zapper doing its job can be. 
BZZZZT!  Ah, sounds like….victory!
 I'm not into wanton violence, but I'm also not a fan of becoming a pin cushion for mosquitoes either.
The continuing advancement of LED light technology is one of the reasons why the best bug zappers are WAY more productive today than those built in the last century. Sure, the basics are the same; insects are lured to the light and then electrocuted. Scientists have proved that the bug zapper with LED lights work better than the traditional lighting used. The brighter light just attracts more insects while using less energy.  
What is the best electronic bug zapper for your needs?  
Top Bug Zappers in 2021
Best Outdoor Bug Zapper for Large Yard
Flowtron
BK
-40D Electronic Insect Killer
The Flowtron BK-40D electric bug killer has a killing radius of 1.5 acres. It is highly effective and therefore is best to hang it about 25-30 feet away from the house to avoid being surrounded by bugs lured to the Flowtron. One reviewer suggested to start using the bug zapper early in the season and thereby disrupting the insects' reproductive cycle. That way you'll be sure there aren't so many bugs later in summer.  
When plugged in, it works day and night continuously – but the UV light uses little electricity. It is easy to program it to work only at certain times. A large grid ensures that differently sized bugs are trapped. The staggered frame, however, will protect against fingers being zapped by accidentally touching the zapper. Although some insects will continue to stick to the grid, the bug zapper is almost clog–free. The open bottom allows dead insects to fall to the ground, for birds to feast on.  It's no problem to clean up the remaining few insect remains.
A black high-intensity ultraviolet light attracts a variety of bugs and insects to the grid. Included is the optional use of Octenol attractant to lure mosquitoes. There are no unpleasant smells or the unsightly view of dead bugs stuck to a stick strip. A zap sound is heard when the bugs are electrocuted. 
Considering the large area it covers, it's understandable that the Flowtron BK-40D bug zapper is for outdoor use only.   It's our top pick for the average homeowner.  There really aren't any flying insects it can't handle.
Watt/Lumen: 40-Watt bulb  
Size Dimensions: 9 ¾ x 9 ¾ x 16 ½ inch and covers 1.5 acres.
Best
Camping Bug Zapper
Enkeeo
2-in-1 Camping Lantern Bug Zapper
Prices and availability are accurate as of 2021-10-21 at 15:54 CST – Details
Enkeeo Lantern Bug Zapper is a combined mosquito zapper and camping lantern. The LED 360-400 nm ultraviolet light bulb provides the blue-green light that attracts mosquitos creating a 16 by a 16–foot mosquito-free zone which is large enough for your camping area, on a patio or small yard.    It'll function well as an indoor outdoor dual-threat bug zapper light as well.
An extra long-life 2000 mAh rechargeable battery gives you 15 hours of bug zapper runtime which is more than enough to last the night.  The bug zapper is great as a lantern too. If used only as a light, the battery will last about 20 hours with low lighting or 6 hours on the high setting before it requires recharging.  
This electric bug zapper is a lightweight and comfortable size to use around the campsite. The waterproof body with an IPX6 rating can withstand rain and be cleaned with nothing more running tap water.   So convenient!
A plastic cage protects pets and kids from accidentally touching the inner wires – as you'd expect from a contender for best bug zapper. The lampshade is removable, and the lamp can be used upside down as a lamp at your campsite or hanging from a branch.  The retractable hook is no problem – it ensures that you can easily attach the bug zapper high enough from the ground and be able to retract it. Three different lighting modes to adjust according to brightness or softness required.  
Watt/Lumen:  30-180 lumen LED light and 5-8–Watt zapper 
Weight: 0.44 pounds 
Dimensions: 3.46 x 5.08 inches 
Best Bug Zapper for Small Yards
Flowtron
½ Acre Electronic Insect Killer
With its sturdy design, the Flowtron half-acre is built for convenience. This is a bug zapper best suited for backyards, patios or small yards up to half an acre.  The innovative protective grid reduces clogging; the insects are lured with a technology proven uv light bulb and when silently zapped, fall to their demise.  
This outdoor bug zapper is designed to use a Octenol Mosquito Attractant Cartidges for effectively luring normal mosquitoes.  This scent helps to capture biting flies as well.  You'll get 6 cartridged which will last you at least six months.  Unfortunately it's not great against Tiger Mosquitos – you'll need to get a different additional lure if that is your issue.  Luckily this model doesn't require proprietary lures – you can attach them almost anywhere to the device.
Included in the package is a nine-inch power cord which means you will need an outdoor–rated extension cord. Hang the Stinger 7 feet from the ground and 25-30 feet away from where humans will be hanging out.  It's an electric insect killer!

Inexpensive compared to other bug zappers, the Flowtron does its job and has a 2–year warranty. The poly-carbonate material is weatherproof and durable. If you have an urban or smaller country lot, this device is a good choice for you.
Watt/Lumen:  15 Watt BF-35 Ultra Violet light 
Weight: 5 pounds 
 Dimensions:  8.5 x 8.5 x 13.5 inches 
Best Electric Indoor Bug Zapper

GLOUE
Bug Zapper Moth and Mosquito Killer
Gloue Bug Zapper is a non-toxic night lamp / "flying pest control device" that covers an area of 170 square feet. Light in weight the compact design takes up little space and is easy to set up in a room, the kitchen or living area.  You'll find it won't work well in a large room or outdoors, but can do the trick in a bedroom – or even a tent for example.

This best indoor bug zapper is made from eco–friendly material; this feature attracts and electrocutes insects with minimal noise. We like that there's no sticky mess or odors as part of this device.  It's really great for indoor insect control and could be just the thing for your home.
Make sure you switch off and unplug this bug killer before removing the metal plate to clean the device with a cloth or brush. No need to get a nasty shock, or ruin the device.  Even the removable insect zapper tray is easy to clean and to replace again. 
Weight: 4 ounces 
Dimensions:  5.5 x 3.4 x 1.9 inches 
Best Solar Bug Zapper
HAKOL Ultimate Bug Zapper
Solar powered, and with a 5 V USB charger makes it possible to use the HAKOL Ultimate Bug Zapper almost anywhere, indoor and outdoor, at home or when you go camping, a picnic or hiking. It doesn't rely on being plugged in.  This option means the zapper isn't limited by the length of a power cord. The solar panel at the top charges the batteries during the day when the sun's shining, ready to trap the mosquitoes at night. The USB charger is an alternative to charging the bug zapper if there's not enough sun. Charge it with a car charger, power bank or laptop. The charger uses rechargeable lithium batteries which are included in the purchase.  
It's a powerful solution – it is environmentally friendly, and the LED light bulb saves on energy. It goes without saying it's much better than a fly swatter! The LED bulb has a lifespan of about 50,000 hours. Toxic free. No poisons or chemicals are used that emit fumes or smells.
It is quiet and doesn't make a zapping or popping noise when the bugs are killed.  The bug zapper is pet and child–friendly. A guard around the light protects fingers accidentally being zapped when switched on.  
The HAKOL zapper kills mosquitos and moths while emitting a soft light that won't glare in your face. It is lightweight and easy to carry for light when walking in the dark. The soft light makes it ideal to use as an indoor zapper in a baby's room to get rid of the bugs without disturbing the child's sleep. Alternatively, use only one of the functions on its own: a bug zapper or as light.  Select the zapper, light or both by pushing the rotating button.  
Weight:  10.4 ounces 
Dimensions: 6 x 5.5 x 4.5 inches 
Electric Bug

Zapper Science Information
Researchers discovered that mosquito's aren't attracted to UV light to the same extent as other insects.

Mosquitoes react

to

the carbon dioxide people exhale and the water vapor from body sweat. Hence, some bug zappers contain chemicals t

hat

produce CO

2

to

attract mosquitoes.

 

These experts also discovered biting insects are lured by blue and green more than red and yellow. Hence

bug zappers with

wavelengths 400-600

nm and

at least 1100 lumen may

be

the best to trap

for

biting insects. The wavelengths represent the color spectrum and the lumen the brightness.  

  

 

Bug zappers work by using a transformer to take lower-voltage electricity and step it up into high voltage – usually 2000 Volts or more! This voltage is applied to the two-pieces of wire mesh that surrounds the LED light bulb inside the device. These mesh grids are separated by a tiny air-gap.  When a bug touches both sets of mesh – ZAAAP!
Tips On How To Make Your Bug Zapper Work
Install It Away From Your Target Area:  One mistake many first-time owners make is putting bug zappers next to the patio or pool they want to protect.  This is a mistake.  You need to locate the device in a range 20-30 feet away from the area you want to protect.
The best zappers work by using light to attract insects and other pests to the device, and eventually killing them.  The important word is eventually.  Before they die, the bugs will hang out in the area.  If your party or event is next to the bug zapper, all you are doing is inviting the condemned to their last-meal – hosted by you!
Install the Zapper High Enough To Be Seen: If the moths and mosquitoes can't see the device, they won't be attracted.  Therefore, you want to place the zapper at a 6-10 ft height where there are no obstructions to block the light.  Above a low fence, on a pole or tree limb are all good choices.
Keep It Clean: Your zapper won't work well if you don't occasionally clean out the dead bugs from the bottom of the unit.  Make sure the device is unplugged (or the battery is discharged if it is a portable model) so you don't accidentally shock yourself!
A soft brush is great to clean the mesh.  You can use a soft cloth to clean out the bottom of the unit.
Prices and availability are accurate as of 2021-10-22 at 00:34 CST - Details