The Best Husqvarna Snow Blowers Reviewed to Plow Through the Snow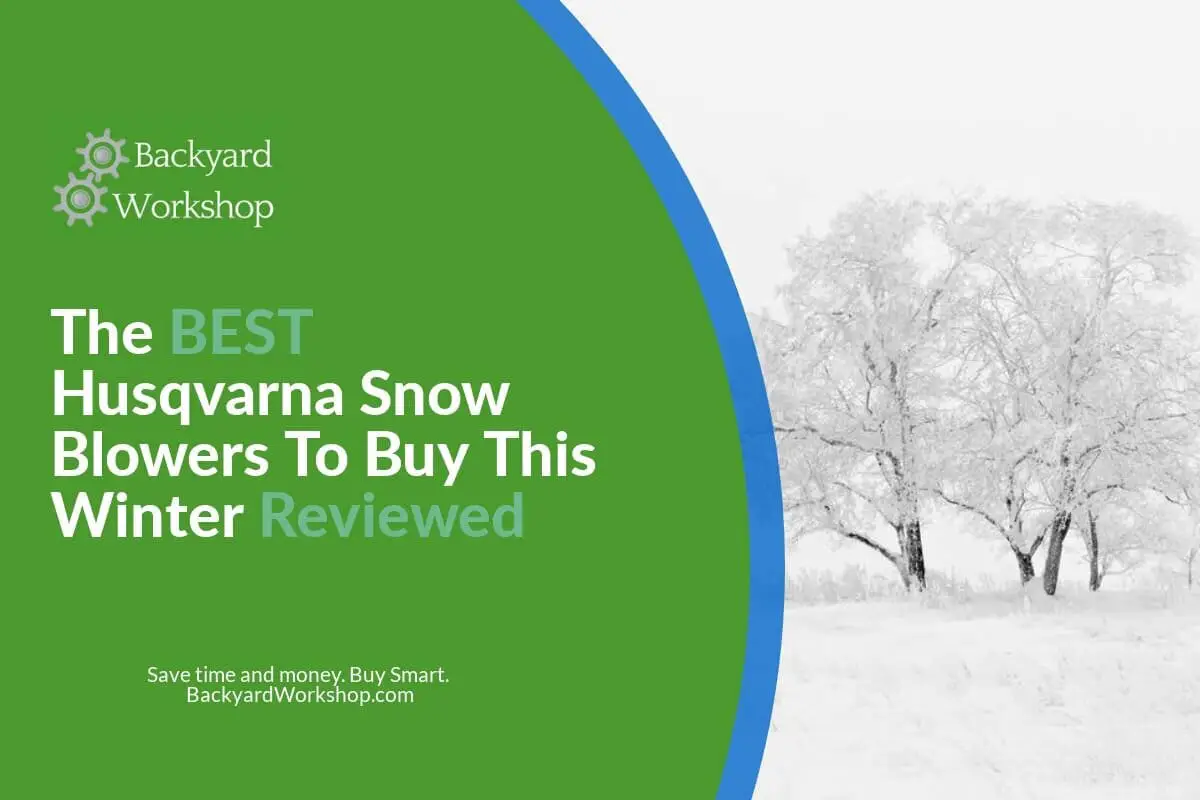 While well known for their chainsaws, Husqvarna also makes excellent snowblowers.   Considering the amount of snow Sweeden gets each winter – it's no surprise Husqvarna makes some of the best snow blowers you can buy.
The issue is, which model is right for you? 
This guide can help you make a good purchase decision. You'll find  a Husqvarna snow thrower that gives you the comfort, size, and power you need to clear your driveway, walkways and more. We'll outline four of the top choices for Husqvarna snow throwers that can meet a variety of homeowner needs so that you can find the best one for you, your home, and the amount of snowfall you have.
Other Snow Blower Choices:
 The Best Two Stage Snow Blowers You Can Buy TODAY
Best Husqvarna Snow Blower Reviews
Here, we've chosen the top four Husqvarna snow throwers that can meet a variety of homeowners' needs, based on some of the features and differences we've mentioned. Our reviews will detail some of the helpful features of each model, as well as some pros and cons of each so that you can more easily find a snow thrower that's perfect for your home.
Our Choice For The Best All-Around Husqvarna Snow Thrower
Prices and availability are accurate as of 2021-11-26 at 08:35 CST – Details
This snow blower from Husqvarna gets our title of the best all-around model from the company. Not only is its mid-range clearing path a helpful size for many homeowners, but its 208cc engine also provides a powerful operation to work through massive amounts of wet snow.
The Husqvarna 24-inch Two-Stage Electric Start Snow Thrower features an electric starting system that can make your startup in the cold a simpler process. And, with its two-stage technology, you'll benefit from a machine that sucks up snow as you move and throws it where you aim the chute for a more efficient clearing process. You can rotate the chute 190-degrees to aim where you need it to.
This snow thrower also has 12-inch ribbon auger to help clear snow fast and easily and also provide extra stability and traction.
Pros
Adjustable composite skid shoes give the snow thrower extra traction to prevent slipping
Power steering to offer excellent maneuverability on hills and turns
Control the chute easily from the dashboard without having to move anything on the machine or stopping to adjust
Adjustable handle for operator comfort
LED headlight offers extra safety and field of vision in the morning and night
Cons
15-inch tires are a bit small for this size machine
The motor can be louder than similar types of snow blowers
Does not come with the cord needed to operate the electric start feature
The Husqvarna Single-Stage Electric Start Snow Blower could be a good match for homeowners looking for the most compact snow thrower to do a quick job for small areas. This machine has a 21-inch clearing path that can clear most standard sidewalks and small driveways in a short amount of time. Plus, its small footprint won't take up much space in your storage area.
You can purchase this snow blower with or without a headlight. If you don't plan to clear your walkways in the early morning or late evening hours, you probably won't benefit from the headlight.
The 208cc engine is powerful enough to get small jobs done itself, but the self-propelled auger will help you get it done fast. This technology will make it feel similar to a machine with power steering, as it helps guide the snow blower along with minimal physical effort from the operator.
Pros
Very lightweight and small
Chute rotates 180-degrees to disperse snow where you need it to go
Extra comfortable arm handle with angled design
Electric start technology for quick, simple startup
Cons
Tiny 8-inch tires won't clear much more than six inches of snow height
Manual chute rotation
Rubber auger can only work safely on paved or smooth cement surfaces

If you live in an area with consistent, heavy snowfall, the Cub Cadet 243cc Two-Stage Electric Start Snow Thrower can likely be mighty and durable enough for the job. This snow thrower's 243cc engine is one of the higher-power engines, perfect for making its way through high, heavy mounds of snow. And, with 26 inches of clearing width, you can move snow from large driveways, sidewalks, and yards more quickly than with a smaller machine.
One of the reasons you'd want to buy a powerful snow blower is to benefit from its efficiency. Cub Cadet took care to add other efficient features to this model, like the remote chute operation that you can adjust as you operate the snow blower and a friction-disc drive transmission to change your speed smoothly in forward or switch to reverse.
Pros
Six forward speeds and two reverse speeds
Adjustable loop handles with different positions to aid the comfort of different operators
Easy, one-button electric starter
Power steering with trigger control for ease-of-use and excellent maneuverability
Very minor assembly required
Cons
15-inch tires are small for this type of snow blower, which can prevent you from moving through snow mounds higher than 15 inches.
Auger belt may need to be replaced every couple of years, depending on how often you use the snow thrower
Best Snowblower for All Surface Types
Prices and availability are accurate as of 2021-11-26 at 08:35 CST – Details
An issue some homeowners face is that they can't find a snow blower that can adequately and safely clear snow on a variety of surfaces, like grass, pavement, and gravel. Fortunately, this Husqvarna snow thrower should bridge the gaps between different terrains so that you won't have to look for separate units to do the job in different areas of your yard.
The Husqvarna 30-inch 369cc Snow Thrower is one that provides incredible power and smooth operation, while also giving you a huge clearing width for large spaces. This blower probably won't be the best choice for those with small yards or only a few sidewalks to clear, but if you're looking for a large, convenient unit, it could be a good option.
You'll benefit from large tires that can grip virtually any surface and type of snowfall, from fluffy and light to heavy and icy. And, the two-stage system lets the auger sit up higher off the ground to clear uneven terrain for smooth movement.
Pros
Adjustable handlebar height to fit almost any operator
Power steering for ultimate control, even on slippery snow or hills
Friction-disc transmission offers smooth shifting
Easy assembly
Far snow throwing distance
Heated handlebars for extra comfort when in use
Cons
Very heavy (280 pounds) and large; could be difficult to store when not in use
Single auger belt may not be as durable as those on some snow blowers that use a two-belt system
Can be very difficult to start without the electric start system
Husqvarna snow blowers can bring you a good balance of power and smooth operation. But, if you decide that none of the models we reviewed are the right ones for you, we still hope you soon find the best brand and model that fits your wants and needs.
How to Find the Best Husqvarna Snow Thrower for Your Home
Finding the best Husqvarna snow blower for your needs can be an easier task once you understand some of the main differences in the top models from this popular brand. Husqvarna is very focused on operator comfort and unit power but also caters to people who need a simpler, more compact unit for quicker snow blowing jobs in small areas. Here are some of the important things to consider when choosing your Husqvarna snow thrower.
Is an Electric Start Necessary?
Most of the most popular models from Husqvarna have electric starting systems. An electric start system does typically hike up the price of a snow blower, and not every homeowner will find it a necessity. But it does provide a simpler way to start your blower without pulling cords and spending extra time getting it to start in the cold.
Electric start snow blowers still require gas to run. But, instead of using the typical pull-cord to start the system, you'll plug your snow blower into an outlet using an electrical cord. The blower will use that electricity to let you start it with the push of a button. This system gives you a quicker, more comfortable start than the recoil system, which may require more physical movement than some homeowners can handle.
Electric start systems are especially helpful for elderly homeowners or those with physical issues with their backs, shoulders, and necks. The downside is that you'll need a long enough electrical cord that will reach to an outlet for you to start your blower, which may require an extension cord and some extra time to set up.
How Do I Know What Size Snow Thrower to Purchase?
Like many top brands, Husqvarna offers several snow blower sizes for you to choose from. The size it mentions is the size of the clearing path in width. So, if you see a model that mentions 24-inches, that snow thrower has a clearing width of 24-inches. Husqvarna's snow throwers range in size from 21-inches to 30-inches.
The size you need will depend on the size of the areas that you intend to clear. If you have a tiny driveway and narrow sidewalks, you likely won't need a snow blower bigger than 21-inches or so. The benefit of a smaller snow blower is that it's also more compact and lighter, which can be an advantage to homeowners with a small amount of storage space.
But, if you have long, wide sidewalks, a large driveway and pathways, or a large yard that you want to clear, you might benefit from a snow blower with a clearing width of 25-inches or more. This size will let you get the job done more quickly and also tend to have more powerful systems for blowing snow and easy steering. Of course, they'll require more storage space, which is an important point to consider.
What Size and Type of Tires Should I Look For?
Husqvarna snow blowers have either wheels or track drives. Wheels are the standard types of round snow blower tires, and they come in different sizes. Many models have 16-inch wheels, which provide a good amount of traction in high amounts of snow. But, some compact models meant for small areas will have smaller tires of around 13" to 14", which might be better for homeowners who only get up to a foot of snow at a time.
Track drives are triangular and run with tracks instead of wheels. Snow blowers with tracks are helpful for homeowners who need superior traction. If your snow becomes icy quickly, for example, tracks can grip the snow and ice better than wheels, preventing slippage, especially on hills and around turns.
When Might I Need Power Steering?
Some of the Husqvarna snow throwers have power steering available, which, again, is a feature that not all homeowners will find necessary to have. Most of the time, you'll find this feature on very large, heavy snow throwers, so it may not be a feature available for more compact models.
If you've ever tried to move a large snow blower without power steering, you know that it can be difficult to maneuver uphill and around turns. Power steering lets the snow blower work with you by helping you turn the machine more easily, sometimes with only one hand.
This feature does tend to raise the price of a snow blower significantly, though. So, if you have an area that is relatively flat and doesn't require much of a need to turn, you'll probably do just fine without power steering.
Prices and availability are accurate as of 2021-11-26 at 13:25 CST - Details