Our Choices For The Best Ryobi Weed Eater Of 2022

You know you want a Ryobi weed eater. And why not?
Ryobi is a brand with over 75 years of history in providing quality products to consumers.  Known all over the world for quality performance yard tools at a reasonable price, there's no reason not to have Ryobi string trimmers on your short list.
You can feel the confidence Ryobi has in their products by looking at the warranty. While even cheap Chinese brands will claim to have a 90-day or 1-year warranty, higher-reputation companies will put their name on the line and provide more comprehensive warranty protection.
Ryobi's warranty matches their tradition of expertise.  All of their 40V weed eaters (along with their other Lithium-ion battery power tools) are backed by up to a 5 year warranty – just make sure to register your purchase within 30 days to get the extra 2 years of coverage.  This warranty is among the best in the industry.
While most of their products are well-built, some string trimmers are better for certain situations than others. We've selected our top picks for Ryobi weed eaters.
Jump To Recommendations
Our selection criteria and expanded reviews are below (click on the product title to jump down). We also know you might be in a hurry to get on with your day. If so, here's our recommendations for a Ryobi weed wacker by use case:
Prices and availability are accurate as of 2022-05-22 at 12:54 CST - Details
---
You might also be interested in:
---
Our Picks For The Best Ryobi String Trimmers
Our Top Pick: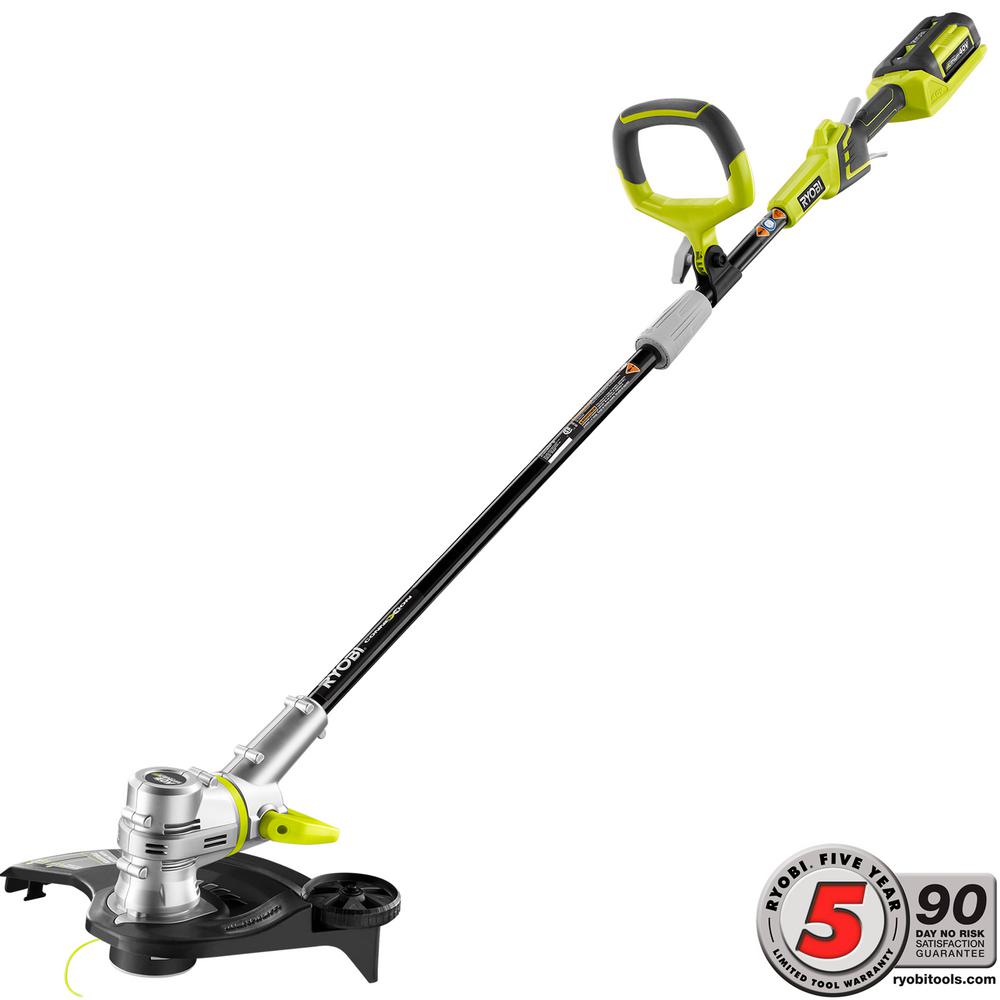 The Expand It line of power tools is designed to be compatible with each other. This means you can switch from string trimmer, to edger, to other power tool without the need to purchase multiple tools.
Power
One of the most powerful battery powered, cordless string trimmers, this uses a 3.0Ah 40v Lithium ion battery that has the performance of a gas powered weed eater. It's also interchangeable with other 40v Ryobi batteries so you can build upon your tool collection.  You'll see many Ryobi 18V models for sale online.  While those have their place, the market has moved to 40V/60V/80V batteries the past few years.
It's not that 18V batteries won't work.  It's just that physics are working against them compared to the power that higher voltage battery-powered motors can deliver.  Unless you are really strapped for cash, do yourself a favor and buy a 40V (or above) powertool.
Ease of Use
Even though it has the power of a gas powered string trimmer, it comes without the hassles of dealing with smelly gas, oils and maintenance. The Ryobi RY40230 is easy to use, maintain and very reliable.   Other than an occasional cleaning, your only maintenance task is to keep your batteries charged and ready for use.  Just make sure you follow our tips for maintaining Lithium Ion batteries, and you should be set for many years of use.
REEL-EASY Automatic Spool Feed
The trimmer head has a 13-15" adjustable cutting diameter for complete control of the job. It swaps to an edger for even more control of your yard. The added REEL-EASY automatic spool feed is yet another feature that makes this trimmer so great.
Ideal for most jobs, you should never have to buy another string trimmer if you decide to buy this one. It gets rave reviews and is one of the more popular models.


Prices and availability are accurate as of 2022-05-22 at 12:54 CST - Details
The RY40210 is very similar to the RY40230 which won our Top Pick.  The main difference is the lack of attachments available for the 40210.  If the attachments don't matter to you, still check out the pricing on the
Top Pick.
  There are times where it's priced lower than the 40230.  If that's the case, it's a no-brainer to pick up the model with more versatility.
Power and Performance
If you want power and performance without the bells and whistles, this is the weed eater for you. The battery powered RY40210 uses a 40v battery pack that has tons of power for getting almost any tough job complete. It has a life of about 1-2 hours to get the job done without having to stop and recharge (or swap out) the battery.
Auto Feed Spool
The head on this beast has an auto feed spool for constant trimmer line to the trimmer head. Eaters come in either bump or auto feed configuartions.  With a bump model, the user must be alert to when the line has broken off from the spool.  At that point,  a "bump" on the spool lets out more line.
Not with this model, however.  There's no bumping required!
Straight Shaft
The straight shaft is ideal for reaching under trees and getting to those tough spots.
Versatility
It wouldn't be a Ryobi if it wasn't versatile. This trimmer turns into an edger using the foot pedal in seconds. And to top it off, the battery pack works with other 40v Ryobi power tools.  They generally won't work with 40V tools from other brands and manufacturers.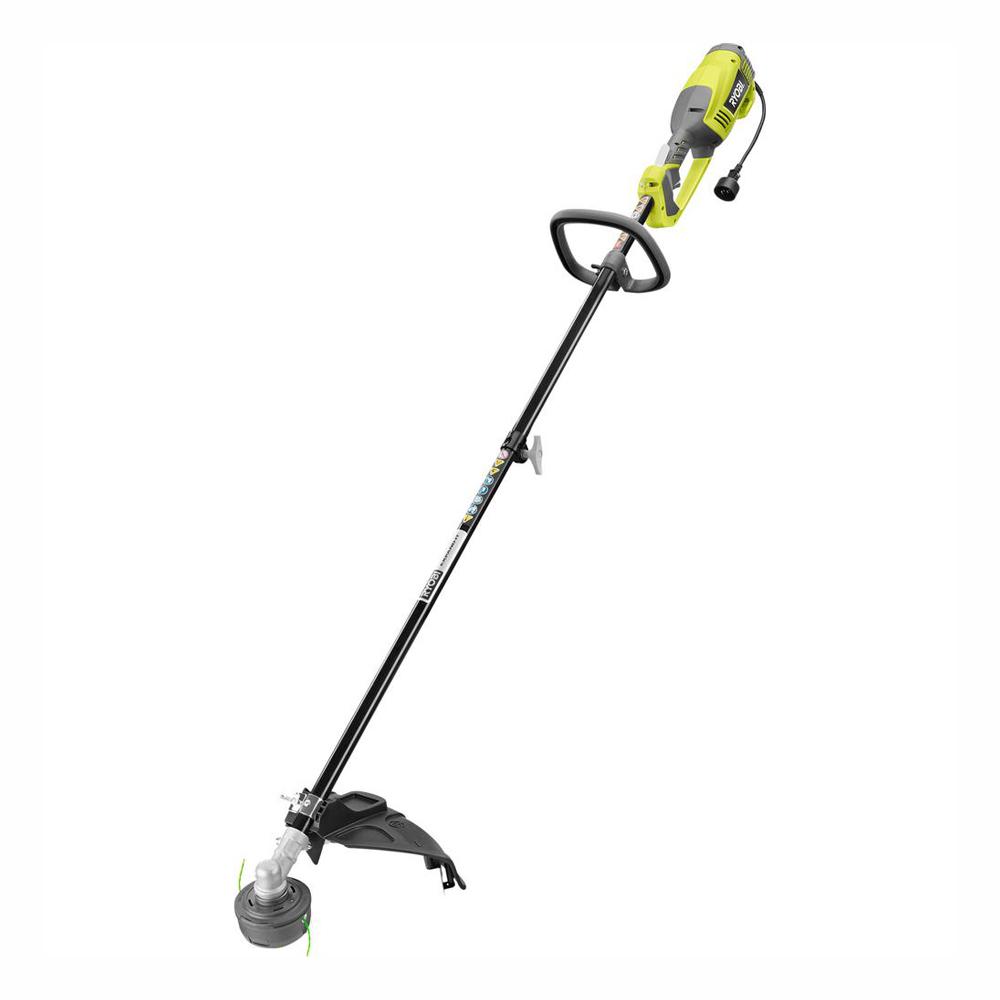 The Power of a Corded String Trimmer
This Ryobi weed wacker is a great choice if you aren't sold on using battery power.  The 10 Amp motor rewards you with plenty of power for handling jobs near the house.  With the right extension cord, you'll be able to reach upwards of 100 feet.
Attachment Compatibility
Much like out favorite cordless Ryobi-branded choice, this product will work with a variety of attachments.  These include cultivators, a pole saw, and a hedge trimmer among others.  If you are looking for the ability to take on additional tasks around the yard without having to spend quite as much as you would on a new tool, the RY41135 will fit your bill.
Large Cutting Radius
The trimmer head has a 18" cutting diameter for large cut paths.  Many of the battery-operated units only cover 12″ or 14″.  There's nothing wrong with that for the right person, but if you have a need to crush weeds with the larger width this product will not disappoint.
Prices and availability are accurate as of 2022-05-22 at 12:54 CST - Details
If you don't already have a
quality leaf blower
, this combo package might be just what you are looking for.  You'll need to pay attention to price.  Generally, these bundles are sold by third=parties and the pricing can move quite a bit depending on supply and demand.  You don't want to be lazy and end up paying more for the combo than if you went ahead and order the tools seperately on your own.
In addition, you need to make sure you know what model numbers come in the package.  Some sellers are better than others at providing that information freely. If it's not readily available, make sure you ask the seller.  There's no reason to run into trouble that could have been avoided ahead of time with some communication.
Conclusion
Ryobi is a great brand you can trust when it comes to yard and lawn care. Their line of powerful and robust tools will suit the needs of any job you need to get done. Whether you have a small yard that just needs a simple trimmer, or you want the power and performance of a professional grade weed eater, Ryobi has a model to fit your specific needs.
Prices and availability are accurate as of 2022-05-22 at 12:54 CST - Details