The Best Zero Turn Mowers Reviewed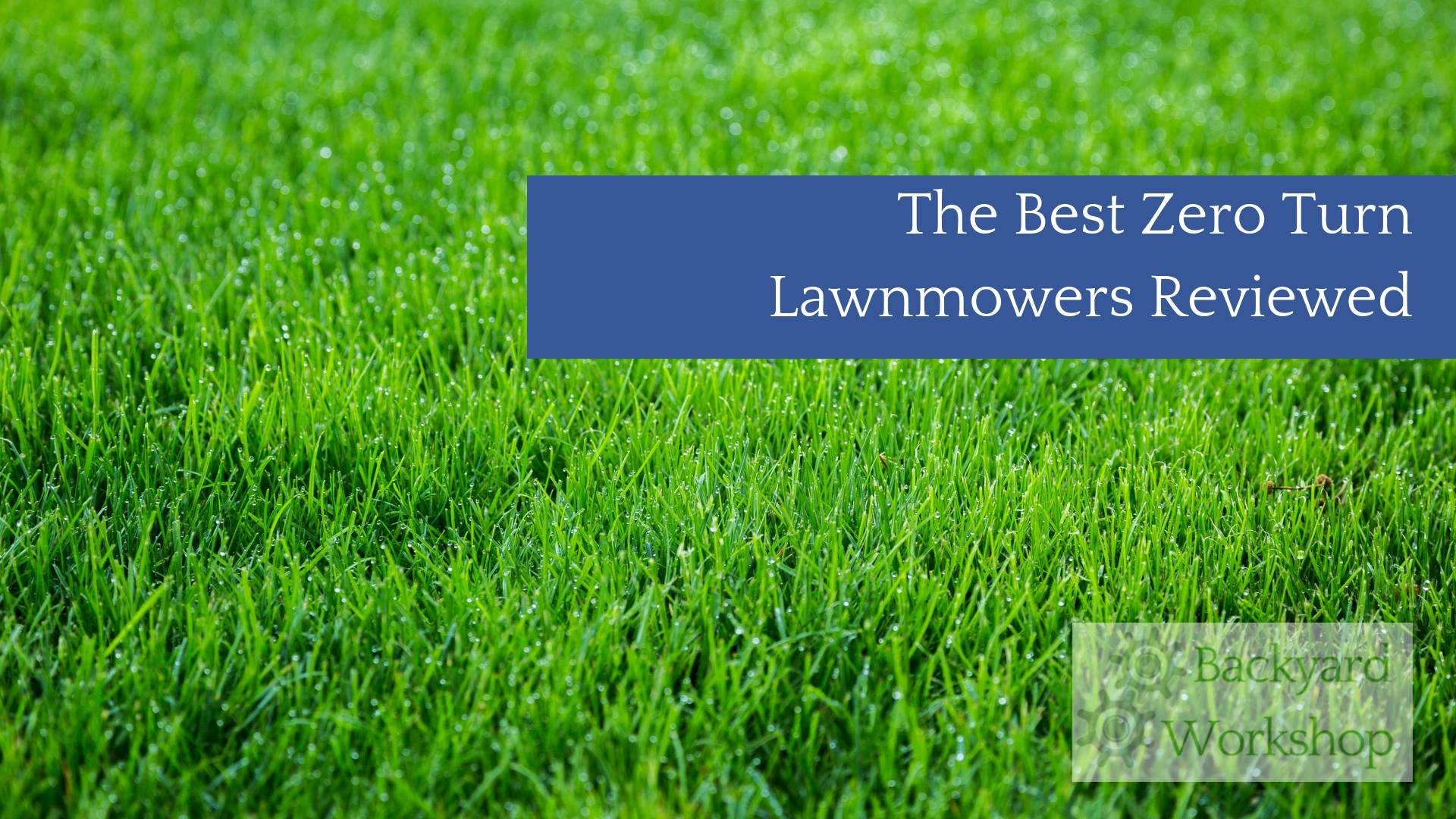 If you're like most homeowners, you probably dread mowing the lawn. It's hot, it's sweaty, and it's time-consuming. But what if I told you that there was a way to make lawn mowing faster and easier? Introducing the best zero turn lawn mowers on the market!
Walk behind lawn mowers and traditional riding mowers are fine for smaller yards, but they can't compete with a great zero turn riding mower for a larger lot. This article explains how these machines work, and recommends a few models worthy of being in contention for the best zero turn mowers list.
What Makes A Great Zero Turn Mower?
There are many models of zero turn mowers available to buy – both online and in the store. We've found the best zero turn mowers share the following characteristics.
The Best Zero Turn Mowers Compared
Husqvarna Z254F

Check price at

Ariens Edge 52 Zero Turn Mower

Check price at

Husqvarna MZ61 61 inch

Check price at

EGO Power+ ZT4204L 42

Check price at

Ariens IKON XD 42 Inch

Most Popular

Lowest Price

Check price at
The Five Best Zero Turn Mowers
Top Overall Pick For Best Zero Turn Mower: Husqvarna Z254F
Check price at
If you're looking to mow your lawn in a practical, easy and hustle-free manner, the Z254f Zero Turn Mower by Husqvarna is an excellent choice.
It's fitted with a powerful 26HP engine from Kohler, which can handle up to 2.8 acres within 60 minutes, going at speeds of 6.5 miles per hour. This makes it a suitable machine for mowing large areas within a short amount of time.
Another perk of the Z254 is that it's fairly quiet- which is a real bonus if you're mowing in the wee hours of dawn and don't want to wake your neighbors. (We don't recommend doing this often though – it's still a gas-powered lawnmower.)
You can also tell that Husqvarna put a lot of thought when making the hydrostatic transmission. The transmission on this zero turn mower is maintenance free. There's no need for oil changes or checking for lubrication levels – one less thing to worry about. With a three year warranty, they are signaling their confidence in how well this zero turn will hold up.
Our pick for the best zero turn mower has a generous deck size of 54 inches, which can be adjusted between six positions. The cutting deck constitutes 3 cutting blades, each of which is made of 12-gauge steel for durability.
A great addition to this construction entails the 4 anti-scalp wheels that prevent you from messing up your turf when maneuvering on a bumpy terrain.
Pros
Powerful; uses a 26 horsepower engine
Ergonomic additions that make it easier to operate
A large cutting width of 54 inches
Fuel tank capacity of 3.5 gallons prevents frequent refilling
Cons
Does not cut thick grass with ease
Check price at
With its large cutting deck and padded seat, the Ariens Edge is our runner-up zero turn mower.
The machine has a 21.5 horsepower engine (or 726cc), which is slightly smaller than our first pick. However, it's equally speedy. It averages a speed of 6 mph and 3 mph in reverse. Ariens mowers are made in Wisconsin – a state with a long lineage of quality machine manufacturing.
The cutting deck is also a bit smaller at 52 inches, and is created from fabricated 10-gauge steel. The good thing about this construction is that it maximizes airflow, which translates to more precise cuts. Another reason why this mower is a favorite is because it can be used even on uneven terrain. The commercial-style hanging deck allows you to mow even on such bumpy surfaces.
Better yet, the Ariens zero turn mower offers you 3 steel cutting blades. You'll be able to select from 13 different cutting positions by simply turning a dial. We recommend using the 4.5-inch option for the first cut of overgrown grass and the 1.5-inch for the final finish.
Ariens has a standard warranty across all their Edge models of 2 years or 150 hours of usage.
Pros
Multiple cutting positions
The padded seat is extremely adjustable
Equipped with 4 support positions to prevent excessive movement when cutting
Steel cutting blades for extra durability
Cons
Design of the front wheels can be improved
Only a 2 gallon fuel tank capacity on this model.
Check price at
If you're looking for a zero mower with a really large cutting deck, the Husqvarna MZ61 is your best bet.
It has a massive 61-inch cutting deck, which is perfect for mowing areas with very tall grasses. This larger cutting deck also makes it suitable for tackling stubborn grass. If you factor in its adjustability, you have varying degrees of the quality of cut you want.
Under the hood of this monster machine is a Briggs & Stratton engine. If you've shopped for a lawnmower before, you've probably come across these powerful engines.
Based on this engine specs, you get an incredible 27 hp engine, which gives you a forward drive of 8.5 mph and a reverse drive averaging 5 mph. This translates to a coverage of 3 to 4 acres of land within 60 minutes.
The strong build of the Husqvarna MZ61 is another plus. Both the body and cutting surface are constructed using steel, making it one of the most durable machines.
Also important to note is that the mower comes with a high ergonomic seat and armrests for improved comfort. The armrests help to minimize fatigue on your arms during operation. Positioning the cutting deck controls on the pedals also adds to comfort as it makes them easy to access.
Pros
High speed and efficient
Equipped with a powerful 27hp engine
Adjustable height for the cutting deck
High seat with vinyl padding for utmost comfort
Cons
Too bulky for some applications
Check price at
If you don't mind splurging on a highly-advanced battery-powered zero mower, the is just what you need.
That's right – EGO has managed to launch an electric riding mower that can compete with gas powered zero-turn mowers. And they have succeeded.
A rider can use 4 to 6 EGO 56V ARC batteries to provide this mower with the same power as a 22 HP gas engine. You'll get comparable speeds of 3-7 mph depending on what mode you are in. With the included 4 batteries, you will be able to cut 2 acres of grass – that number will go up if you add more batteries on your own.
It's not an industrial cutter. It's 42″ cutting width is fine for most large lots but wouldn't be very practical for commercial purposes. But if you like quiet and maintenance free mowers, an electric one should be on your list. My guess is we'll see more battery electric zero turn mowers over the coming months and years – but this is a great option as the first in the category.
Pros
Quietest operation in the class.
No oil or gasoline to deal with – just charge the batteries and go!
Cut heights from 1.5″ to 4.5″ give you many choices for your lawn.
You'll be unique in your neighborhood – not many people have even heard of an electric zero turn mower let alone own one.
Rated best battery zero turn mower by Consumer Reports
Cons
While a relatively fast recharge at 2 hours for 4 batteries, there still could be downtime if you run out of juice.
Doesn't come with a bagger kit.
Great Zero Turn Lawn Mower For Suburban Lawns: Ariens IKON XD 42 Inch
Check price at
The Ariens IKON XD is a zero turn mower designed with versatility in mind. It can be integrated with a dozen attachments to make it more functional and efficient. These include a bagger, mulching kit, trailer hitch, aerator and more.
Equipped with a 42-inch cutting deck, this mower is made to cut yards under 5 acres in a short time. The deck is constructed from 11-gauge steel for strength and touchness and consists of dual blades that have been highly optimized to mow flat areas.
The Ariens IKON sports the7000 series engine from Kohler. You'll get a fuel tank capacity of 2.8 gallons which is fine for the size of lawns this mower is meant to tackle.
The smaller deck size means you'll have an easier time finding space to store this mower. Larger mowers often are stored outside under a cover or have thier own garage parking spot. This 42 inch machine should be much easier to find room to park in a shed.
Pros
Perfect size for "smaller" yards.
Adjustable seat and arm rests increase comfort and reduce fatigue.
13 cutting positions give you control over your grass.
3 year/300 hour warranty is better than most.
Cons
Some reports the blades aren't always sharp on delivery – check before you cut an sharpen if necessary
Best Zero Turn Mower FAQs
How A Zero Turn Lawn Mower Works
There's a lot of debate on when and how zero-turn mowers were first invented. It's not surprising considering the profound effect they've had in the lawn care industry.
In particular, there are two opposing theories coming from Max Swisher and John Regier. These claims place the invention of this tool somewhere between 1956 and 1963. Unfortunately, we might never know who invented this piece of lawn equipment. We do know how it works.
The zero-turn lawnmower replaces the standard wheel of a riding mower with two levers, which connect to two motors and the rear wheels. A conventional lawnmower relies on its front wheels to turn.
Does the new mechanism make the zero turn mower harder to drive? On the contrary! Operating this mower is pretty simple.
If you want to move forward, all you need to do is push the two levers forward simultaneously. To drive faster, push the bars farther in the forward direction. And if you wish to drive it backward, simply pull the levers back. As with the forward motion, the farther back you move the sticks, the faster you'll drive in the reverse direction.
What if you want to turn right or left? To move in either of these directions, you'll manipulate one of the handles instead of both.
For instance, turning right requires you to push the left handle in the forward direction. Doing so causes one side of the mower to rotate faster than the other; enabling you to make a turn.
What do you mean by 'zero turn'?
Zero Turn means that the lawn mower's turning radius is zero inches. In other words, you can make 180 or 360-degree turns without having to move forward or backward. The ability to make turns without making unnecessary movements enables you to cut more efficiently and cleanly.
It also means that you can mow in a shorter time as you'll be able to navigate around obstacles with ease.
How do you stop a zero turn mower?
These mowers are operated using levers or handles. So to bring the machine to a halt, all you need to do is ease back on the forward push, then pull them all the way back to the neutral point. If you need to make a sudden stop, you can also use the parking/emergency brake that's usually located on the right side of your seat.
Why are zero turns' pricier than traditional mowers?
Zero-turn mowers are more expensive than traditional tractors because they are well-rounded. They have bigger cutting decks, more powerful engines and stronger frames; not to mention, they use steel in places where you'd find plastic construction.
Some zero mowers also have a dual-hydrostatic transmission, which enables the rear wheels to be operated independently. This type of transmission results in a major cost difference.
On the plus side, the long-term savings you get from using this piece of equipment are higher than its upfront cost.
Are zero-turn mowers only meant for large yards?
No, they aren't. Though they're mainly recommended for professional landscapers and homeowners who have large plot sizes, they can also be used on small yards. What's important is that you choose the right deck size. For a small lawn, a 30 to 40-inch cutting deck is all you need.
How do zero turn mowers fare on slopes?
This is one of the few drawbacks of using a zero turn mower because it's not suited for all slopes. In particular, experts recommend that you avoid operating them on slopes of more than 10 or 15 degrees.
These mowers rely on the back wheels both for traction and steering. When you drive it on a steep slope, the machine can easily lose its balance causing you to topple over.
Another point to keep in mind is to avoid using this mower on wet surfaces. The moisture on your lawn causes the wheels to lose traction and slip easily.
Summary
Zero-turn mowers remain unmatched for their power, maneuverability, and pace. These attributes make them ideal for mowing very large areas. Unlike other models, they can pivot 180-degree, allowing you to cut grass with precision.
If you're looking to invest in one of these machines, the Husqvarna Z254 Zero Turn Riding Mower is a reasonable choice.
It has a wide cutting deck of 54 inches, enabling you to cut more grass with fewer passes. It's also fitted with a powerful 26HP engine and has ergonomic features that make it easy to operate.