The Best Table Saw For Every Project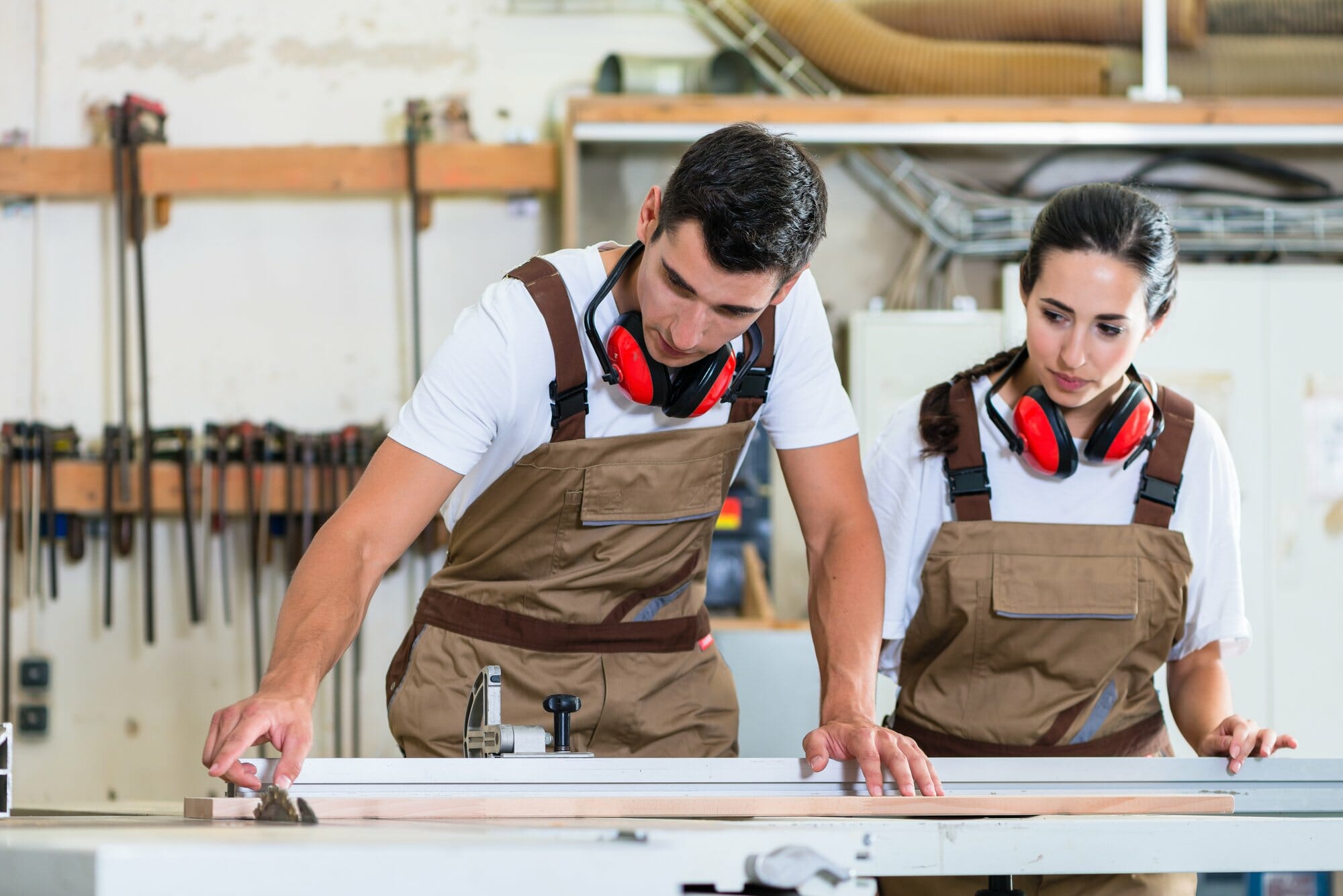 This post has one purpose: to help you choose from the best table saws currently available on the market.
Add Your Heading Text Here
It's amazing that many people are willing to make a big purchase like a tablesaw without doing much research.
You'd never think of buying a boat or car without looking at the options; yet when most shoppers are heading out to buy the top table saw for their workshop they purchase without really checking through the options.
Luckily, YOU aren't the average shopper.  You want to make an educated choice.
This buying guide is for you.  We've put together a list to save you time buying the best table saw.
Table saws are tools meant to cut (or rip) through large pieces of wood quickly and efficiently.   A saw is contained in a table (hence the name).  The depth of the cut is controlled by how far up the saw blade protrudes from the table. A deeper cut means more of the blade is above the table. 
Table saws usually cut wood.  Unlike a scroll saw or a band saw, good table saws are better for less detailed cutting.  They are usually less portable than a circular saw or a compound miter saw.  That said, there are "portable" table saws available if you need some mobility.
We rated the following tools the best table saws because they will help you to get your projects finished quickly and with the least fuss. 
Here is our list of the Best Table Saws
Safety is always of primary concern when using a table saw.  The saw can rip through flesh and bone just as easy as wood if you make even a momentary mistake. And many people do – over 10 people a day in the US alone lose a finger (or more) to a table saw.
The Saw Stop PCS175 protects you from yourself.  Designed in the USA, the founder wanted to make saw amputation a thing of the past.
This cabinet saw has a built-in safety system which can detect if the saw is up against wood – or if it's about to cut through flesh.  If it's not wood, it immediately hits the brakes – limiting the damage to only a scratch.
Watch this video from Discovery Channel's Time Warp to see it in action as the creator of Saw Stop puts his own finger in harm's way:
So yeah.  It works.
It's also a workhorse.  With a nearly 2hp motor running on 110 VAC, this saw is capable of handling all the toughest jobs. It will draw 14 amps so you won't need more than a 20 amp circuit to use this tool.   If you let the saw work you can cut through 3″ wood – though remember all saw performance depends mightily on the quality of the blade you use. 
A 36 inch T-Glide fence is provided for strength and convenience.  Made of thick-gauge steel, you shouldn't experience any deflection when using it.   If you want, you can switch it out to a 30″ or a 52″ fence.  You aren't locked to one size – a nice feature.
The built-in dust collection handles the vast majority of the dust.  Saw Stop claims 99% dust collection.  It does work well, leaving behind only a small dusting of sawdust which is easy to cleanup.  There is an optional overhead dust collector available but it's not usually necessary for day-to-day operation.
While there are some saws that have similar performance characteristics at a lower price, none of them will stop you from accidentally cutting off a finger.  How much are your ten digits worth to you?
If you have a 220 VAC wired workshop, you can move up into the next level of motor power.  The Shop Fox W1819 is a 3HP 10 inch table saw that will allow you to get through your projects in less time.  Shop Fox is a quality manufacturer. 
Of course, you'll need a quality saw blade – but you knew that already, didn't you?
Along with the additional power, you'll find all the bells and whistles on this table saw.  It has a clear poly-carbonate saw guard to both provide protection and allow you to see the blade as you cut wood.  It also has an anti-kickback riving knife to help keep you safe. You'll find the surface is created to minimize friction to make your cutting experience better.
The dust collection port is of good quality, and while it is a big tool it's not too difficult to assemble yourself.  You can choose between a 29.5 inch rip capacity or a larger 49 inch one.  Pick the one that fits your project needs.
Sometimes it's more important to be able to bring the tool to your work rather than the most raw power.  Frankly, that describes most around-the-house projects you would tackle on the weekend.  For those jobs, the DEWALT DCS7485B is the best table saw. 
At only 45 pounds, you can carry this table saw with one hand.  You don't need an electrical outlet to power it.  Instead, you cut using the power of FLEXVOLT batteries.  The 6AH version charge in 45 minutes, and provide you with plenty of power to cut through medium sized jobs.  If waiting for a recharge isn't acceptable for you, make sure you buy a few batteries to always have one ready to go.
If you used a battery-powered table saw in the past 15 years and were turned off, trust me – this is a different saw! The fence is accurate and solid in construction.  While the smaller 8.25″ saw blade provides cuts not as deep as those made by a 10″ blade, it still has clearance for most jobs. 
I know of tradesmen that use this saw over their corded ones – even when outlet space is available to plug in.  That's really the only testimony you need to know to tell you that this table saw can get the job done.
This 15 amp saw from Bosch is a great choice if you know your worksite will have 110 VAC power taps available.  It's very portable.  The stand is easy to set up and take down.  One nice touch is the wheel size – it's much easier to move than you might expect.
Even though it is built to be moved around, Bosch didn't skimp on features.  This table saw has a 25 inch ripping capacity – not bad for a portable saw.  You will be able to handle most projects with that size capability. It uses a standard 10 inch saw blade size – so you can upgrade to a quality after-market blade without much effort.
Since a 15 amp motor can trip even a 20 amp circuit breaker on startup, Bosch designed in electronic speed control.  This helps with the surge at motor start, along with keeping the blade running smoothly as you cut your wood. You'll also find anti-kickback pawls and a riving knife combined with a see-through blade barrier to help keep you protected.
You have the ability to connect either a dust bag or a dust collector to the 2.25″ port.   A shopvac will work fine to keep dust problems to a minimum.  Some people have complained that dust collection is an issue if you just use the passive bag – so keep that in mind if you don't have a shop vacuum available.
In general with table saws, there is truth to the idea that you get what you pay for.  The higher-priced models are generally built to be run harder and more often than more inexpensive ones.
As you get below $300, it becomes much more important to be picky about the quality of the saw.  You can find saws as cheap as $100, but you'll really regret buying them.  The rip fence can be a real pain to work with, or worse, might not be straight.
They also might miss safety features like such as a riving knife to stop kickback. Plus, if something goes wrong you most likely are depending on the return policy of whoever you bought it from – warranties are at most one year.
That's not the case with the Skil 3410. It's a good table saw for the money.
For this price, you get a high-power 15 amp motor driving the 10 inch blade.  It has an included side extension which allows you to rip over 24 inches worth of wood.  That's enough to cut a 4×8 foot sheet – -though you might want to pick up something to provide support for the out feed.  You can also use dado blades if your project requires it.
Skil is also putting their money where their mouth is by currently providing a 3 year warranty. There is a catch – you need to register the purchase of the table saw within 30 days. Otherwise you'll just get a one-year warranty.  But you won't find a comparable warranty at this price.
(Note: The warranty webpage seems to indicate they are moving to a 5 YEAR warranty for non-commercial use.  You might want the seller to ask to clarify their current policy.)
There are some tradeoffs to keep the price this low.  You'll find more plastic components than you will with some more expensive models.  There's no speed control or other safety extras at this price.  You do get a good saw however.
Of course, you'll want to get rid of the saw blade and get a real high-quality 60 to 80 tooth blade.