What's The Best Troy Bilt Snowthrower For You?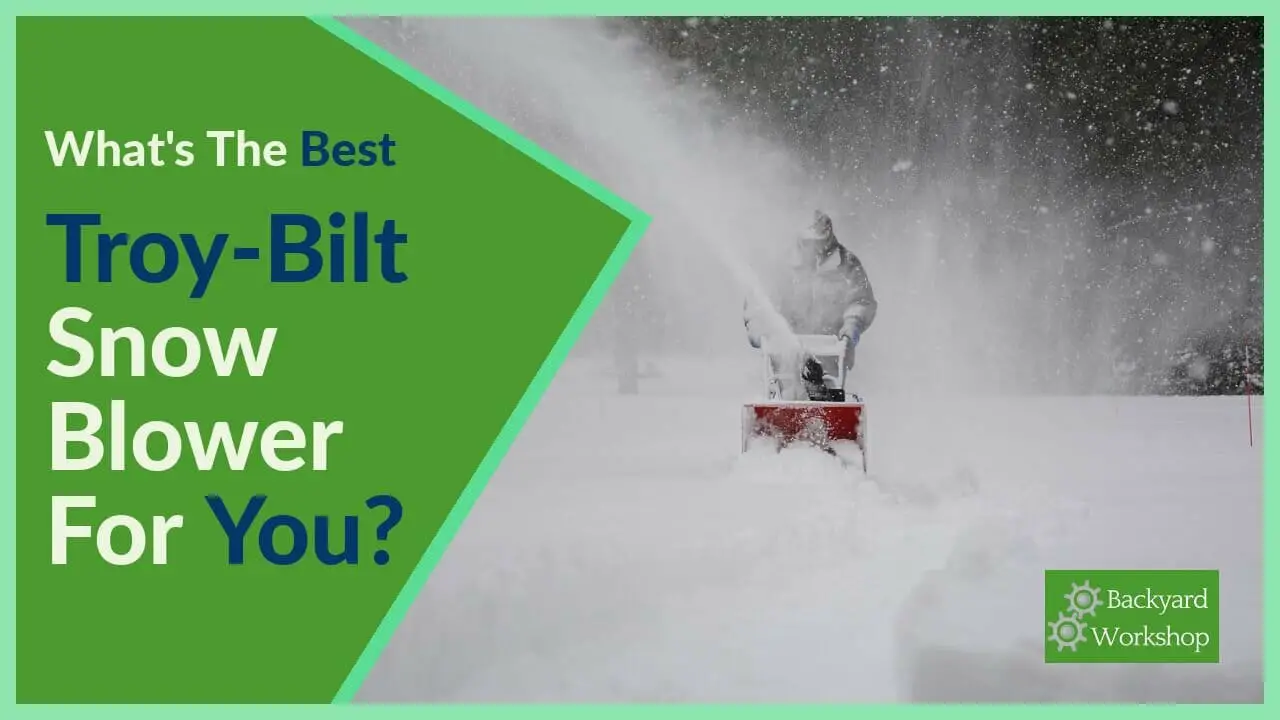 A winter snowstorm can be a beautiful sight to behold – but only if you're sitting inside somewhere warm. Snow isn't so wonderful when you need to remove it. Shoveling by hand is difficult, tiring and inefficient. If you need to clear snow from an area large or small, you need a snowthrower.
But how do you choose the best snowblower for your needs? The Troy-Bilt brand has an excellent reputation for quality and carries a full, varied product line. No matter how much snow you need to remove, and how often it needs removing, there's a Troy-Bilt snowblower designed for your needs and budget.
Our complete guide to the best Troy-Bilt Snowthrowers includes everything you need to know about how snowthrowers work and what features to look for. We've also included five in-depth mini-reviews to help you make an informed purchase.

Introduction
Snowthrowers are designed for use in cold, snowy and generally uncomfortable conditions. Solid construction and reliability is a major concern.
If your lawnmower breaks down, the grass isn't going to grow quickly enough to overwhelm your yard. But if your snowblower breaks down, giant piles of snow can form fast and cause tons of problems.
Troy-Bilt is a trusted name in snowblowers. Their extensive product line includes throwers for fast, light snow removal around the house, heavy-duty throwers suitable for commercial use and everything in-between.
You can count on your Troy-Bilt snowthrower to never let you down – because each one is rigorously tested in the Troy-Bilt labs. And by "rigorously tested" we mean "practically punished." Each product is designed to withstand tough, even brutal outdoor conditions.
Troy-Bilt has over 75 years of experience building equipment you can count on. Founded in 1937, this Ohio-based company is 100% American owned. Aside from snowthrowers, they also manufacture lawn, gardening and clean-up equipment.
Instead of creating a guide featuring many different brands, we've focused entirely on Troy-Bilt snowthrowers. This makes selecting a snowthrower far easier for you. The Troy-Bilt line offers a variety of models which fulfill many different needs. Each model is strong, easy to operate and packed with useful features.
Let's jump right into the Troy-Bilt Snowthrower Buyer's Guide:
Must-Have Features
What Stage is the Best Option?
Snowthrowers are classified according to "stage." The larger the stage, the more snow the machine can throw. Snowthrowers can be either a single-stage, two-stage or three-stage.
Single-stage throwers can handle the least amount of snow. They're designed to remove up to nine inches of powdery snow. They can only be used on solid pavement. Avoid using on gravel surfaces because bits of rock can be pulled into the machine.
The auger pulls snow into the machine and throws it out of the chute in a single motion. Single-stage throwers are fast and lightweight. As long as the snow is under nine inches, a single-stage snowthrower should clear the ground in a single pass.
The next step up is a two-stage snowthrower. As the name implies, removing snow is a two-step process. First, the auger pulls snow and ice into the unit. Next, the impeller shoots the snow and ice out of the shoot. The two-stage process allows the machine to remove deep, heavy and wet snow.
Two-stage throwers are equipped with a feature called "skid shoes." These attachments regulate the height of the auger. You can use a two-stage snowthrower on gravel and other non-smooth surfaces.
Finally, three-stage throwers are designed for heavy-duty use. The augers break up ice and snow ten times faster than a two-stage blower. Snow is expelled through the chute faster, too. Three-stage throwers have powerful engines, durable construction and can remove snow from practically any type of terrain.
What Type of Chute Control is Best?
The area on top of the snowthrower which sprays out the snow is called the "chute." You need easy control of the direction of the snow spray. Otherwise, you might create a large pile of snow or end up spraying yourself as you use the machine.
The best chute control is usually a one-touch joystick. A four-way chute control lets you adjust the chute rotation and pitch while you push the machine. Most joysticks will be located right by the handle for easy access. While a four-way joystick gives you the most control, a two-way joystick is an acceptable alternative.
What Makes a Thrower Easy to Control?
Snowblowers – especially three-stage units – are large, powerful machines. You don't want the thrower to be difficult to control. There are two features you'll want to look for.
First, you probably want a self-propelled snow thrower. This eliminates the need to push the thrower manually. Instead, the unit basically moves forward on its own while you use the handles to guide the direction of travel. Self-propelled throwers have multiple forward and reverse speed settings.
You'll also want a snowblower with power steering. This allows for instant, automatic turning. Most power steering controls consist of two triggers on the hand grips. Squeezing a trigger turns the unit either to the left or the right.
Finally, you'll want hand warmers on the main handle. Even when wearing gloves, your hands can get very cold after throwing snow for even a short period. A hand warmer is more than just a convenience. It can also help prevent damage from hypothermia.
Snowthrower Recommendations
You should be ready to start shopping for a snowblower. Remember to compare your specific needs with the features of each model. Here are five Troy-Bilt snowblowers we recommend.
Best Small-Sized Snowthrower
Troy Bilt Squall 2100 Single Stage Snowblower 208cc ES OHV 21 inch (31AS2T5F766)
Powered by a dependable 208cc 4-cycle OHV Electric Start engine and a push button electric start makes clearing large areas of snow quick and easy
Clears snowy walkways up to 21" wide and 13" deep in one pass
The polymer chute is equipped with a 2-way remote chute control with 190 degree rotation for efficient snow displacement
Equipped with a comfortable, foldable gull-wing handle that makes this snow thrower easy and comfortable to use
Looking for a snowblower to clear the driveway and sidewalks around your house? The Squall 2100 is a lightweight snow thrower designed for residential use. Easy to maneuver, this snowblower doesn't require a ton of physical strength to use. A good choice for teens, seniors and anyone who might be a bit intimidated by a larger, more powerful machines.
That's not to say the Squall 2100 is weak. A 21-inch driveway can be cleared in just a single pass, and the blower easily handles snow up to 13 inches deep.
Control the output with the 190-degree panel, remote-controlled chute. Handles are easy to grip when using the blower but can also fold away for easier off-season storage. A gas-powered thrower, you don't have to mess around with electrical cords or wait for charging.
This thrower is great for regular residential use but somewhat limited in other situations. You'll want to use it only on paved surfaces covered with relatively fresh powder. Gravel surfaces can potentially clog the surface. Plus, the 208cc engine doesn't quite pack enough power for ice, frozen snow or wet snow.
Pros:
Four-cycle gas engine
Electric start button requires no pull-cord
Easy-to-adjust throw chute
Single-stage is great for residential use
Cons:
Poor removal of ice and wet snow
Non-self-propelling wheels
Best Large, Rural Use Troy Bilt Snowthrower
Troy-Bilt Storm 3090 357cc Electric Start 30-Inch Two-Stage Gas Snow Thrower
Powered by a 357cc 4-cycle All-Wheel Drive OHV Electric Start gas engine equipped with Touch 'N Turn Power Steering to provide total force in extreme weather conditions
Clears large snowy walkways up to 30" wide and 21" deep in one pass
Equipped with a Remote Overhead Crank 200 degree polymer chute along, Just One Hand steerable drive system, and heated hand grips for displacing snow with ease and comfort
Comes with an in-dash headlight and reflective strips for safer operation in low-light conditions
The Storm is a larger, stronger version of the Squall. While not ideal for commercial use, the Storm is often a good choice for larger houses, apartment complexes, ranches and similar locations.
The thrower does not scrape the ground when operating, so you don't have to worry about damaging floor surfaces. Clears snow from pavement, wooden decks, clay courts, gravel sidewalks and more.
The Storm is a two-stage blower which can handle wet, thick snow with ease. Clears a path 30 inches wide and 21 inches deep. A 12-inch impeller sends snow flying with ease.
The thrower can be operated with just one-hand. Your other hand is free to adjust the snow discharge by using the overhead crank. With 16-inch X-Trac tires and a power steering system, the snowblower is easy to maneuver even in slick, wet conditions. Plus, your hands will always stay warm thanks to the heated grips.
Pros:
Covers large areas quickly
120V power cord
Safe for a variety of floor surfaces
Clog-resistant
Chews through wet snow and ice
Cons:
Large size requires large storage space
Engine block screws make extensive D.I.Y. repairs difficult
Regular maintenance required
Troy Bilt's Best Heavy-Duty Snowthrower
Troy-Bilt Vortex 2690 357cc Electric Start 26-Inch Three-Stage Gas Snow Thrower
Powered by a 357cc 4-cycle All-Wheel Drive OHV Electric Start gas engine equipped with Touch 'N Turn Power Steering for easier operation
Clears snowy walkways up to 26" wide and 21" deep in one pass
The Three-Stage design incorporates the 12" accelerator that spins 10x faster than augers to break down heavy, wet snow with powerful snow discharge
Just One Hand Operation and 4-Way pitch and chute control allows you to easily manage and change snow discharge direction
There are lots of places which get a decent amount of snow. But there are also some places which get a ton of snow. If you're routinely faced with monster blizzards, the Vortex is probably a good choice. This is Troy-Bilt's toughest, most durable model.
The 357cc 4-cycle All-Wheel Drive OHV gas engine clears snow at 10 times the speed of a standard two-stage blower. Four blades shred through ice and snow with ease. A Three-Stage design uses a 12" accelerator to clear areas 26 inches wide and 21 inches deep in a single pass.
All that snow has to go somewhere. The Vortex includes a four-way joystick for precise chute control. Movement is equally easy with 15-inch by five-inch X-Trac tires. The snowthrower even includes an in-dash headlight so you can clear away snow at any time of the day or night.
If this snowthrower can't clear the area, you're probably in the middle of an avalanche!
Pros:
Heavy-duty thrower designed for high volume and frigid conditions
Includes six forward speeds and two reverse speeds
Reinforced steel housing with aluminum gear case
Easy electric start
Heated hand grips
Cons:
Large size
Relatively high price
Requires regular maintenance
Best All-Around Snowthrower Made By TroyBilt
Troy-Bilt Storm 2625 243cc Airless Electric Start 26-Inch Two-Stage Gas Snow Thrower
Powered by a dependable 243cc 4-Cycle Electric Start OHV gas engine and to easily clear snow choosing from 6 forward speeds and 2 reverse speeds.
Equipped with Just One Hand operation to adjust the 200 degree chute direction without stopping and durable X-trac tires for ease-of-use in tough snowy conditions
Clears snowy walkways up to 26" wide and 21" deep in one pass and equipped with deluxe reversible skid shoes for more control
Extended clog resistant polymer manual discharge chute propels snow far away minimizing blowback on the operator
This is a different, more versatile version of the 3090. Of all the throwers on our list, the 2625 will be useful for the largest number of people and situations. Powerful, maneuverable and comfortable, there's a lot of like with this machine.
Let's start with the numbers: This is a two-stage blower with three steel blades and a serrated 12-inch auger. With a 243cc displacement engine, the thrower clears 26 inches of snow up to 21 inches deep. Numbers aside, this is a powerful machine which can handle practically any type of heavy snowfall.
The two-way joystick gives you precise control over a 200 degree, eight-inch rotating chute. You can adjust the snow discharge while still operating the machine.
The 2625 is self-propelled. Basically, you only need to follow the thrower for guidance. Six forward speeds and two reverse speeds are available. With a strong engine, easy operation and plenty of control the Troy-Bilt Storm 2625 gets our highest recommendation.
Pros:
Handles practically all types and thicknesses of snow
Sturdy aluminum construction with steel auger
Clog-resistant discharge chute
Gas powered with quick electric start
Cons:
User instructions are unclear
Regular maintenance required
No heated grips
Repair process can take a long time
It's time to get rid of your snow shovel and step up to more powerful snow-clearing methods. When searching for the best Troy-Bilt Snowthrowers, our guide should help you find the best model for your needs. Here's to a season of snow-free driveways and walkways!
Prices and availability are accurate as of 2021-11-27 at 03:15 CST - Details