Best Worx Weed Eaters on the Market Reviewed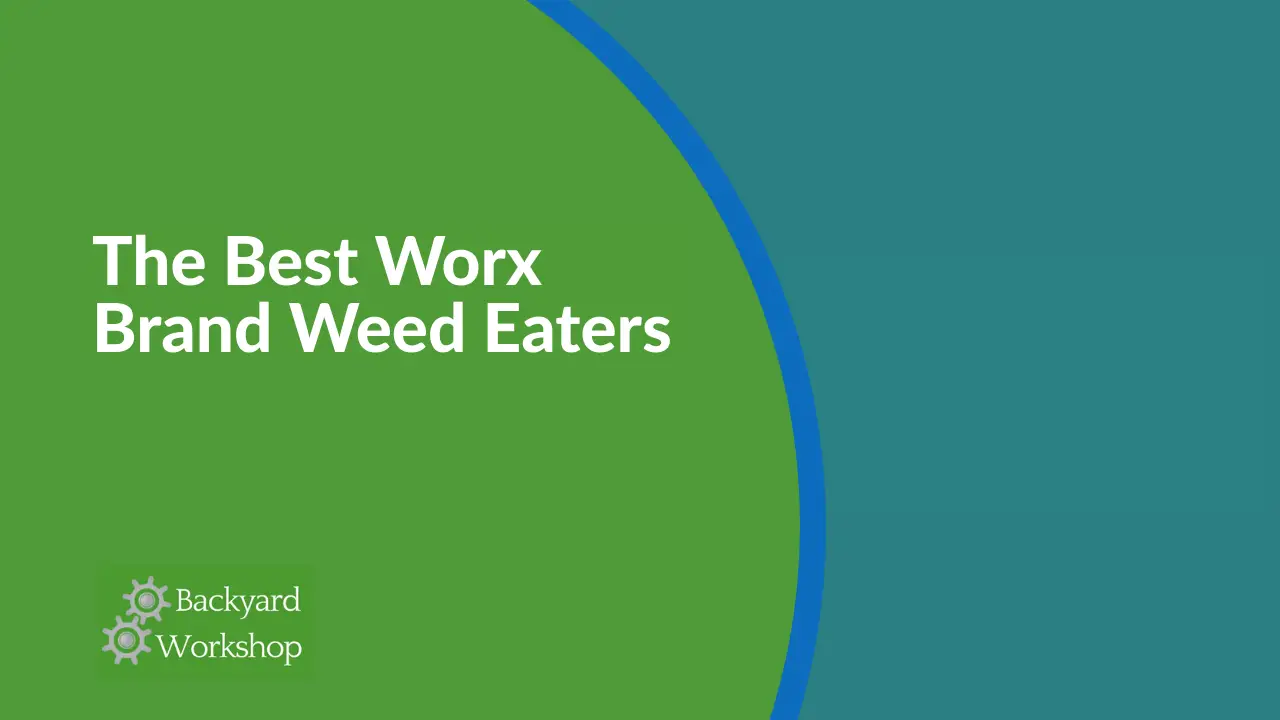 Worx is one of the most well-known and trusted brands in the power tool business.  This includes their line of string trimmers and other outdoor products.  A pioneer in gardening tools and equipment, they have become known as one of the most reliable and durable manufacturers . It's why they are able to offer a 3-year warranty standard (with product registration) on all their products.
Their electric weed eaters stand head and shoulders out of the crowd. Those who purchase a WORX electric weed eater go home satisfied and remain a loyal customer for life.
The following is a collection of the best Worx weed eater reviews, reviewed by professionals, so you can easily find the right model for your needs.
Reviews of The Best Worx Weed Eaters
Future Proof Your Investment
This 56 Volt grass weed eater by WORX should provide you with weed-cutting power for years into the future.  Voltage matters in battery-powered weed whackers.
While I've said it before, I'll say it again – 40V is the minimum voltage level I'd personally buy today for my garden tools.  The price difference between 20V and higher-power tools isn't big.  The savings shrink more when you see how much more you get for your money.
It all has to do with battery chemistry.  I won't bore you to death with details, but all-else equal –  higher voltage batteries can provide more power to the trimmer's electric motor than a lower voltage battery can.  More power = more cutting power.
The WG191 is part of the WORX 56V line of products.  Buying this eater means you'll have the highest power tool WORX makes today.  Isn't that what you want?
Multi-talented
You're not only getting a trimmer when you buy this tool.  You are also able to convert the WG191 into an edger as well. You won't use this feature all the time, but it's handy when you need it.
You can easily switch between trimming and edging for a complete and professional looking cut. Just push the button on the handle, twist until it stops, and you are set.
Ease of Use
The handle of this trimmer is adjustable and its telescopic shaft can be customized to match your posture and height. The shaft is designed to tilt through a 90-degree angle to provide easy access on those hard-to-reach areas.
This trimmer also has wheels when you are in edging mode.  This will help take the pressure off your muscles and back as the ground will support the tool, not you.
Automatic Spool Feed
To make your job easier, the trimmer head has a 13 inch cutting swath for faster cut times. There's also an automatic spool feed that will ensure you always have fresh string to keep cutting. No more bumping and stopping to keep getting more string.
I'll admit price is important – but generally the 56V products don't sell at much of a premium to the 40V and below.  If you can grab this on sale, I don't think you'll be disappointed.
---
You might also be interested in:
---
40-Volt Battery
This trimmer derives its power from a high capacity 40-volt lithium ion battery. The long lasting battery is designed so that it won't discharge, has no memory and will get a full charge every time. As I mentioned above, I really wouldn't buy something less than a 40V powered model.  It's not that the 20V ones don't work – they do.  It's just that if you can get all the same features at a higher voltage, why wouldn't you?
Multi-functional
It is designed to quickly convert to edging in a couple of seconds. To better suit your personal needs, the handle of this trimmer can be adjusted for maximum control and extra comfort. For even more control over edging, there is a guide to help you get a perfect looking edge every time.
Automatic Spool Feed System
For added value, the trimmer head features a 12" cut diameter so you can finish the job quickly. It also has an automatic spool feed system that delivers new string to the head with no bumping or stopping.
A great mix of power and comfort, the WORX WG168 is a good choice for your lawn care needs. If you already have 40V WORX products, it's a great choice.
Always-On Power
Not everyone needs to shell out the money for a cordless trimmer. In general, corded trimmers are much cheaper than either gas or battery ones. There's no battery cost, and electric motors are cheaper than 2 or 4 cycle engines.
This corded electric weed eater is great for people with smaller yards and easy-to-access outside outlets. You'll never have to worry about uncharged batteries or bad gas stopping you from doing your yard work when you want to. Just plug it in to an appropriate extension cord, pull the trigger and you are weed-wacking!
You will need to provide your own extension cord, and try not to "trim" through the live wire, ok? You don't want to be known as the person who accidentally died taking care of weeds.
3-in-1 Function
This weed eater is designed to perform the three different functions of a trimmer, edger and mower. It incorporates dual position wheels that serve to provide more accuracy in your work and take the load off of your back. This trimmer is powered by a 32-volt lithium ion battery that offers extended runtime.
Versatility
Converting to the edging function is a breeze and will only take few seconds to accomplish. The 100 percent single-line automatic feed spool saves you the time of having to stop every now and then to make adjustments. This enables you to concentrate more on your work.
Its versatility goes deep with the 3 in 1 feature. Turn it from a trimmer, into a mower, and then into an edger for a complete lawn care tool.
Ease of Use
And if you're looking for a string trimmer that's easy to use, the WORX WG175 has an adjustable, telescoping handle for customized use. The 90 degree tilting shaft also adds to its functionality by letting you get into those hard to reach spots.
Lightweight
One of the lightest weight trimmers in its class, weighing only 5.3 pounds to minimize on user fatigue. Using a 20Volt Lithium ion battery means longer lasting and enhanced productivity. For more control, the handle is adjustable to fit your needs.
2-in-1 Trimmer and Edger
You can easily go from trimming to edging in seconds at the push of a button for even more uses. The 2 in 1 trimmer and edger uses no tools to go back and forth to each function.
Automatic Feed Spool
The trimmer head features an automatic feed spool and comes with a twin in line wheel for enhanced accuracy in your work. This trimmer provides 0.065 line diameter. It is backed by a 2-year warranty to cater for any defects in parts or poor craftsmanship.
Superior trimming is made easy with the WORX WG155. It's one of the lightest you will find and one of the easiest to use. But don't let its weight fool you. Its packs a lot of power that can get almost any job done, quickly and efficiently.
Conclusion
The excellent performance offered by these electric trimmers are easily comparable to those higher priced models in the market. They offer great convenience, particularly for those home owners who desire to eliminate weeds faster and more efficiently. The WORX line of trimmers really deserve their place as one of the best-selling weed eaters. Try one of them today for a neater, and professional looking lawn or yard.
Prices and availability are accurate as of 2021-11-26 at 20:15 CST - Details