The Results Are In: The 2020 Survey of the Quietest Leaf Blowers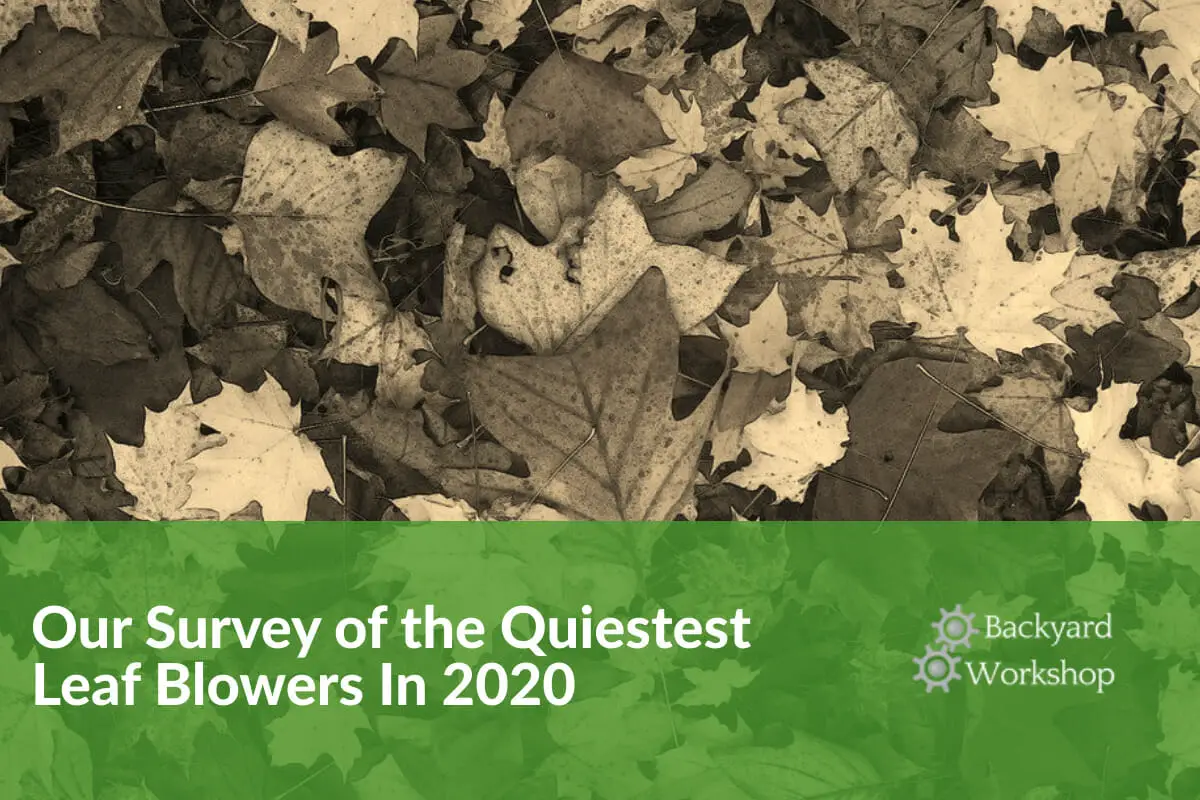 Leaf blowers are great.
They move leaves and other debris quickly, and can reach areas that you can't get to with a rake. I've got some bushes near my house with thorns that'll puncture leather gloves, and they are leaf magnets. Without a blower, they'd stay full of dead leaves 6 months of the year.
Leaf blowers do have a large problem – they tend to be LOUD. The high-pitched sound isn't particularly pleasing either – especially as an unintended wakeup alarm on a weekend morning. This noise level can anger your neighbors and harm your health as well.
To help you in your leaf-blower research, we've put together a list of the quietest leaf blowers. We looked at over 220 leaf blower models from 19 brands. The list includes all types of blowers – gas-powered, cordless and corded electric blowers, backpack leaf blowers, battery-powered – all the types we could find. We then rank them by their reported noise level in decibels (dBA).
According to our research, the Stihl BGA 100 is the quietest leaf blower for sale today at a reported 56 dBA. This professional-focused battery-powered backpack blower is the quietest in the entire Stihl-family blower lineup. Stihl has two other models below 60 dBA ratings as well – the more powerful BGA 200 and the more consumer-focused handheld blower BGA 57. Ryobi has a great brushless motor electric backpack blower as well that comes in at 59 dBA. They market the RY40440 as the "quietest backpack blower in the industry".
That might be debatable, but each blower in this group is certainly able to get the job done while keeping the sound levels down. At these levels, you can get away with blowing leaves without hearing protection – as long as you aren't cleaning leaves for 8 hours a day.
DeWalt and Makita both have quiet leaf blower models as well. In all, we have found 20 different models you can choose from with noise ratings at 65dBA or below. These tools have leaf blower noise low enough to be considered Category One blowers. For reference, that's the noise you'd find from many of the "quiet" dishwashers available for sale on the market today.
You might think all of the quiet leaf blowers would be electric and battery-powered. That isn't the case. Six of the names on the list are gas leaf blowers. The quietest is the Echo PB-255LN at a noise rating of 64 dBA. That's as quiet as you are going to find in 2020 for a two-stroke engine, gas-powered leaf blower. Most of the gas powered leaf blowers on our list much louder – they rate in the high 70 dBA range all the way into the 90's.
List of the Quietest Leaf Blowers by Noise Rating
Any leaf blower on this list can be considered quiet – especially when compared to other gas leaf blowers. The top of the list is dominated by electric and battery-powered leaf blowers – in general, these types of power tools are quieter than gas models. If you are looking for a gas leaf blower that is light on engine noise, you'll find those on this list as well.
2020 List of Quiet Battery Powered Leaf Blowers
Stihl BGA 100 – 56 dBA
Ryobi RY40440 – 59 dBA
Stihl BGA 200 – 59 dBA
Ryobi RY 40470NWM – 59 dBA
Stihl BGA 57 – 59 dBA
Stihl BGA 45 – 60 dBA
Makita XBU03SM1 – 60 dBA
Makita XBU001PT – 60. 6 dBA
Makita XBU04PTV – 61 dBA
Makita VBU04PT – 61 dBA
DeWalt DCBL720P1 – 61 dBA
Makita XBU02PT – 61 dBA
Stihl BGA 56 -63 dBA
Stihl BGA 85 – 64 dBA
Quiestest Electric Leaf Blower – Corded
Stihl BGE 61 – 64 dBA
Quietest Gas Blowers
ECHO PB-255LN – 64 dBA
Stihl BG 66 L – 65 dBA
ECHO PB265LN – 65 dBA
Stihl BR 500 – 65 dBA
ECHO PB-760LNH – 65 dBA
ECHO PB-760LNT – 65 dBA
How We Did Our Research
Compiling the information necessary to rank leaf blowers by their noise level was no small task. It took us over two weeks to put this list together from start to finish. We began by gathering whatever public information was available. some brands don't provide noise-level information by model. We did reach out to brands where this was the case but weren't always successful in getting test results.
We wish all brands would provide dBA information, but we figured if they aren't easily providing the data they must not be prioritizing low noise levels for their models. If any brands feel their data is missing in error, please reach out to us!
We looked at leaf blowers from the following brands:
Toro
Stihl
Husqvarna
Black + Decker
ECHO
Craftsman
Weed Eater
Troy-Bilt
Little Wonder
DeWalt
Greenworks
Greenworks Commercial
Worx
Ryobi
How To Measure Leaf Blower Noise Levels
You would think it would be simple to measure the noise levels of outdoor power equipment, including leaf blowers. Unfortunately, it's not.
I'm not going to go into too much detail, but there are a lot of confounding factors that can influence what a person actually hears for noise versus what is rated in a lab. As an example, our ears are most sensitive to sounds in the 2kHz to 5kHz range. Very low-frequency sounds, while audible, don't affect us as much.
To counter this, the normal decibel (db) was weighted to try to approximate what the human ear hears. That's why you'll see dBA used for measurement – it's "A" weighted decibels. When we are dealing with leaf blowers, we use dBA.
Decibels are measured on a logarithmic scale. Don't worry, this isn't math class. Just remember that for every six dBA's, a sound is either twice or half as loud. For example, a 71dBA blower is twice as loud as a 65dBa one.
In the United States there is an organization called ANSI (American National Standards Institute) which created a testing standard for measuring sound level test procedures for leaf blowers named ANSI B175.2. This testing isn't mandatory to sell a leaf blower.
The first brand to have Category I gas leaf blowers was ECHO. They continue to have many quiet gas-powered models available today.
If a company uses an outside laboratory (like Underwriters Laboratory) it can classify it's equipment by noise level on a sticker on the leaf blower. Category One devices are the quietest leaf blowers at 65 dBA or less. Category II devices range from 66 dBA to 70, while Category III is for a blower with a sound rating of 71 dBA and higher.
The bottom line is you should look for Category I rated leaf blower models if sound pollution is important to you.
Keep In Mind:
This article is all about finding a quiet leaf blower. It isn't looking at many of the other characteristics that are important when buying a leaf blower. Some items (like air speed, EPA exhaust emissions, power source) might be more important.
Some of those features come at a cost of more noise and sound whine. That doesn't mean a quiet leaf blower isn't going to have high air velocity. It can – some on our list still push a lot of air. But make sure you are not focusing on just one option when other features are important too.
Find A Quiet Leaf Blower:
The good news is all of these leaf blowers are available in stores today. While Amazon is known for selling both battery-electric leaf blowers and corded electric products, homeowners can find gas blowers on sale as well. You can also find these leaf blowers and mulchers at Home Depot, Lowe's Menards, and Ace Hardware stores.
Hopefully, this has been helpful to you in your leaf blower research. Please leave any questions or comments below.