Let's be honest: Removing snow by hand is a terrible activity. Shoveling snow is hard, slow and monotonous work – even if you're trying to clear a relatively small driveway or walkway. A snowblower is the smart, easy way to remove snow. But how do you know which snowthrower is the best fit for your needs?
First, you want to choose a brand you can count on. Power Smart has an excellent reputation for creating snowthrowers you can depend on year after year. Once you've settled on a specific brand, you'll then want to choose the best model for your exact needs.
Our complete guide to the top Power Smart snowblowers has all the info you need to know when shopping for a snowblower. We'll help you understand what features will work for your landscape and typical weather patterns. Plus, we've included three mini-reviews of Power Smart snowthrowers to help you when choosing which model to buy.
Introduction
All snowthrowers move snow. But the specifics and features can vary wildly. A model which will work great for one type of area or home might be completely inefficient for use in others.
Before you start shopping for a snowblower, take a moment to assess how you'll be using it. What type of location will you be using the snowblower on? Some throwers are designed to handle rocky terrain while others are only suitable for pavement.
Next, consider the type of snow which normally lands on your location.  Yes, I'm talking about the actual snow makeup.  Is it mainly a wet, icy snow which freezes quickly? Is it a lighter, fluffier snow? Different types of snow are best handled with different types of throwers.
Once you understand your needs, you can easily find the right snowthrower. Our detailed guide will explain which model of Power Smart snowthrower is the best option for your needs.
Why Power Smart? Our guide is focused exclusively on the Power Smart brand in order to make shopping easier for you. Power Smart is a reliable, affordable manufacturer with an extensive product line. There's no need to waste time with lesser-known brands when there's likely a Power Smart thrower which will be a good option for your needs.
Let's take a look at what features you'll want to consider when selecting a snowthrower. Then we'll take a look at five Power Smart snowblowers which have specific benefits you might be interested in.
Must-Have Features
Here's a rundown of what features you'll find on most snowblowers, as well as when those features are useful.
Snowthrower Power Levels: As Easy as One, Two, Three
More power isn't always the best option, as an increase in power usually means an increase in size and weight. You want a snowblower which can clear away the snow in your location but is also as lightweight and maneuverable as possible. Snowblower power levels are rated by stages.
A single-stage blower pulls snow through the chute in a single motion. They're best for fresh, powdery snow. Snow depth should be nine inches or lower for best removal results.
Single-stage snowblowers should only be used on pavement such as driveways and paved roads. Any ground with gravel, rocks, dirt or other debris can damage the snowblower. The debris can be sucked into the snowblower and wreak havoc on the motor and anything nearby.  The rocks and debris will get shot out, which can lead to serious injury.
A two-stage blower pulls snow into the unit using the auger. Then the chopped-up snow is sprayed out through the chute. Two-stage blowers can handle most wet, damp and icy snow. They can also handle deeper snow build-up
Finally, there are three-stage snowblowers. These are the heavy-duty blowers which can tackle mountains of snow and ice. On the downside, three-stage blowers are often large and heavy. Storage and operation can be a challenge.
Two and three-stage snowblowers can work on non-paved surfaces. The multi-stage spray process prevents gravel and rocks from damaging the internals.
Maneuverability: Stay on Your Feet No Matter What
Pushing a large machine in snowy, wet conditions certainly has the potential for problems. When shopping for a snowblower, you want one which can easily be controlled even in harsh winter weather.
Self-propelled wheels are often a great option for anyone without a lot of physical strength. Instead of pushing the snowblower, the wheels move forward automatically. This allows you to guide the snowblower with ease.
You'll also want simple chute controls. This lets you alter the trajectory of the snow, avoiding the build-up of large piles. Many snowthrowers have joysticks near the main handle which allow for one-handed chute adjustments.
With self-propelling wheels and a joystick chute control, you can control the movement of the snowblower and direction of the blown snow.
Another often worthwhile feature is a warmer for the main handle of the snowblower. Even with gloves, your hands run a risk of developing frostbite quickly when throwing snow. A warmer keeps your hands safe while also giving you full control over the snowthrower.
Storage: For When the Sun's Shining
Depending on where you live, you might only need a snowblower for a few months each year. You want a snowblower which is easy to store.
Generally, single and two-stage snowblowers will be the easiest to store. While double-stage snowblowers can be a bit on the large size, some models have foldable handles and other space-saving features.
Three-stage snowblowers are often quite a bit bigger. They might be a bit too large to fit into a standard garage. These larger snowthrowers are usually best stored in a shed or other separate area.
Gas or Electric: Which is Best?
Snowblowers are either gas or electric powered. Gas usually offers the most freedom, because no cords or charging time is required. However, gas-powered engines are typically louder than electric. That might be an issue if you need to clear your driveway in the early morning.
Some electric powered snowblowers will need to be plugged in during use, but most only need to be plugged in while starting. Small, electric-powered snowblowers are going to be the quietest options.
Gas powered snowblowers with a pull cord are going to be the most difficult to start. If you want a gas-powered snowblower, consider a model which includes an electric starter. This provides an easy start even in cold weather. You simply press a button and the thrower is ready to go. At the same time, you still get all of the benefits of a gas-powered engine.
Snowblower Recommendations:
Based on the criteria we outlined above, here are four top Power Smart snowblowers worth your consideration:
Best for Shorter Driveway Cleaning
Using a snowblower to remove snow can be downright fun, but only at the right time. And the right time is not when you're rushing out the door to get to work. The Power Smart DB5023 doesn't mess around. You can fire this fella up quickly and clear a standard driveway in just one quick pass.
Weighing just 37 pounds, the DB5023 is designed to move. The high-auger has a 13Amp clearing capacity. Clears snow up to nine inches deep. For most storms, this means you can allow snow to pile up all night and quickly clear the area in the morning.
You don't have to worry about waking up the neighbors, either. This is an electric powered blower which runs quiet. Also has very little hand vibration so you don't need to be particularly strong to operate it.
Pros:
Lightweight, fast and easy to operate
30-foot throw reach with 180-degree rotating chute
Easy to store
Ideal for residential driveways and walkways
Cons:
Not suitable for thick, heavy snow
No speed controls
Relatively small capacity
Doesn't remove ice
Easiest Way to Throw Lots of Snow
A heavy-duty snowblower is useless if you can't move it around when you need it. Many people have difficulty pushing and controlling two and three stage blowers. Fortunately, the DB7659H is a heavy-duty snowblower which is easy for anyone to operate, even folks with low physical strength.
This is a gas-powered blower which can move snow over 22 inches. Aside from fluffy snow, the unit has no problem handling wet, damp snow and ice. As a two-stage blower, you can clear large areas in a single pass.
What makes the blower so easy to use are the semi-propelled wheels. Using a simple console system, you can control the speed and movement of the unit with ease. Four forward speeds and two reverse speeds are available.
Pros:
Serrated auger helps prevent chute clogging
Metallic skid shoes prevent damage to surfaces
212cc snowblower can handle most winter conditions handily
Semi-propelled wheels make movement easy
Cons:
Troubleshooting info only available online
Requires cool down after 30 to 45 minutes
Must be assembled
Plastic chute not as durable as a metal one
Best All-Around Power Smart Snowthrower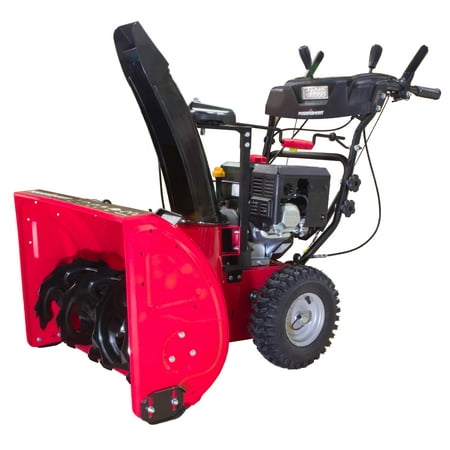 Looking for a snowblower which is a bit stronger than the DB5023 but not quite as heavy-duty as the DB7659A? The DB7103-26 is a popular model with a lot of versatility and power.
This is a two-stage snowblower with a 6.4HP engine. Heavy snowfall is no problem with this blower's clearance width of 26 inches and a depth of 21 inches. One-pass clearing of driveways and walkways is quick and easy with the unit's six forward and two backward speeds.
Skid shoes allow for use on practically all types of floors. Steel augers conquer hard ice and deep snow piles.
Pros:
Self-propelling wheels for easy maneuverability
LED headlights allow for clear visibility
Heated, interlocking handles
Chute rotates 180 degrees with 30-foot snow projection
Cons:
Above average noise levels
Assembly required
Don't spend your nights and mornings digging out your driveway with a snow shovel. Make the switch to a top Power Smart snowblower and clear away even deep snow with ease. Identify your specific needs, choose a snowblower based on the features which fit best, and enjoy the benefits all winter long.