Here Are The Best Cordless Snow Blowers in March 2020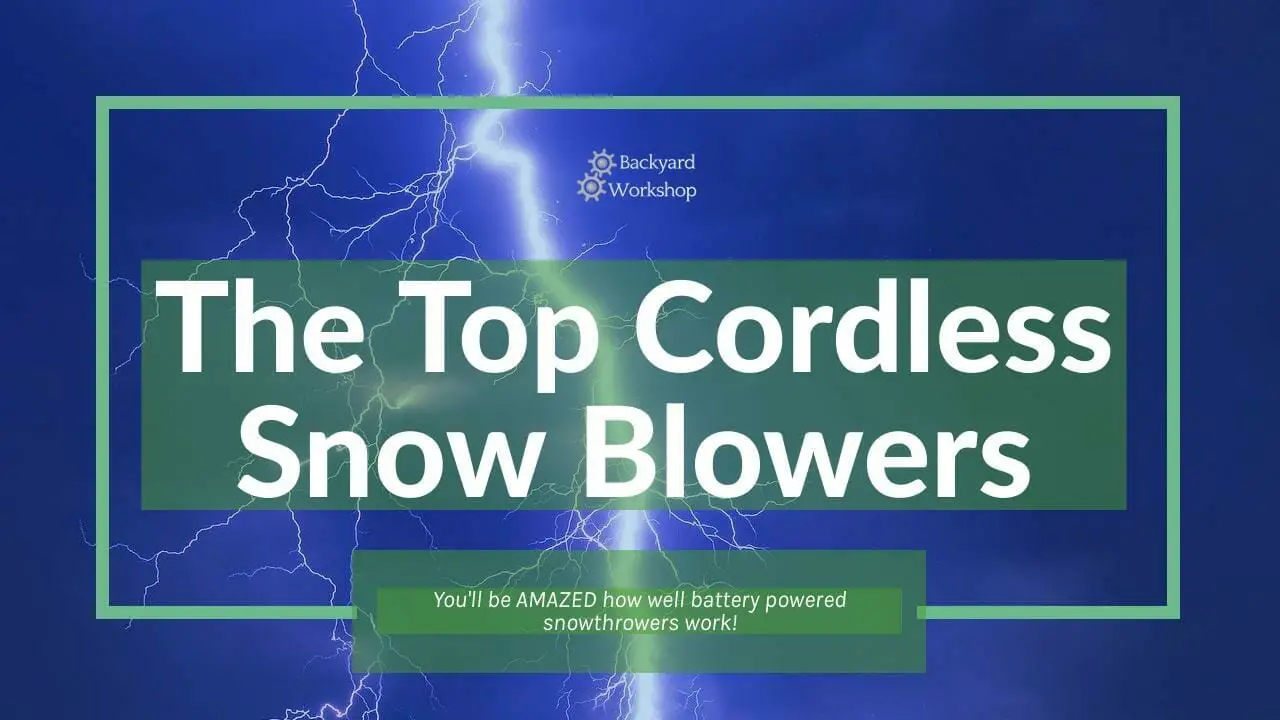 Our goal is that this article helps you to pick the best cordless snow blower for your home and winter conditions.   Buying a blower is a big purchase – we want to help you make the best choice.  With the right snow-blower, winter snow isn't a pain – it actually can be fun! 
Keep in mind – what is the best cordless blower for someone living in a townhouse in Chicago is not going to be the same for a person living on 2 acres in Green Bay.  While you can always buy a bigger and more powerful blower and be covered, it often can be a waste of money.  It's easier to take a few minutes to read our reviews and find out which of these best cordless snow blowers make the most sense for you.
Review Roundup For Battery Powered Snow Blowers
The Convenience of Cordless Matching The Power of Gas
Other Cordless Electric Snow Blower Choices To Look At:
Your Situation: Paved driveways in areas that usually get under a foot of snow at a time.
Look At: The Earthwise SN74018 40-Volt Snow Blower
Your Situation: Sidewalks, Decks, and Patios with 6-8 Inches of Dry Snow
Look At: The PowerSmart DB2401 Cordless Snow Blower
We never thought we'd say this – but this battery-powered two-stage snowblower lives up to its billing.  It's also one of the few electric snow throwers you can use safely on a gravel driveway.
It's the best idea in electric snowblowers in a long time – harness the power of two batteries to power a potent electric motor. And that it does with the 2500-Watt electric motor.
The Snow Joe iON8024-XR Cordless Two-Stage Snow Blower clears 13 inches of snow at 1000 pounds per minute with a clearing width of 24 inches. Two 40 Volt, 5 Ah batteries with EgoSharp technology, ensures no-fade power when the batteries discharge. The 2500-Watt brushless motor optimizes battery efficiency maximizing performance.  
Ergonomically designed triggers avoid pressure squeezing when operating the machine. The illuminated control panel includes the thumb button to direct the 180-degree automated chute to throw the snow 32 feet in the desired direction. 
The auger operates with two of the 4-speed drive system. It doesn't engage with the reverse speed or with the XPORT that is the fastest speed that takes the snow blower back after a run.  
The cordless snow blower is very quiet compared to gas-powered snowblowers, and it's TrackAssist wheels help steer it across uneven terrain. The snow blower isn't limited to only paved areas.  
The EGO SNT2102 cordless snow blower is a great buy where you need the power of a gas snow blower but prefer the quiet and low maintenance of a cordless. Two 56 Volt 5 Ah lithium-ion batteries will give you a run time of about 45 minutes. The Peak Power technology combines the two batteries when clearing snow.
A 17-inch auger comfortably clears a foot of snow with an intake height of 13 inches clearing a 21-inch wide path. The immediate response direction control leaver regulates the throwing direction of the chute, to the left or right, by pushing the lever forward or backward. The throwing distance is up to 35 feet. A squeeze grip lever controls the throwing height. No need for crank handles or hoping you've aimed correctly.
LED lights help for visibility when clearing snow after dark. The cordless snow blower is quiet and won't disturb the neighbors when clearing the paved driveway at dawn or after work.
Foldable handles create a compact unit that doesn't take up much storage space. The EGO POWER+ batteries work on all EGO Power+ equipment and have a three-year limited warranty. The single-stage cordless snow blower has a five-year limited warranty that is more than double the industry standard.
The Greenworks Pro 80 Volt Snow Blower is a single–stage snow thrower with a battery life of 45 minutes. The rapid charger takes 30 minutes to charge the 2 Ah battery which means the battery will be ready when you've finished your coffee.  
With a clearing path of 18 inches wide and 10 inches deep, the snow blower effectively clears the snow from the paved driveway or other traffic areas. A crank handle helps the operator control the direction of the chute which has a throwing distance of 20 feet.  
The dual LED lights shine strong enough to clear snow in the dark. The cordless snow blower isn't noisy, so your neighbors won't mind if you operate the snow blower at night.  
The warranty is a lengthy 4 years and 2 years for the battery and charger.
If you are looking for a light yet capable electric snow blower for your home, this PowerSmart model is a good choice.
The PowerSmart DB2401 snow blower is a single-stage cordless snow blower that clears 8 inches of snow efficiently from small areas like decks, patios, and sidewalks. The 40 Volt 4Ah lithium-ion battery has a run time of 25-30 minutes which should be adequate. The battery recharges in 70 minutes.
A highly-efficent motor has ample power to drive the augers pushing snow through the discharge chute. The chute rotates 180 degrees and has a 30-feet throwing distance.
The 18-inch clearing width is a nice width for sidewalks and patios where it's challenging to maneuver larger snow blowers. As a single-stage snow blower, it is designed for light to moderate dry snow and will struggle with wet snow.
If you are looking for a snow blower to move average snowfall quickly and with no hassle, the Earthwise SN74018 is an excellent choice.   No gas or daily maintenance needed for this battery-powered snow blower – just slide in a charged battery and off you go!
Battery power means no pull cords – just hit the start button, and it'll start every time.  Sure, you won't have the triceps of steel you used to from gas-powered blowers, but you'll have more time for the gym.  This blower can move up to 500 pounds of snow a minute, meaning you'll be done with your snow chores and on your way in a flash.
Don't think you'll have to skimp on the features either.  You get two LED lights to light your way when blowing snow in the evening or early morning hours.  The chute turns a full 180 degrees to allow you to direct the waste snow wherever you want, quickly and easily.
There's no power provided to the wheels, so you will need to push some to move the blower in deeper snow.  Luckily it's not very heavy at 35 pounds for the entire snow blower.  This is normal for the class, but something to keep in mind.  It requires a little assembly, but nothing out of the ordinary.
Backed by a two-year warranty, this lithium-power snow thrower is a great choice for normal suburban driveways that don't regularly get over a foot of snow at a time.
With the load-sensing technology and brushless motor, the RYOBI RY40850 single-stage snow blower maximizes performance and battery run time. The 40 Volt 5 Ah lithium-ion battery has an average run time of 40 minutes which is enough to clear 6-8 inches of light, fluffy snow.
The 20-inch clearing width is a good width for sidewalks and not too small for paved driveways. The rotatable chute discharges snow up to 25-feet.
An onboard storage compartment for an extra battery is convenient for extra battery run time when clearing snow on long driveways or large properties. The LED lights are suited for nighttime moving snow. With the extra battery on-board, the operator doesn't have to worry about battery run time.
RYOBI guarantee is five years compared to the industry standard of two years.
What to Look For In The Best Cordless Snow Blowers
What stage blower do I need?
In the past, if you were looking at cordless electric snow blowers this wouldn't be a question.  Even today, almost all cordless products are single stage.  You would have had to look at gas snow blowers for a two or three-stage snow thrower.
There are now two-stage cordless snow blowers you can buy.  Our top pick is the best known, and it performs surprisingly well.  While it's not meant for heavy use on the North Slope of Alaska, it will work well for most suburban homeowners.
What is a single stage snow blower?
A single stage snowblower is a much simpler design than a two or three-stage blower.  As the name implies, there's only one stage of blowing the snow.  The auger (the helix-shaped item that touches the snow) does all the work.  It grabs the snow and flings it out the snow discharge chute.
The auger also helps in moving the single-stage snowblower.  When it grabs the ground and snow it is clearing, it also moves the snowblower forward.  It will also grab anything on the ground – like rocks, gravel, woodchips – and throw them out of the chute as well.
That's why it's reckless to use a single-stage blower on a gravel driveway.  The drive becomes a projectile.  If you are in tight quarters, you might damage property or hurt yourself or others. 
Use a single-stage snowblower for light snow, small walkways, and when you want to clear paved driveways. 
What is a two stage snow thrower?
A two-stage snowblower uses a serrated collection auger and an impeller. The process has two stages. It gathers the snow and breaks down the snow and ice particles into smaller pieces before it moves it to the impeller. Powered by the motor, the impeller speeds up the process and throws the snow out the chute to the designated area. It makes short work of the snow – throwing it up to 50 feet.
Depending on the horsepower, the two-stage snow blower moves snow up to 12-24 inches deep. It efficiently clears a driveway that is two cars deep and three cars wide.
This might make a trivia list but it matters to some people.  Single stage machines should be called snow throwers, while 2 and 3-stage machines are snow blowers.  Unlike snow throwers, the two-stage snow blower normally self-propels.  This can help with getting up steep driveways and paths. It doesn't scrape the surface and can clear gravel driveways without picking up the gravel.
It's not necessary to stop the machine when rotating the chute to throw the snow in another direction. The adjustable chute rotates while the engine is working.  
What parts are on a cordless snow blower?
Many of the parts on a battery powered snow thrower are the same as a "normal" blower.  You'll have an auger and a chute.  If it's a two-stage model, you'll also see an impeller (aka the turbine).
Now, I want you to be aware of something: you'll likely find more plastic parts on an electric blower than a gas one.  Why?
Two reasons.
The first is that they can.  Overall, the best cordless snowblower is going to be lighter than a gas one because the engine is gone and replaces with a lighter motor.  This weight savings means engineers have some flexibility with design and materials.
They also do it to keep the cost down.  While battery prices have plummetted the past few years, they still are not cheap.  Sometimes it's more economical to replace a steel part with a hardened plastic one.
You will still find metal parts on these snow blowers.  The best augers and impellers will be made of hard metal.
Speaking of…here is more information on the parts of a cordless snow thrower. 
The auger is the nasty-looking spiral blade you'll find at the front of blowers.  You push it into the snow, and its job is to cut and crush – eventually moving the snow backward in the machine.
You want the auger to be sturdy since it take a lot of punishment.  On single-stage machines, the auger not only cuts but also flings the snow up and out of the snow chute. 
On single-stage cordless snow blowers,  you will find the chute directly behind the auger. It's the tool you turn from side-to-side to direct where the snow should go after it's gone from your driveway.
I think it's one of the most important parts of a snow blower. You need to be able to turn it easily – nothing's worse than a stuck chute while blowing in 10 degree weather.
A good chute can be turned with one hand. It's not as important on a cordless blower – since start stopping is just a push of a button – but it will save you time. And saving time is one of the main reasons you buy a snow blower in the first place!

Finally we have the impeller.  It's only found in a two or three-stage blower.  You'll find it right behind the auger.   It scoops and chops the snow and wooshes it up the snow chute.

As I mentioned earlier, you want this blower component to be made to last of hardened materials.  It can take a lot of abuse.  Not only is ice and hard snow chunks it's daily rival, but it'll have to deal with whatever else you accidently uncover under the snow.  Tree sticks, children's toys – whatever you accidently discover will meet the impeller shortly!
Does The Motor Type Matter?
The type of motor used in your cordless snow blower will impact it's performance – and not just in heavy snow.  I'm not going to get too detailed in this article, but instead try to give you enough of an overview to make the right choice.
Ready?
Buy a brushless motor snow blower. It's best for moving snow.
There are plenty of resources available that can go into the deep weeds on why brushless motors are better for tools, but I'm going to assume you don't care that much.
Here's what you do care about – how much torque your blower motor can produce and sustain.  Sustained high torque-to-weight ratios are what allow your blower to throw snow farther and in deeper snow.  Brushless motors are way better than brushed motors in this regard.
They have many other advantages as well.  First, they run cooler – so cool in fact that you can encase the entire motor without worrying about overheating.  Say goodbye to dirt and dust mucking up the motor. 
While an enclosed motor would sound quieter on its own, brushless motors are significantly quieter than brushed ones.  This isn't quite as important for a snow blower vs, say a lawn mower.  Not many people have their windows open in a snowstorm!  But it's still nice for the best cordless snow blower operator – you can safely operate most brushless motor-powered snow blowers without ear protection.
These qualities are why you'll find most quality outdoor power tools made these days use brushless motors.  If you find one that doesn't use a brushless motor – I'd be very skeptical. It's probably better than a powered snow shovel – most of those are junk.
All of the cordless blowers we recommend are powered by brushless motors.
While you'll save money on service and gasoline using a cordless blower, you'll need to invest in batteries.  I always have at least two batteries for my tools.  For example, I have four sets of batteries for my older B+D electric lawnmower.  Three of the four are still working 3 years later.  (I think the other is mechanically-fine too, but just needs a voltage-trick.  I'll show you the video after I try it.)  I really do make an effort to give them the best treatment I can.
Batteries do wear out over time.  There's nothing you can do to stop it, but you can take measures to make them as long as possible.  You need to treat them with care to get the most out of them.  We have an in-depth article on battery care, but here are the highlights:
Don't ever run your batteries down to zero percent.  Most batteries made today have built-in safety guards to stop that from happening, but resist the urge to blow your battery down to nothing.
Don't store them in extreme heat OR cold. This is more an issue for summer storage – you don't want to store them in conditions above 90 degrees. 
Store them in your house or a climate-controlled basement, and you'll be fine. 
Don't charge batteries when they are hot or cold. 
Best Gas Snow Blower - >>