Our Best Corded Electric Snow Blower Reviews For May 2021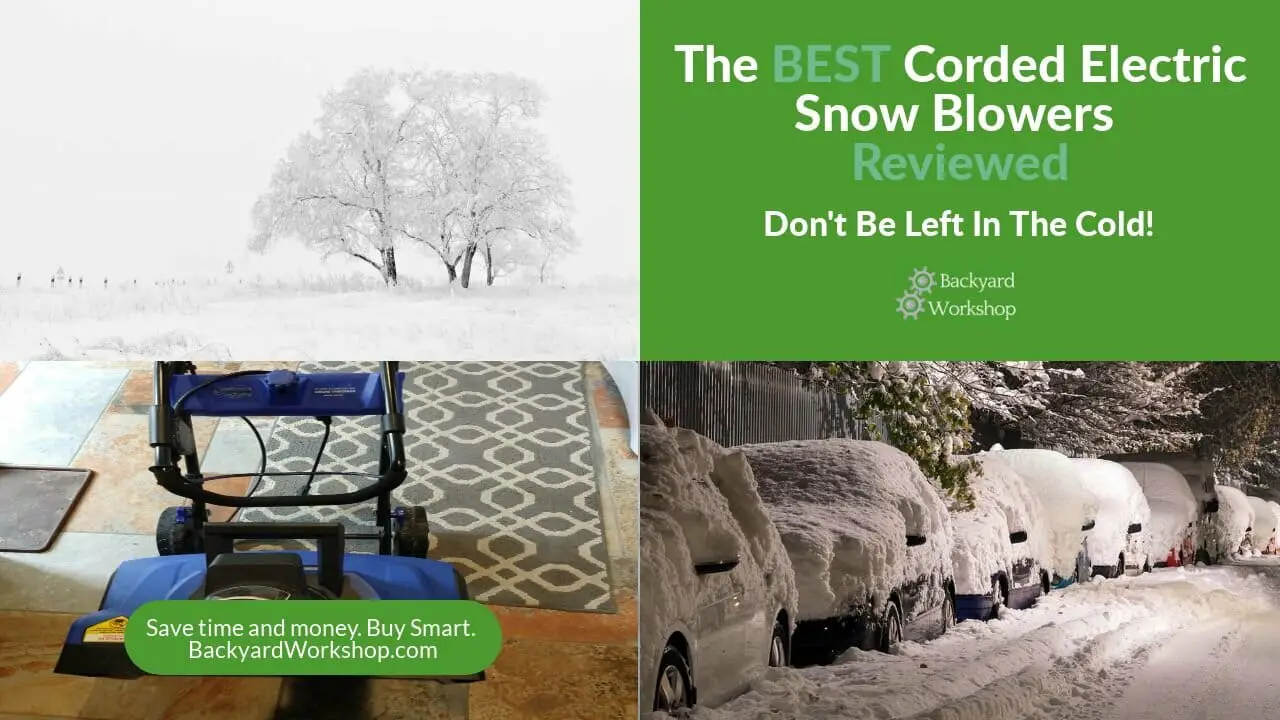 We are in the midst of winter – and with it some serious snow to move.    I personally love snow – it's one of the best things about winter in the northern tundra.
If you have a driveway, you'll need to get a good snow blower.  My old driveway wasn't very long, so I've used both corded and battery-powered blowers.  Each have their advantages and drawbacks.  It's good to find a snow blower that meets your needs.
You'll find our staff picks for the best corded electric snow blower below.  Take some time to find the one that fits your situation the best – you'll be happy you did when you are out blowing snow.
The Snow Joe Ultra SJ625E is a single-stage electric snow blower with a powerful 15 Amp motor that clears 6-12 inches of snow. The auger is steel with two rubber blades contrary to most electric snow blowers that have rubber augers.
Ideal for paved driveways and walkways, the scraper is designed to scrape snow clear from the ground. The 21-inch clearing width works well on sidewalks and mid-sized driveways. The snow blower clears 800 pounds of snow per minute with an intake height of 11.8 inches.
The rotatable chute is controlled with a crank handle and throws snow as far as 20 feet to the left or right.
The Snow Joe Ultra SJ625E has a 2-year warranty and is ETL approved.
Ask people what the number one brand of electric snow throwers in the United States is, and they'd probably say, Toro –  and they would be right! The Toro 1800 Power Curve would be our number one pick for a single-stage corded electric snow thrower and here's why. It is a single-stage snow thrower designed for mild to moderate snow but can also move heavier snow.  If you are ok being tethered to an electric outlet by an extension cord – and we are – this is one of the best snowblowers for the price.
The Toro 38381 has a powerful engine of 15 Amp that moves up to 700 pounds of snow per minute. The 12-inch clearing height is about the maximum you would find in electric snow throwers. With an 18-inch width, you have a wide clearance width without worrying if the snowblower would fit through the door of the of the basement or shed when the snow has finally stopped falling for the season.
Power Curve technology clears snow faster and avoids clogging. A Zip Deflector control locks the throwing height to low, medium or high and with the 160-degree adjustable chute, the operator can direct it to the left or right from the crank handle. A full-bail ergonomically handle protects the operator against vibrations and decreases back strain by adjusting to the operator's height.
The 15 Amp motor combined with an 18-inch clearing width and 12-inch depth makes the Toro 138381 one of the most powerful single electric snow throwers competing with gas-powered snow blowers.
The Snow Joe SJ624E snow thrower is the second-largest electric snow blower on the market. It cuts a 21-inch path through 11-12 inches of moderate to heavier snow. It runs quietly sounding like a vacuum cleaner.  
A 14–amp motor moves over 25000 square feet of snow in an hour at 730 pounds per minute. The 180-degree chute throws powdery snow 20 feet away as the operator directs with the chute crank.  
The steel auger with its two rubber blades clears snow from paved areas the best. The easy–glide wheels, however, can move over rougher terrain and will turn quickly at the end of the driveway. Single-stage electric snow throwers are designed to scrape a clear path; it is therefore not recommended to use on gravel driveways or areas with lots of loose stones.  
The Snow Joe SJ624E snowblower is ETL approved and has a standard 2-year warranty. 
Looking for a corded electric snow blower, but you can bring your OWN light, thankyouverymuch? The Greenworks 2600502 has you covered! This electric snowblower clears up to 10 inches of snow from your drive or walk. In a pinch, it removes more than 10 inches – you'll just need multiple passes.
A 20-inch clearing width can comfortably deal with a 2-car wide driveway. The 13 Amp motor throws up to 850 pounds of snow per minute. With that power, you'll have a snow-free driveway in no time.
A 180-degree rotating chute can throw dry or fluffy snow up to 20 feet. This chute will enable you to throw the snow a safe distance from the job at hand, so you don't work as hard. Wet snow is more cumbersome, so it's thrown a shorter distance. You control the direction of the chute with a lever.
This model is very similar to the Greenworks 2600202. The main difference is the lack of LED lighting on the Greenworks 2600502. While lights are a nice luxury, they aren't a necessary accessory for everyone. If it's important to you, look at the 2600202.
This corded snow blower is a quiet machine – you won't disturb your neighbors. The foldable handles make this snowblower compact and easy to store. It is lightweight for reliable handling. The 7-inch wheels are great to maneuver the snowblower through the winter terrain.
As with all their products, the Greenworks warranty is for four years -not the industry-standard two years.
The Greenworks 2600202 corded electric snow thrower will clear 6 to 10 inches of snow from your driveway. Some consumers said they it clears more than 10 inches. The 20–inch clearing width is a comfortable width for a 2-car wide driveway. With a 13 Amp motor that moves up to 850 pounds of snow per minute, you'll have a clear driveway in no time.  
A 180–degree adjustable chute that throws dry, fluffy snow up to 20 feet, will throw the snow a safe distance from the clearing path. Heavier, wet snow is thrown a shorter distance of about 5-10 feet. The operator controls the direction of the chute.  
The LED lights help with visibility and give the operator the freedom to clear snow anytime. The low noise level won't disturb neighbors. With the foldable handles, the snow thrower is compact to store. It is lightweight for secure handling, and the 7-inch wheels help to maneuver the snowblower.  
Unlike most brands in the industry, the Greenworks warranty is for 4 years and not the standard 2 years.  
If you're wondering if trading the shovel for a snow blower to clear 6 inches of snow is worth it, the WEN 5662 Snow Blaster would probably convince you. It's an affordable transition from back-breaking shoveling snow to steering a snow blower.  
The 13,5 Amp motor and 18-inch clearing width will clear the snow from the paved driveway or deck efficiently. The snow blower can move up to 7.8 inches of snow at 490 pounds per minute.  
A 180-degree multi-direction adjustable chute throws the snow up to 20 feet and as high as 10 feet in the specific direction. The operator controls the throwing height and the direction the snow is thrown. The reinforced auger has no trouble in clearing the snow from the traffic area.  
The 2-year guarantee is backed by a customer service helpline and a national technician network. The carry handle transports the lightweight snow blower easily to the storage shed.   
Is A Corded Electric Snowblower Right For You?
Corded Blower Buying Guide
There are many different choices available when looking for a corded snow thrower. The good news is, all of these choices mean you'll be able to find one that fits your needs.
There are some blowers with heaters for your hands – just like the gas versions.  You can find perfect LED lights to help you see where you are clearing the snow at night.  I guess this makes sense, since they are electric  🙂
Remember: Corded Blowers Need An Outlet Handy
The significant disadvantage of corded electric snow blowers is the fact you'll be tethered to an extension cord. That's not always a bad thing – if your driveway is less than 50 feet, this won't be a problem at all.
However, if you have a long 100ft+ stretch to snowblow, you'll want to look for a battery-electric or gas-powered snow blower.
The type of extension cord is an important consideration as well.  We've written a guide that will help you pick out the right extension cord for cold weather.   Normal cords can get stiff and hard to manage, but there are extension cords made specifically to stay bendy in winter conditions.  Do yourself a favor and pick one up with your blower.
Let's Talk (Briefly) About Motors
I'll admit, it's not the most exciting conversation piece – but the type of motor used in various corded snow blowers impact performance.  I'm not going to get too in-depth in this article, but instead give you just enough information to make the right choice.
Ready? Here's the advice….
Buy a brushless motor snow blower for your electric blower.  That's it.  It's best for moving snow, hands-down.
Why A Brushless Electric Motor?
There are plenty of resources you can find online that can go into great detail why brushless motors are better – for tools and mobility devices, for instance – but I'm going to go on a limb and assume it's not a passion of yours.
Here's what you should care about – how much torque your snow blower motor can put out and sustain.  Sustained high torque-to-weight ratios are what provide the power to your blower to throw snow farther and in deeper snow.  By design, brushless motors are much better than brushed motors in this quality.
These motors have many other advantages as well.  First, they don't generate as much heat – they are so cool in fact that you can cover the entire motor without worrying about overheating. 
While any electric enclosed motor would sound quieter on its own, brushless motors are significantly quieter than brushed ones.  This isn't quite as important for a snow blower vs, say a leaf blower.  Not many people have their windows open in a snowstorm for you to bother!  But it's still nice for you, the blower operator – you can safely operate most brushless motor-powered snow blowers without ear protection.
These reasons are why you'll find most quality outdoor electric power machines made these days use brushless motors.  If you find one that doesn't use a brushless motor – I'd be very leery of buying it. 
All of the corded blowers we recommend are powered by brushless motors.
How Good Are Corded Electric Snow Blowers?
There have been some real advances made the past decade in motor efficiency. This is paying off in the electric blower market. Today's electric blower is powerful enough to handle all but the biggest snowstorm.
Look for the Amp rating as a quick guide to how much snow a model can handle. Most 15 amp blowers can tackle 12 inches or more of snow. The less-powerful 13 amp models are better suited for single-digit inch height of snow.
Now, any blower can work in a snow blizzard if you are willing to go out and blow the snow every hour or two. While that's not a great way to go through life, it does mean you don't have to "spec up" for the once every five or ten-year storm. Just use common sense.
As with any blower, you'll want to make sure the chute stays free of snow.  This will become a bigger issue when the wet, heavy snow falls – usually at the beginingand end of the season.  Your electric snow blower can handle even wet snow – but you'll probably have to slow down in order to do a good job.
How loud are the best electric corded snow blowers?
I'll admit – the sound took me a while to get used to. It's not loud – there's no need to use hearing protection when operating the blower. I've had to blow snow early in the morning, and it was quiet enough that it didn't wake my daughter sleeping near the front window of her room.  
It sounds like…well, the old-time vacuum cleaner by grandma used to use. If you are used to the mechanical, explosive sound of your gas snow thrower, this can be a bit of a shock.
Bryan from our staff owns an electric snowblower. He will measure just how loud his corded snow blower is this winter now that he has a good sound meter. We will report here when we get the data.
One of the BEST features of a corded electric snow blower is how much maintenance you need to do – or should I say, don't need to do. I spray the paddles with some lubricant before a big storm – AND THAT IS IT!
No burning off of the gas. No constant charging of batteries. At the end of the season, I simply fold down the handle and put the snow blower down in my crawl space until next year.  If you've got the space, you can just put it aside in your garage.  Some models are light enough to easily hang them on the wall.
This ease of use is what drew me to the corded blower in the first place. I had terrible gas issues year-after-year where no matter how long I burned off the remaining fuel in the spring, some of it would remain to gum up the carb. Yes, there are ways to deal with this (and ethanol gas) – but hey – I DON'T HAVE TO. I have an electric snow blower!
Corded electric snowblowers have a lot going for them.  That list includes:
Virtually no maintenance necessary.
Power to handle most snow.
No combustion-engine gases to breathe in.
If you are within a hundred-feet of an outlet at the fartherest point you need to move snow, these blowers should be high on your list to check out.  The best corded electric snow blower might be perfect for you!