What's The Best Snow Blower For Your Driveway?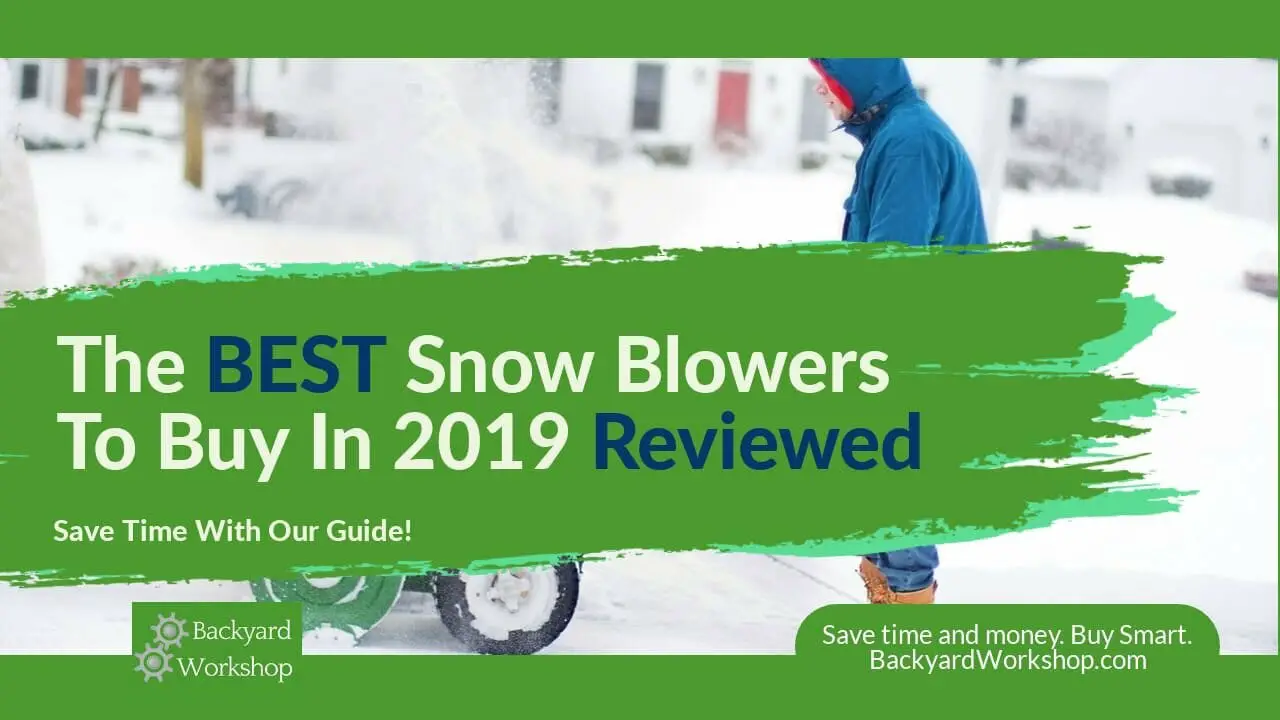 Remember When YOU Were The Blower?
When I was a kid, one of the things I dreaded most about winter was the 5am wake-up call on days when it snowed.
You see, as a teen I was my family's snowblower. Shovel in hand, I dutifully (if not willingly) attacked the snow.  If it was a really heavy snow, my Dad would help so together we could get done in time to get him out of the driveway and on his way to work.  And during those days of darkness, you know what I promised myself?
When I grow up, I AM GOING TO BUY A SNOWBLOWER!
I might not be "grown up" yet, but I am older.  And I have owned (and broken) a few snowblowers through the years.  So whether this is your first or fourteenth snowblower, settle in.  I'll give you what to look for when you are out to buy the best snowblower.
The Best Snowblower in January 2022 - Is There Just One?
We've created this guide to help you buy the best snow thrower for your situation.  That means what is right for you may not be the top snowblower for someone else.  For instance, I've lived in houses over the years with driveways ranging from 20 feet to 125 feet long.  While a bigger snowblower can always handle a smaller driveway than it's made for, it's not usually the best value for the job. 
Because of that, we will give you a "Overall Best Snowblower" that will work well in most situations.  But we also have broken our choices out into top picks based on how much snow you'll need to move. 
We reviewed over 25 different models of snow blower to come to our recommendations.  You'll find our picks below, along with the ENTIRE list of snowblowers and a synopsis of our reviews.  Click through to read the detailed reviews of these snow blowers if you want to learn more.
The Top Overall Snow Blower
What To Look For When Buying A Snowblower
Let's start of by saying that a snowblower is only one part of your arctic warfare toolchest. In America's coldest-states, you'll need a snow blower, a snow shovel, and chemicals to melt ice. Why all of these? Even the best snowblowers can't reach all parts of your drive and walkway.  They could leave behind a thin layer of snow that's will likely turn into ice. Our recommendations will give you the tools you need to beat Old Man Winter in 2018. Your choice of type of snowblower is really dependent on how much snow your area gets in winter and how much space you need to keep clear.  Use the history of "big" snowstorms in your city or county as your guide.  Depending on if you live in an area that gets a steady 3 inches a day for a week vs. one that tends to get a foot of snow at a time, you will need a different snowblower.
Snowthrower Width:
One of the first items to decide upon is how wide a clearing width you need for your  property.  The wider and longer your driveway, the larger the width you should look for in a blower.  If you are in an area that often gets heavy snow, you also need to think about bumping up your width requirement.  In these cases look for a clearing width of 
28 inches or more
. There is usually a trade-off for the width – the snowblower becomes harder to handle and maneuver the wider it is.  Therefore you should only consider a model with power-driven wheels if you are going to go wide.  Most (but not all) 28-32″ blowers will have driven wheels. If you are in an area that doesn't get a ton of snow all that often and you have a smaller area to clear, you can get by with a 24″ model.  The rarer a 8-12″ snowfall historically happens in your town, the more likely you are able to save a little money and go with a 20″ or 21″ width model. As an example, where I live we get a foot+ of snow at least 3 separate times a year.  When I used to have a 45′ driveway, I had the
equivalent of this 27″ model
.  It worked well.  When we moved to a lot with a 22′ driveway, I bought a
Honda 20″ model
.  It's a lot easier to use, but the drop in power does mean I need to be on-top of my blowing during a heavy snow.  If I wait until a 14″ snow is over, it will take hours to clear my driveway since the snow will be taller than the input chute.  I am ok with this tradeoff, but if you want certainty your blower will handle any snow go bigger.
Engine Type For Your Snowblower:
Much like other outdoor power equipment, there are 3 ways your thrower can be powered.  They each have strengths.
Gasoline:
When most people think of snowblowers, they think of gasoline powered engines.  You keep a gas can on hand full of fuel, and pour it in throughout the year as the blower burns through it.  It's easy to use, and you have no cords to worry about.  However, you must remember to either burn through or stabilize the fuel at the end of the season to avoid carb issues next year. I've forgotten to clear out the fuel in spring twice.  Once I was able to fix my blower, but the next time it was unrepairable.  I won't make that mistake again, I can promise you!
While gas engines are common, there are different ways the thrower uses this power.  
Two-stage
gas engines are more powerful.  In the first stage, the auger in the blower scoops up the snow and helps move the blower a little forward.  The second stage has an impeller that helps toss the snow out of the chute.  These snowblowers usually are self-propelled as well. While in general wider snowthrowers are 2- or 3-stage in nature, you can get compact two-stage models as well for smaller areas.
Single-stage snowblowers
 do not have the impeller.  All of the throwing power comes from the auger.  This works fine for smaller snowfalls but tends to bog down during the big whiteouts.
Don't use a single-stage thrower on a gravel driveway. The auger that picks up the snow will also pick up the gravel and toss it out the chute at the same time. The rocks will go farther and can harm people and property in the area. Two-stage models with the impeller avoid this issue virtually all the time.
Corded Electric:
If you don't like storing gas in cans in your garage, or you have a small walkway/deck to take care of – you should at least consider a plug-in electric snowblower.  There have been quantum leaps in electric motor efficiency the past decade, and it's helping to make all electric power equipment viable.  Since they are usually cheaper than gas models, if you live in a warmer area you owe it to yourself to at least take a look at one in the store. These aren't meant for heavy snowfalls.  There's only so much "juice" a motor can pull from your outlet, so you can't expect these to contend well with a 7+" snowfall.  But if you have a level, paved driveway (not gravel – these are single-stage) and normally see 1-4 inches of the white stuff at a time it can work for you.  Just remember to get an extension cord with an appropriate rating for the amps the blower draws.
Electric Battery:
Updated for 2019:
I will confess – I'm a bit of a Li-ion nut.  ALL of my summer lawn and garden equipment is battery powered.  Part of that is because my yard size is smaller than at previous houses, but mainly it's because I like the lower noise than gasoline and more freedom than corded electric that these tools provide me.  I haven't noticed a loss in power that matters to me in doing it, either. But for snowblowers…The idea sounds good in theory. Much like a lawn mower, you usually have time to charge the batteries before you need to go out and blow again.  The lack of combustion means no annoying harmful fumes, and the noise is way down as well.  The mowers are lighter in weight too – meaning it's easier to maneuver the thrower on your own. Luckily, the technology has advanced
tremendously!
Battery powered snow blowers are ready for prime time. The power they provided just wasn't up to par.  As the battery drained, so went performance.  I found myself cursing the machine as I knew I'd soon be out there, shovel in hand, cleaning up the unmistakable stink of failure that this little battery powered toy left on my driveway. Now, this was ages ago in technology years.  I think the manufacturers have learned from their mistakes, and battery technology has improved tremendously.  Therefore we will be doing
hands-on reviews with videos
of a few new models this winter season.  I'm planning on starting with this SnoJoe 21″ model.  It has gotten good reviews so it is a good place to dip my toe back into the Lithium Ion water.
Chute Adjustment Controls:
You want to make sure the chute that the snow comes flying out of can be easily moved from one direction to another with heavy gloves on.  I find a large handle or long bar on the chute itself is enough for me.  If you are stepping up in price and have a multi-stage model, you might have a knob or joystick that will turn the chute remotely. Must be nice, Mr. Moneybags. Joking aside, just make sure there aren't complaints about the chute icing up and getting stuck in place.  If you are like most people, you will need to turn the chute after every sweep up or down your driveway.  If it gets stuck, like suddenly becomes a whole lot harder for you.
Electric Start:
If you love yanking on the cord of your lawn-mower, than don't look for a push-button start on your snowblower.  For the rest of us, this is a sweet add-on to have.   It's even harder to pull a cord when it's 20 degrees outside and you are all bundled up than in the summer.  You just press plug the blower in, hit a button, and few seconds later you are moving snow like a boss. It's also essential if your significant other isn't quite as strong as you.  My wife hated starting the blower when I was away on trips with our bigger blower.  Our smaller one is no problem, thanks to electric start.  I'm sure she could start it by pulling if she had to, but I don't want to aggravate her like that.
Recommended Snow Throwers:
While we have some recommendations on models we've reviewed in the past, we are going to keep adding to the list as we try new models.  If they pass our tests, we will put them in front of you as soon as possible.  There is a lot more changes in model numbers from year to year than you would think.