Best Single Stage Snow Blower Buying Guide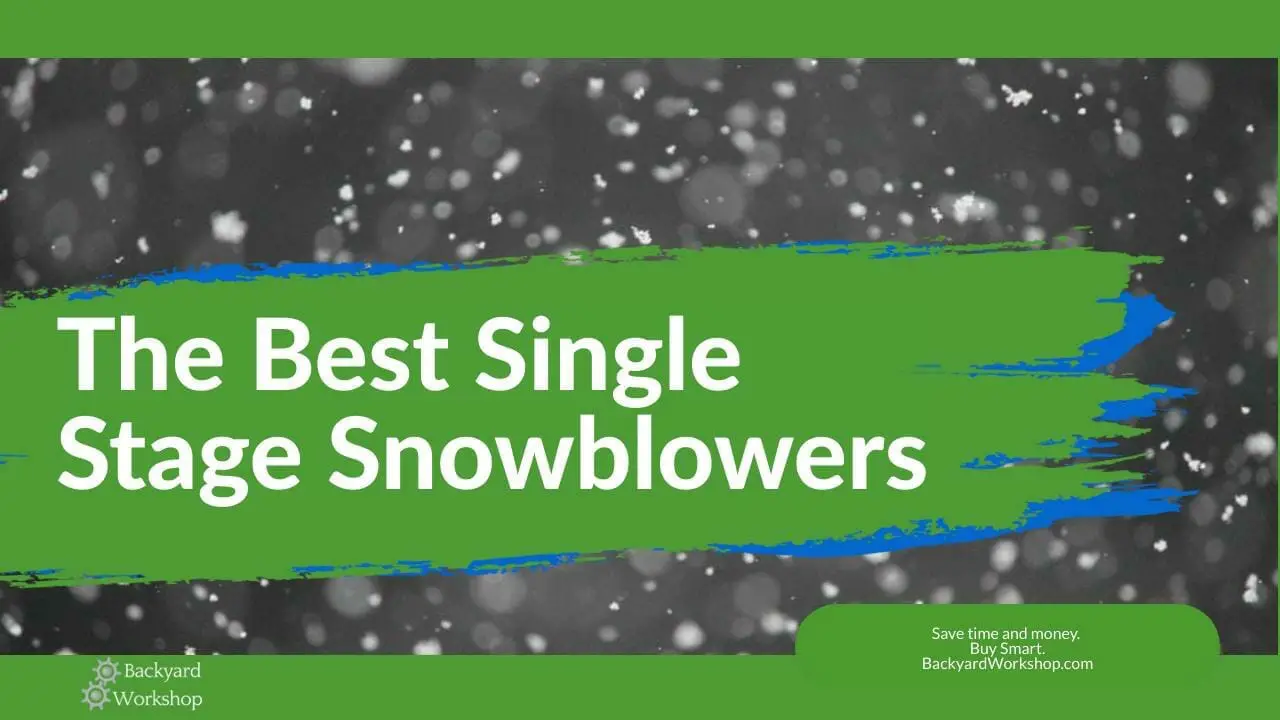 This article has one purpose: To help you pick the top single stage snow blower for your home and driveway.
Are You Looking To Buy a Single-Stage Snowblower?
Before we proceed, let me ask you a question.
Is your driveway paved?
Why you ask?
If not, you really should get a two or three stage blower.  Due to how single stage snowblowers work, a gravel driveway isn't the right place to use one of these blowers.  Check our other guides for great options.
If it is, congratulations! A single-stage snow blower could be the perfect choice for you.  You get a lot of flexibility in picking your power (gas, corded electric and battery-powered models all exist).  While not as powerful as some two or three stage models, single-stage blowers can handle a suprisingly high amount of snow.  Unless you regularly get snowfall amounts of a foot or more, a single-stage snow blower should be good for your needs. Finally, they tend to be less expensive then the more-complicated larger models.
Our Top Single Stage Snow Blower:
Never again worry about running out of battery power while snow blowing in particularly tough conditions.  Runs on either battery or electric power – your choice! 
Our Best Value-Priced Single-Stage Snowblower:
A solid gas-powered choice usually found for cheaper than most of it's competitors.
If you're looking for an environment–friendly snow blower, that's versatile and quiet; the Snow Joe iON18SB-HYBRID snow blower is a great pick. It's a dual power single-stage snow blower. The EcoSharp 40 Volt 4 Ah rechargeable lithium-ion batteries will clear snow beyond the 100 feet of an extension cord. With the push of the button, the hybrid transforms to a more powerful 13,5 Amp corded electric snow blower to clear heavier snow.  
The heavy-duty auger moves 8 inches of snow at 500 pounds per minute. The auto-rotate chute has a throwing distance of 20 feet which is far enough away from the cleared area. The 18-inch clearing width is wide enough to clear the paved driveway efficiently but not too large for decks and patios. 
The snow blower has a full 2-year warranty and is ETL approved.    
The EGO SNT2102 cordless snow blower is a great buy where you need the power of a gas snow blower but prefer the quiet and low maintenance of a cordless. Two 56 Volt 5 Ah lithium-ion batteries will give you a run time of about 45 minutes. The Peak Power technology combines the two batteries when clearing snow.
A 17-inch auger comfortably clears a foot of snow with an intake height of 13 inches clearing a 21-inch wide path. The immediate response direction control leaver regulates the throwing direction of the chute, to the left or right, by pushing the lever forward or backward. The throwing distance is up to 35 feet. A squeeze grip lever controls the throwing height. No need for crank handles or hoping you've aimed correctly.
LED lights help for visibility when clearing snow after dark. The cordless snow blower is quiet and won't disturb the neighbors when clearing the paved driveway at dawn or after work.
Foldable handles create a compact unit that doesn't take up much storage space. The EGO POWER+ batteries work on all EGO Power+ equipment and have a three-year limited warranty. The single-stage cordless snow blower has a five-year limited warranty that is more than double the industry standard.
The Greenworks Pro 80 Volt Snow Blower is a single–stage snow thrower with a battery life of 45 minutes. The rapid charger takes 30 minutes to charge the 2 Ah battery which means the battery will be ready when you've finished your coffee.  
With a clearing path of 18 inches wide and 10 inches deep, the snow blower effectively clears the snow from the paved driveway or other traffic areas. A crank handle helps the operator control the direction of the chute which has a throwing distance of 20 feet.  
The dual LED lights shine strong enough to clear snow in the dark. The cordless snow blower isn't noisy, so your neighbors won't mind if you operate the snow blower at night.  
The warranty is a lengthy 4 years and 2 years for the battery and charger.
The Snow Joe Ultra SJ625E is a single-stage electric snow blower with a powerful 15 Amp motor that clears 6-12 inches of snow. The auger is steel with two rubber blades contrary to most electric snow blowers that have rubber augers.
Ideal for paved driveways and walkways, the scraper is designed to scrape snow clear from the ground. The 21-inch clearing width works well on sidewalks and mid-sized driveways. The snow blower clears 800 pounds of snow per minute with an intake height of 11.8 inches.
The rotatable chute is controlled with a crank handle and throws snow as far as 20 feet to the left or right.
The Snow Joe Ultra SJ625E has a 2-year warranty and is ETL approved.
The Toro 38472 is a versatile snow blower that can clear an inch of fluffy snow and a foot of deep snow. The 99cc 4-cycle OHV engine will move 1,100 pounds of snow per minute throwing it 25 feet away. If you're a fan of gas snow blowers, then you'll like this single-stage snow blower.
With a clearing height of 12 inches and a clearing width of 18 inches, the snow blower clears snow efficiently on average-sized paved driveways. The chute rotates 205 degrees and has three adjustable heights. The Power Curve technology not only moves snow fast, but it also minimizes snow clogging in the chute.
The snow blower is compactly designed; the chute and handles fold taking up minimum storage space.
Toro is so sure you won't have issues starting the engine in cold conditions that they issue a 2-year Guarantee-to-Start warranty together with the 2-year full warranty.
Ask people what the number one brand of electric snow throwers in the United States is, and they'd probably say, Toro –  and they would be right! The Toro 1800 Power Curve would be our number one pick for a single-stage corded electric snow thrower and here's why. It is a single-stage snow thrower designed for mild to moderate snow but can also move heavier snow.  If you are ok being tethered to an electric outlet by an extension cord – and we are – this is one of the best snowblowers for the price.
The Toro 38381 has a powerful engine of 15 Amp that moves up to 700 pounds of snow per minute. The 12-inch clearing height is about the maximum you would find in electric snow throwers. With an 18-inch width, you have a wide clearance width without worrying if the snowblower would fit through the door of the of the basement or shed when the snow has finally stopped falling for the season.
Power Curve technology clears snow faster and avoids clogging. A Zip Deflector control locks the throwing height to low, medium or high and with the 160-degree adjustable chute, the operator can direct it to the left or right from the crank handle. A full-bail ergonomically handle protects the operator against vibrations and decreases back strain by adjusting to the operator's height.
The 15 Amp motor combined with an 18-inch clearing width and 12-inch depth makes the Toro 138381 one of the most powerful single electric snow throwers competing with gas-powered snow blowers.
If you are looking for a light yet capable electric snow blower for your home, this PowerSmart model is a good choice.
The PowerSmart DB2401 snow blower is a single-stage cordless snow blower that clears 8 inches of snow efficiently from small areas like decks, patios, and sidewalks. The 40 Volt 4Ah lithium-ion battery has a run time of 25-30 minutes which should be adequate. The battery recharges in 70 minutes.
A highly-efficent motor has ample power to drive the augers pushing snow through the discharge chute. The chute rotates 180 degrees and has a 30-feet throwing distance.
The 18-inch clearing width is a nice width for sidewalks and patios where it's challenging to maneuver larger snow blowers. As a single-stage snow blower, it is designed for light to moderate dry snow and will struggle with wet snow.
If you are looking for a snow blower to move average snowfall quickly and with no hassle, the Earthwise SN74018 is an excellent choice.   No gas or daily maintenance needed for this battery-powered snow blower – just slide in a charged battery and off you go!
Battery power means no pull cords – just hit the start button, and it'll start every time.  Sure, you won't have the triceps of steel you used to from gas-powered blowers, but you'll have more time for the gym.  This blower can move up to 500 pounds of snow a minute, meaning you'll be done with your snow chores and on your way in a flash.
Don't think you'll have to skimp on the features either.  You get two LED lights to light your way when blowing snow in the evening or early morning hours.  The chute turns a full 180 degrees to allow you to direct the waste snow wherever you want, quickly and easily.
There's no power provided to the wheels, so you will need to push some to move the blower in deeper snow.  Luckily it's not very heavy at 35 pounds for the entire snow blower.  This is normal for the class, but something to keep in mind.  It requires a little assembly, but nothing out of the ordinary.
Backed by a two-year warranty, this lithium-power snow thrower is a great choice for normal suburban driveways that don't regularly get over a foot of snow at a time.
The Snow Joe SJ624E snow thrower is the second-largest electric snow blower on the market. It cuts a 21-inch path through 11-12 inches of moderate to heavier snow. It runs quietly sounding like a vacuum cleaner.  
A 14–amp motor moves over 25000 square feet of snow in an hour at 730 pounds per minute. The 180-degree chute throws powdery snow 20 feet away as the operator directs with the chute crank.  
The steel auger with its two rubber blades clears snow from paved areas the best. The easy–glide wheels, however, can move over rougher terrain and will turn quickly at the end of the driveway. Single-stage electric snow throwers are designed to scrape a clear path; it is therefore not recommended to use on gravel driveways or areas with lots of loose stones.  
The Snow Joe SJ624E snowblower is ETL approved and has a standard 2-year warranty. 
Looking for a corded electric snow blower, but you can bring your OWN light, thankyouverymuch? The Greenworks 2600502 has you covered! This electric snowblower clears up to 10 inches of snow from your drive or walk. In a pinch, it removes more than 10 inches – you'll just need multiple passes.
A 20-inch clearing width can comfortably deal with a 2-car wide driveway. The 13 Amp motor throws up to 850 pounds of snow per minute. With that power, you'll have a snow-free driveway in no time.
A 180-degree rotating chute can throw dry or fluffy snow up to 20 feet. This chute will enable you to throw the snow a safe distance from the job at hand, so you don't work as hard. Wet snow is more cumbersome, so it's thrown a shorter distance. You control the direction of the chute with a lever.
This model is very similar to the Greenworks 2600202. The main difference is the lack of LED lighting on the Greenworks 2600502. While lights are a nice luxury, they aren't a necessary accessory for everyone. If it's important to you, look at the 2600202.
This corded snow blower is a quiet machine – you won't disturb your neighbors. The foldable handles make this snowblower compact and easy to store. It is lightweight for reliable handling. The 7-inch wheels are great to maneuver the snowblower through the winter terrain.
As with all their products, the Greenworks warranty is for four years -not the industry-standard two years.
The Greenworks 2600202 corded electric snow thrower will clear 6 to 10 inches of snow from your driveway. Some consumers said they it clears more than 10 inches. The 20–inch clearing width is a comfortable width for a 2-car wide driveway. With a 13 Amp motor that moves up to 850 pounds of snow per minute, you'll have a clear driveway in no time.  
A 180–degree adjustable chute that throws dry, fluffy snow up to 20 feet, will throw the snow a safe distance from the clearing path. Heavier, wet snow is thrown a shorter distance of about 5-10 feet. The operator controls the direction of the chute.  
The LED lights help with visibility and give the operator the freedom to clear snow anytime. The low noise level won't disturb neighbors. With the foldable handles, the snow thrower is compact to store. It is lightweight for secure handling, and the 7-inch wheels help to maneuver the snowblower.  
Unlike most brands in the industry, the Greenworks warranty is for 4 years and not the standard 2 years.  
If you're wondering if trading the shovel for a snow blower to clear 6 inches of snow is worth it, the WEN 5662 Snow Blaster would probably convince you. It's an affordable transition from back-breaking shoveling snow to steering a snow blower.  
The 13,5 Amp motor and 18-inch clearing width will clear the snow from the paved driveway or deck efficiently. The snow blower can move up to 7.8 inches of snow at 490 pounds per minute.  
A 180-degree multi-direction adjustable chute throws the snow up to 20 feet and as high as 10 feet in the specific direction. The operator controls the throwing height and the direction the snow is thrown. The reinforced auger has no trouble in clearing the snow from the traffic area.  
The 2-year guarantee is backed by a customer service helpline and a national technician network. The carry handle transports the lightweight snow blower easily to the storage shed.   
With the load-sensing technology and brushless motor, the RYOBI RY40850 single-stage snow blower maximizes performance and battery run time. The 40 Volt 5 Ah lithium-ion battery has an average run time of 40 minutes which is enough to clear 6-8 inches of light, fluffy snow.
The 20-inch clearing width is a good width for sidewalks and not too small for paved driveways. The rotatable chute discharges snow up to 25-feet.
An onboard storage compartment for an extra battery is convenient for extra battery run time when clearing snow on long driveways or large properties. The LED lights are suited for nighttime moving snow. With the extra battery on-board, the operator doesn't have to worry about battery run time.
RYOBI guarantee is five years compared to the industry standard of two years.
How Did We Come Up With Our Overall Score?
As part of our review process, we used a score system to try to "standardize"  each blower versus it's peers.  This really is only a rough guide to try to help put them in order.
Why?
This was a team effort, so we were a bit afraid that one reviewer might be particularly harsh and give a lower score to their assigned model compared to others.  There's also really no one "best" snowblower.  It depends on what features matter the most to you.  For example, a single stage blower can be powered by gas, batteries or an electric outlet.  The best gas-powered blower won't be worth much to someone without room to store gasoline safely.  Likewise, a great corded electric thrower isn't going to get high marks from someone without an outside outlet easily available.
So what good are the overall score ratings?
We instructed our reviewers to pretend they were in the market for a snow blower with the general features you'd find on the snow-blower they were writing about.  How did it generally compare to other snow blowers in the same class – in quality, reliability, power and value? If you had to tell a friend or family member a score for the product, what would you give it?